Weekend Forecast for September 27-29, 2013
By Reagen Sulewski
September 27, 2013
BoxOfficeProphets.com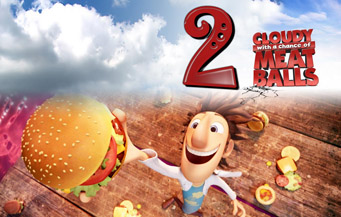 ---
Late September sees a rather busy schedule of new movies as we start to transition into the prestige part of the movie schedule. At least one of this weekend's new films has a decent shot of being remembered come Oscar time, but it's also marked by a potential blockbuster sequel for an unlikely family franchise.

Cloudy With a Chance of Meatballs 2 is one of those phrases that probably shouldn't even exist, given that it indicates a sequel to a relatively thin children's book that wasn't all that well known in the first place exists, and with only medium-level voice talent to boot. But, and here's the crucial part, it was actually good and/or tolerable for parents, which is the secret real audience for family films. After bringing in $124 million, Sony scrambled to find some more story for this budding franchise about food brought to life and awkward romance amongst that.

All the major voices return for the sequel, which includes Bill Hader, Anna Faris, Benjamin Bratt, Neil Patrick Harris and James Caan, though Mr. T has been replaced by Terry Crews, in what's a worst a lateral move. More concerning is that Phil Lord and Chris Miller, the brainchildren behind the first film, have moved on to live action movies and TV producing. The new directing team are relative rookies, with direct-to-DVD sequels and animation department credits for the most part.

While I presume that Hader and Faris' characters resume their bizarre courtship, the story here seems to be a sort of Jurassic Park-like journey to a land of sentient food, which conveniently takes on the characteristics of the animal whose name it most sounds like. ALL THE FOOD PUNS! Can this sustain a 90 minute movie? Maybe? The ads here are not all that promising, but the phrase "benefit of the doubt" would seem to apply here. This should see a decent improvement from the $30 million opening of the first film to around $45 million this weekend.

Ron Howard's eclectic directing career takes another turn with Rush, a drama about Formula 1 racing (simultaneously the most dangerous and most boring sport in existence) in the 1970s, particularly the rivalry between British star James Hunt, noted for being a wild child of racing and the then up-and-coming wunderkind Niki Lauda, noted as a calculating tactician, and was the herald of the new style of racer. Chris Hemsworth and Daniel Bruhl play the two racers, with Olivia Wilde as Hemsworth's love interest.

Rush played well at the Toronto film fest, garnering a lot of praise for its racing action and the performances of its two leads. The big difference between this and, say, Days of Thunder, seems to lie almost entirely with the director. Howard seems to have found a story that is decently compelling, about what drives these men to hurl themselves around race tracks at hundreds of miles per hour and protected by the barest of safety precautions.

Hemsworth is, of course, best known now from Thor, but has not done much in terms of extending his fame beyond that. The success of last year's Snow White and the Huntsman is more likely to do with stunning special effects and Kristen Stewart, while Red Dawn and Cabin in the Woods both saw only modest success. While this seems to be a perfect fit for him in terms of roles, it's also about a subject and personalities that Americans have little familiarity with. In five venues last weekend, it earned a solid $35,000 per venue, and expands to around 2,300 this weekend, where it should earn about $11 million.

A second Avengers alumnus has a film out this weekend with Don Jon, Joseph Gordon-Levitt's directorial debut. In it, he stars as a porn-addicted lothario who meets his match when he starts dating Scarlett Johansson and finds that even the most beautiful woman in the world can't meet his expectations he's gathered from porn. Not that you would know any of this from the commercials for the film, which trumpet loudly the fact of the director, and which is highlighted by him embarrassing himself while singing along to Marky Mark. Such things do not a blockbuster make. However, as a seemingly guy-friendly romantic comedy, it might have a bit of an in for this market, and its two attractive stars should be worth a few million just on their own. I'd look for a debut of $9 million.

A second romantic comedy debuts this weekend with Baggage Claim, starring Paula Patton. As a *gasp* mid-30s single flight attendant who is anxious about seeing all her friends finding a husband, she decides to embark on a 30-day journey to find her soulmate, since love always works best on a deadline. Judging by the poster, she's going to select the very best bald or baldish African-American man with some form of stubbly facial hair, or possibly Adam Brody (not pictured). This might include Derek Luke, Taye Diggs, Boris Kodjoe, Trey Songz or Djimon Hounsou and a couple of others in there probably. Prepare for a number of wacky awkward dates and hilarious misunderstandings! Reviews of the film are close to universally negative, but this film is playing to a market segment that's quite immune to reviews. At the same time, there's not a lot to really sell this film in the ads, and I'd expect an opening weekend of about $7 million.

Prisoners was a modest surprise with $20 million for its debut, pointing to the solid appeal of Hugh Jackman and dark dramas about missing kids. Word-of-mouth has been quite solid, and while I don't expect this film to be in the mix for end of year awards, it's proving to have made a solid connection with audiences. I'd give it about $13 million for its second weekend.

The free money for Film District that is Insidious: Chapter 2 is rapidly falling off, but at $62 million so far, it really doesn't need to earn anything more to be considered a success. James Wan has likely received a free pass or two to make whatever he wants, and just think – he hasn't even made Fast 7 Furious yet. Look for about $6 million here.