Monday Morning Quarterback Part II
By BOP Staff
September 17, 2013
BoxOfficeProphets.com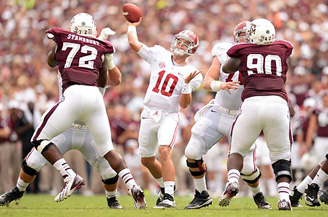 ---
Kim Hollis: Insidious Chapter 2 opened this weekend with a remarkable $40.3 million. Considering that this amount is close to what the first movie made during its entire run, how did this happen?

Brett Ballard-Beach: The first movie was well-received critically and had remarkable legs for a horror film. There would have been considerable interest for Chapter 2 in any case. However, pushing it for a Friday the 13th opening was a smart move. Then, the small success of a little film in the interim called The Conjuring gave this a bump analogous to Iron Man 3 after The Avengers. It was a "sequel" doubly over. I think it also mattered (if people look ahead on their calendars) that there is only one other horror film - Bad Grandpa not withstanding - getting a wide release in the next six weeks. For whatever reason, Hollywood abdicated the September and October months this year to more adult fare and less genre/kids fare. All in all, a perfect storm for a PG-13 horror film to sail away with the best live-action September opening ever.

Matthew Huntley: Well said, Brett; I agree with you on all counts. The other factor I'd throw into the mix is the horror genre tends to be more teen/student and female driven, and with school back in session and the college football season/NFL entering week two, Insidious: Chapter 2 gave both demographics a perfect reason to come out to the movies while adults and males busied themselves elsewhere. Of course, these aren't hard and fast reasons, but I think they're contributing factors. I'd be curious if the forthcoming Sinister 2 does similar business.

Jason Barney: The opening weekend here is remarkable considering tracking estimates actually try to mathematically predict how films will perform over weekends. The precise final number is irrelevant, as Insidious 2 opened huge. Fifty percent larger than some estimates I saw, about a third higher than the average predictions. While the film industry is certainly searching for stars to sign to long term franchises, requiring some amount of investment and risk, they have to be taking notice of the overall trends here. The Purge, The Conjuring, now Insidious 2…these are all relatively cheap films that may be getting lucky, but are exploring an undeniable trend.

Some of the success probably does have to do with the creative team involved, they have delivered relative quality and surprise over three straight outings. However, the real story here, the much larger story I believe, is the amount of money that is being made off from tiny investments.

The story is much broader in scope than the last three or four successful horror films. Maybe it goes all the way back to the Blair Witch Project, but I have to believe studios would be much more comfortable spending money on small projects like this, and rolling the dice on the opening weekends in fall, Friday the 13th, or even full moons, than spending huge amounts on The Lone Ranger, White House Down, or R.I.P.D., and risking so much. The investment/reward for picking up something like Paranormal Activity, Saw, or Insidious has to be so much more appealing considering the magnitude of the most recent flops.

Edwin Davies: Brett hits pretty much all the key points that individually might have contributed a little to the success of Insidious Chapter 2, but when combined delivered something quite astonishing. Zeroing in on the Friday the 13th release date obviously played a major part in the success - it's a strategy that has worked well in the past, will probably work well again, and worked exceptionally well this time considering that almost half of Insidious Chapter 2's weekend total came on Thursday evening/Friday. More important, the film itself was right in that it played on not only the affection for the first film, a rare case of horror film that showed terrific legs and built a strong following, and residual excitement from The Conjuring, which obviously shares some creative DNA with Insidious Chapter 2. (It's also worth noting that Insidious Chapter 2 is the first significant horror film to come out since The Conjuring, so the horror audience has not been tapped out in the interim and was probably more than willing to give James Wan another shot.) In short, it was a perfect storm that made for a great first weekend, though I'm doubtful the film will show anywhere near the legs of its predecessor (or predecessors, if we count the two Insidious films and The Conjuring as a collective).

On a side note, this is the second time that James Wan has had two films released in the same year. In 2007, he released Death Sentence and Dead Silence, two films that had a combined gross of less than $27 million. Both of the films he released this year have opened to more than that, and even if Insidious Chapter 2 craters they will still have a combined domestic gross of over $200 million. Basically what I'm saying is that James Wan is to 2013 what Channing Tatum was to 2012, minus the sweet moves.

Bruce Hall: A lot of horror fans liked Insidious, and the ones I know have been pretty vocal about it. That kind of consumer goodwill plus the wider audience pulled in by good word-of-mouth made prospects strong for the sequel. Ticket pre-sales for Insidious 2 were through the roof, indicating early on that this weekend might be something special.

Kim Hollis: I think one thing that we also have to consider with these out-of-nowhere horror flicks like The Conjuring and Insidious is that they're more accessible to a wider audience than the earlier generation of torture porn horror films. When you take horror back more toward traditional/psychological type scares, there's a larger audience to draw from and attract. People who would never consider seeing a movie like Saw or its sequels will get excited about stuff like the Paranormal Activities and Insidious V1 and V2.