Weekend Wrap-Up
Insidious Scores Over Friday the 13th Weekend
By John Hamann
September 15, 2013
BoxOfficeProphets.com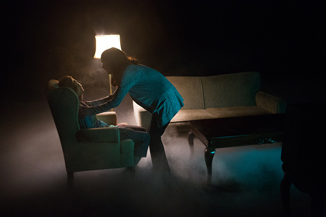 ---
It's one of those weekends where Hollywood and movie theaters have one person to thank for huge movie business. This weekend it's Jason Voorhees, the masked slasher who turned any Friday the 13th into a horror holiday.

This weekend, the benefactor of the horror holiday is Insidious Chapter 2, the FilmDistrict follow up to the 2011 micro budgeted original. The original Insidious was not about a huge opening weekend, as it opened in early April 2011 to $13.3 million. It was not the #1 film of the weekend, or even #2; it debuted in third behind Hop and Source Code, but had a solid venue average of $5,511 as it was released to only 2,408 screens. Most horror films would have died quickly after an opening like that, but Insidious was different – it earned better than usual reviews (66% fresh) and took a B Cinemascore, which is like winning an Oscar for a horror flick. The weekend holds that followed for the original are usually reserved for Oscar hopefuls, as it had weekend-to-weekend drops of 29%, 28% and 23% following its opening frame. In the end, a film that cost only $1.5 million ended up grossing $54 million stateside, and another $43 million overseas.

A few years later and it's time for an Insidious encore. This time, despite being a risky point in the schedule to release a movie (September), horror honcho Jason Blum (The Purge) positioned Insidious Chapter 2 over the Friday the 13th weekend, hoping to see the magic generated by the 2009 version of Friday the 13th, which took in $40.6 million over its Valentine's Day opening weekend. The strategy of releasing a horror film on a Friday the 13th is not bulletproof, as Cabin In the Woods opened on April 13, 2012, and earned only $14.7 million (but did go on to earn cult status). This time around, though, releasing this sequel on Friday the 13th worked nicely, as after an okay $1.5 million from Thursday late shows, Chapter 2 exploded on Friday.

On Friday the 13th, audiences came out to Insidious Chapter 2 en masse. The film earned a reported $20.1 million, but once the Thursday shows are removed, the number comes down to $18.6 million. In terms of opening days, the all-in number is bigger than Friday the 13th was in 2009, as that opening day was $19.3 million. This opening day was also bigger than The Great Gatsby ($19.4 million), Men In Black II ($19.8 million) and The Bourne Supremacy ($18.4 million). It is the biggest opening day ever for a movie opening in September, and the gross was four times that of the reported production budget ($5 million). The power of a smart release date is certainly on display here; as for the producers, everything that comes after that first Friday is gravy.

The dark side of a Friday the 13th opening is the internal weekend multiplier, which is calculated by dividing that Friday take into the weekend gross, which we haven't gotten to yet. That 2009 version of Friday the 13th did have a huge debut, but it earned almost half of its weekend gross on opening night, whereas a typical film earns a third. Friday the 13th had a 2.1 internal multiplier, and the front-loading was so immense it skewed the weekend.

The same thing happened with Insidious Chapter 2. Despite the huge opening day, where any other film could expect a $55-$60 million opening, Chapter 2 finished the weekend with $41 million, and had a weekend multiplier of 2.05. No one should be overly surprised by this outcome, given the Thursday screenings being piled into the Friday number, and the Friday skewing like a Christmas Day moviegoing pattern for a horror flick. As I mentioned above, the producers likely don't overly care what happened beyond day one, as the strategy worked. Remember, Insidious Chapter 2 cost $5 million to make, an amount it had earned before the Friday 7 p.m. show started on the East Coast. Simply put, Insidious Chapter 2 earned eight times its production budget this weekend because of a smart release strategy, and really not much else.

Will the sequel see the legs the first film in the insidious series enjoyed so much? Very likely not. First off, the big opening frame severely limits much chance for legs. Second, the sequel didn't receive the same solid reviews of the first. At Rotten Tomatoes, Chapter 2 earned only 29 positive reviews out of a possible 79, giving it a rotten rating of 37%. The good news is that the Cinemascore was decent, coming in at a B+, but that score is likely skewed given the release date, and that fans of the original likely came out on Friday night. Going back to the 2009 version of Friday the 13th, that film earned 62% of its domestic revenue over opening weekend, as it topped out at $60 million, following an opening weekend of $40.6 million.

Coming in second is our other opener, the Robert DeNiro/Michelle Pfeiffer starrer, The Family, about a mafia family who moves to France under the witness protection program. With DeNiro in a character that everyone relates to, and Luc Besson (director) and Martin Scorsese (executive producer) peppering the credits, The Family did okay this weekend. It took in $14.5 million from 3,091 venues, giving it an average of $4,691. The problem here, and what audiences likely picked up on, is that we have a star-studded cast, and sadly limp reviews. The premise sounds great, but in the plugged-in world we live in now, most know that this one isn't very good. Reviews were soft at 32% fresh at RottenTomatoes, and the Cinemascore was worse, coming in at only a C, which will cause early death for a film like this. This is more Analyze That than Analyze This, and audiences are on to it. The Family cost Relativity only $30 million to make, so given the European setting and the cast, it should equal the $35 million it will earn stateside overseas, and end up as a profitable entry for all involved.

Finishing third is last weekend's number one film, Riddick. After a $19 million opening last weekend, the bottom fell out of Riddick's ship this weekend, as revenues plummeted for the $38 million, independently financed Universal release. In its second weekend, the Vin Diesel starrer could only find $7 million, which means the three-quel fell 63% this weekend. Good thing Diesel didn't spend $100 million on this one as the studio did on the second film, because audiences are not turning out for the character, despite decent but not spectacular reviews. Riddick has now earned $31.3 million stateside against that $38 million budget, and is flailing a bit overseas with less than $10 million thus far.

Fourth spot goes to Lee Daniels' The Butler, which holds well again despite being in release for five weekends. The Butler earned another $5.6 million this weekend, as it drops only 34% from its $8.4 million take last weekend. The Butler managed to reach the $100 million mark on Sunday, and will likely start to lose some screens, as it is still in 3,239 theaters. Kudos to The Weinstein Company for getting behind this one, as Oscar nominations will likely follow.

Top ten stalwart We're the Millers, which earned another $5.4 million this weekend, finishes in fifth. The Jennifer Aniston comedy fell just 30% and brought its domestic total up to a stunning $131.6 million. It's moving on to be a worldwide force now, as its already picked up an additional $55 million overseas, for a worldwide gross approaching $200 million. Remember, this is a $37 million effort from Warner Bros.

Sixth goes to Instructions Not Included, Pantelion's out of nowhere hit. The distributor added another 216 venues to the run of the Spanish language comedy, but the hold was just okay. After last weekend, where the comedy earned $8.1 million from 717 venues, this weekend it earned $4.3 million from 933 screens. It drops 48%, and brings its domestic total up to $26.6 million. Remember, this one cost only $5 million to make, and has already become the sixth biggest foreign language release.

Seventh is Disney's Planes, which won't go away. Planes earned another $3.1 million this weekend and declined 26%. It has earned $83 million so far, and another $56 million overseas.

Eighth goes One Direction: This Is Us, and despite adding additional footage to the release, the boy band doc is still tanking. This Is Us earned $2.4 million and fell 41% from last weekend's total. The $10 million TriStar release has now pulled in $27 million stateside, and about the same amount internationally.

Ninth is Elysium, the Matt Damon sci-fi effort from Neill Blomkamp. Elysium earned $2 million in what is likely its last weekend in the top ten. It has earned $88.4 million in North America, and adds another $127 million overseas.

Our 10th place film is Percy Jackson: Sea of Monsters, as the teen-targeted film manages to hold on for one final weekend on the charts. It earned $1.8 million, a decline of 25% from last weekend, and brings its domestic total to $62 million. The news is quite a bit better in international venues, as Sea of Monsters has taken in more than $100 million on foreign shores.

Overall, thanks to a breakout success from Insidious Chapter 2, the box office does significant business for a mid-September weekend. The top twelve films brought in $90.3 million, which is better than last year's effort when Resident Evil: Retribution led the top 12 to $69 million. Next weekend brings the dance movie Battle of the Year, as well as Prisoners, the well-reviewed new feature with Hugh Jackman and Jake Gyllenhaall.