Weekend Wrap-Up
Only Riddick Can See in the September Box Office Dark
By John Hamann
September 8, 2013
BoxOfficeProphets.com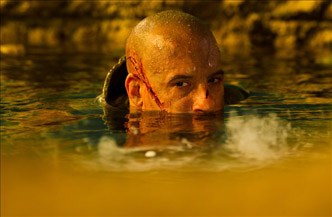 ---
You know the tide has turned at the box office when this weekend's combined gross for the top 12 films would equal only the eighth biggest opening of the year – and last year was even worse. There is a speck of light this weekend, though, and it's called Riddick, Vin Diesel's passion project.

Our number one film of the post-Labor Day Weekend is Riddick, the third film of the franchise that made Vin Diesel a star. Following Pitch Black and The Chronicles of Riddick, this one harkens back to the original – more of a suspense/horror than a space opera. Considering the release weekend (a large black hole on the movie release calendar, usually reserved for bad Nic Cage movies or teen horror tripe), Riddick did okay, but certainly didn't break out. The three-quel earned a slightly lower than expected $18.7 million from 3,107 venues for Universal this weekend. It had a venue average of $6,010 and an internal multiplier (weekend gross divided by Friday gross) of 2.56, which indicates that it was somewhat front-loaded as fans of the original series primarily came out to see it on its first day. This is also the kind of film that would be impacted by football, as both the NCAA and the NFL get into high gear this weekend and Riddick shares its demographic with that audience.

After Pitch Black opened to $11.6 million in February 2000, and went on to earn $53.2 million worldwide against a $23 million production budget, a fledgling franchise was born. Vin Diesel combined Pitch Black and the first Fast and Furious movie ($207 million worldwide, against a $38 million budget) into a movie career. He turned xXx into a $277 million worldwide hit (against a $70 million budget), and had his choice of films to make following these three films. Unfortunately, his next two films were Knockaround Guys and A Man Apart, a film that sat on the shelf for three years. Both films were panned badly by critics and were little seen by audiences, as they combined for approximately $38 million domestically.

Diesel then went back to the franchise that started it all for him, making The Chronicles of Riddick, a big expensive summer film, this time carrying a PG rating, instead of the R earned for Pitch Black. Universal spent over $100 million on Chronicles, and it failed, taking in only $24.3 million over opening weekend. Universal must have been unhappy with it prior to release, as they put it out to only 2,757 venues over opening weekend. The other openers that frame, Garfield and The Stepford Wives, both debuted with over 3,000 screens. Chronicles earned only $115 million worldwide, and many thought the franchise was doomed. Then, Chronicles showed up on DVD. It sold 1.5 million units on day one of release, and became a cult hit, with Universal releasing numerous versions and a popular video game. Riddick wasn't done yet.

In 2006, Universal wanted Vin Diesel back for a cameo in Fast and Furious: Tokyo Drift, as they were looking to reboot the franchise and needed to bring his Dominic character back into the fold. Diesel wasn't interested, but agreed to trade the rights for the character of Riddick for an unpaid cameo. Diesel, following an extremely successful return to the Fast & Furious franchise, independently produced this weekend's Riddick, at a cost of only $38 million. Funds were raised through foreign pre-sales, and with additional help from Universal, which is oddly enough the studio that kneecapped the second film. Diesel and director David Twohy reverted back to the original R-rated horror/thriller style, and the move has worked. Given the opening weekend, this Riddick should earn $50 million stateside, so this will end as a profitable venture for all involved, and just may continue the franchise.

Finishing second is Lee Daniels' The Butler, which also landed in the same spot last weekend over the three-day portion of the Labor Day Weekend. It was first if we count the Monday take. This weekend, the successful Weinstein release earned another $8.9 million as it fell 40% compared to last weekend. Declines following a long weekend are always going to be higher, as more people see films on Sunday night over a long weekend, and thus the percentage drop is higher in the more normal, follow up weekend. Given that, The Butler's hold is quite solid, despite being in release for four weekends. The $30 million release has now taken in $91.9 million, and is one of the few late summer successes.

Instructions Not Included, last weekend's surprise number four film, moves up a spot with a significant theater expansion this weekend. After opening to $7.8 million from only 348 theaters last week, the Lionsgate release brought the count up to 717 this frame, and the comedy earned $8.1 million, giving it a 3% increase. Instructions Not Included was made for only $5 million, and has already grossed $20.3 million at domestic theaters. Lionsgate made a shrewd move dropping this one into early September, and catering to a Latino audience than never gets catered to.

Fourth place goes to We're the millers which earned another $7.9 million as it dropped 38%. The Jennifer Anniston/Jason Sudeikis comedy has now earned a stunning $123.8 million stateside, and has crossed the $40 million mark overseas, all against a production budget of only $37 million. This one has quietly become one of the big hits of the summer season, comparative to production budget.

Disney's Planes, which has been out for five weekends now, still manages a spot in the top five. Planes earned another $4.3 million this weekend and fell 45%. The $50 million release has now earned $79.3 million stateside, and more than $40 million overseas.

Sixth goes to the film that was number one over three days last weekend, One Direction: This Is Us. The boy band fell from $15.8 million last weekend to $4.1 million this weekend, good for a laughable drop of 74%. The $10 million TriStar release has now earned $24 million stateside and about $15 million overseas.

Elysium, the Matt Damon sci-fi from director Neill Blomkamp, finishes in seventh place. It earned $3.1 million in its fifth weekend and declined 52%. The $115 million Sony pickup has now earned $85.1 million stateside, but has accumulated more than $125 million from overseas venues.

Eighth place goes to Woody Allen's Blue Jasmine, which has now passed Vicky Cristina Barcelona and Match Point in domestic box office. The Cate Blanchett centerpiece earned another $2.7 million, down 33% from the previous frame. Blue Jasmine is sitting with $25.4 million from North American audiences.

Percy Jackson: Sea of Monsters languishes in ninth, as another YA movie adaptation fails at the box office. This weekend, Sea of Monsters earned only $2.5 million and fell 44%. The $90 million Screen Fox release has earned only $59.8 million stateside.

Tenth is The World's End, with Simon Pegg. Not the hit that Focus was hoping for, this one earned only $2.3 million this weekend and was off 54%. Edgar Wright's $20 million film has now earned $21.8 million stateside, and is approaching $20 million from foreign shores.

Overall this weekend, business is slow, but that as expected as May being busy. The top 12 films this weekend took in only $66.9 million, but that's a large improvement over last year, when the top 12 could only find $51.9 million. Next weekend could pick things up somewhat, as Insidious Chapter 2 opens from FilmDistrict, and Luc Besson's The Family, which features a cast of Robert DeNiro, Michelle Pfeiffer and Tommy Lee Jones, also debuts.