Weekend Wrap-Up
Labor Day box office heads One Direction
By David Mumpower and Kim Hollis
September 1, 2013
BoxOfficeProphets.com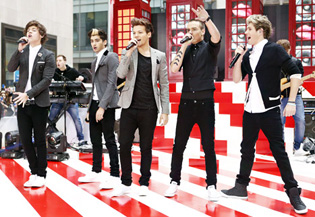 ---
A concert film was finally released this weekend. It is the one that all of your daughters have anxiously anticipated for roughly 15% of their lives. Don't you feel old? The debut of the One Direction came with the concerns that the always brief tenure on the top of the pop music world may have ended for the latest English boy band sensation. Combined with the spotty track record of other recent concert music films, there was plenty of intrigue at the top of the domestic box office this weekend. The question was not whether One Direction: This Is Us would finish in first place but rather how high a box office total it would achieve.

The answer to the question is that One Direction: This Is Us debuted with $17 million over the Friday-Sunday portion of the Labor Day extended weekend. Early estimates indicate a $20.5 million take for the four-day holiday period. For a production with a frugal price tag of only $10 million, the One Direction opening weekend represents nothing but upside for everyone involved, especially film distributor Sony.

The One Direction concert movie has been penciled in as a likely number one movie for roughly 18 months now although it was only "officially" announced last November. The primary concern is that the movie failed to capitalize on the dramatic surge in popularity that the band experienced after its U.K. debut in 2010. For those unfamiliar with the story – and aren't you the lucky ones – One Direction finished in third place during season 7 of X-Factor in England. Something called Matt Cardle won the battle that year, but One Direction continues to win the war.

Thanks to their relationship with their mentor, Simon Cowell, One Direction's global appeal has spiked to a degree that almost requires me to mention the Beatles as an analog. In reality, the closer comparison is probably Wham!, but the average One Direction fan has no idea who that is. The band's career highlights thus far feature $19 million in digital singles, $10 million in digital albums, hundreds of thousands of sexual awakenings in teen girls, roughly two dozen celebrity hook-up rumors involving front-man Harry Styles and one fairly clever Pepsi commercial co-starring Drew Brees.

One Direction's insane popularity has been a given, but the prospects of the concert movie have been murkier. The reason is the scattershot track record of other recent releases. Twerk icon Miley Cyrus re-started the trend five years ago with the release of Hannah Montana/Miley Cyrus: Best of Both Worlds Concert Tour. The movie grossed $31.1 million on opening weekend before finishing with a domestic total of $65.3 million. Disney executives famously held a weekend retreat in order to group-think ideas about how to capitalize on her newfound celebrity, which speaks volumes about what a popular concert movie can do for a pop sensation.

The fate of the Jonas Brothers was less kind. Joe, Nick and Kevin's 3D feature in February of 2009 managed only $12.5 million on opening weekend. In other words, the Jonas Brothers earned less in three days than Best of Both Worlds grossed on its first Saturday ($13.1 million). There was immediate speculation that Miley Cyrus was the exception with regards to concert movies.

Those fears were allayed two years later with the release of Justin Bieber: Never Say Never. Part biopic and part concert performance, the Bieber movie nearly matched Best of Both Worlds, grossing $29.5 million on opening weekend. Oddly, Katy Perry's similar biopic/concert performance, Part of Me, became the least popular of the five major concert movies of the past five years. It grossed only $10.2 million over its first four days in theaters. Coincidence or not, there is a Star Trek movie phenomenon occurring wherein every other concert movie is a blockbuster while the next one is a bomb. Please note that Michael Jackson: This Is It was not included in this discussion because the posthumous aspect alters the dynamic for its performance. His potential movie-going audience existed far beyond the teen girl demographic, as well.

One Direction: This Is Us does have an additional enticement over the other four movies discussed. The band's international appeal, particularly in Europe, should lead it to better overseas box office revenue. While One Direction's four-day total as well as its final domestic take will be quite a bit less than Miley Cyrus or Justin Bieber managed, it still has a chance to become the number one movie in terms of global revenue. The band already claims number one single, album and DVD totals in over 25 countries. Thanks in part to its $10 million budget, This Is Us has a chance to be one of the ten most profitable movies of 2013 relative to return on investment.

Second place goes to the top film from the last two weekends, Lee Daniels' The Butler. The well-received Forest Whitaker feature added $14.7 million to its total, meaning that it declined only 11% from last weekend. With outstanding word of mouth and decent reviews, this is the kind of film that can capture a few Oscar nominations, including potentially Best Picture depending on the competitiveness of the field. Thus far, The Butler has earned $74 million in North America, and has yet to report international box office.

We're the Millers is having a really nice little late-summer run. It falls one position to #3 with a Friday-to-Sunday take of $12.6 million, down a fantastic 3% from last weekend. The Jason Sudeikis/Jennifer Aniston comedy has quietly earned $109.5 million, meaning that it's been a very profitable venture for Warner Bros. compared to its budget of $37 million. We're the Millers also adds another $40 million from international venues.

Fourth place goes to Disney's Planes, and you know that if a three-week-old movie that didn't really start off that great in the first place is still hanging around this high in the top 10, it's not the best week for box office. The Pixar spin-off in everything but studio name managed another $7.8 million this weekend, down just 10% from last weekend thanks to Sunday being holiday-inflated. Although it's not going to come anywhere near the heights accomplished by every Pixar film, Planes has held its own, earning $70.8 domestically and $31 million from international venues. With a budget of just $50 million, it's profitable before any ancillary revenue (read: toys) is factored in.

Showing that niche targeting works when done well, Instructions Not Included finds itself with a spot in the top five and easily the best per location average of all films in release. Aimed at the Latino demographic, Instructions Not Included was distributed by Pantelion Films, which has had some small-scale successes (including the little seen Will Ferrell film Casa de mi Padre, but nothing quite like this. The film earned $7.5 million from just 347 venues, which means that it had an average take of $21,614 in each of those theaters. This is a remarkable accomplishment and a bright spot in an otherwise lackluster weekend.

The bottom of the top ten is a complete horror show. Welcome to September and October at the box office. The sixth place film is Elysium, which is hanging around solely because competition from new releases has been so pathetic over the past couple of weekends. The Matt Damon sci-fi film earned another $6.3 million, down just 9% from last weekend. Nonetheless, the film has been a domestic disappointment. So far, it has earned just $78.4 million in North America, but is doing better internationally with almost $100 million.

Seventh and eighth place go to a couple of films that were released last weekend but failed to impress. The first of them is The Mortal Instruments: City of Bones, a Twilight wannabe that is fizzling. In its second weekend, City of Bones declined 44% to $5.2 million, bringing its domestic total to $22.7 million. Overseas venues only add about $10 million more so far, so it's got a long way to go before it's anywhere close to being profitable. It's shocking that a sequel was already in the works before this one even hit theaters. The other sophomore release is The World's End, the well-received Simon Pegg/Nick Frost/Edgar Wright film that did more or less what the other films in the Cornetto Trilogy have. They appeal to a very loyal but niche audience. This weekend, The World's End fell 46% from last weekend to $4.8 million. Its current domestic total of $16.6 million matches the amount it has brought in internationally, and the film is already a money maker.

A new release finishes in ninth place, as Getaway grabs just $4.5 million. Ethan Hawke and Selena Gomez weren't big enough names to draw people to theaters, and the 2% fresh rating at Rotten Tomatoes wasn't helping matters, either. Playing in 2,130 locations, Getaway was able to snag a venue average of just $2,113. Fortunately for Warner Bros., the budget on this one was just $18 million. It's probably not even going to get that back.

Percy Jackson: Sea of Monsters takes the #10 position. The Harry Potter knockoff earned $4.4 million in its final weekend in the top 10, down 16%. Overall, the fantasy flick has earned $55 million in North America, while overseas venues add in another $82 million. The budget is listed at $90 million, so while it will be remembered as a failure relative to the original film, it's not a disaster by any stretch of the imagination.

Finishing outside of the top 10 was Closed Circuit, which was released into only 870 venues. The Eric Bana film earned $2.5 million over the Friday-to-Sunday portion of the weekend, and has a total of $3 million since debuting on Wednesday. The studio obviously wasn't supporting this one, and will be hoping that it finds an audience on home video.

Overall, the top 12 movies at the box office earned $92.8 million, up 8.5% from last year's Labor Day Weekend number of $85.5 million. So while we've been feeling like we're in the doldrums, last year was actually worse. Next weekend brings the release of Riddick, the third film in the franchise that started more than 13 years ago with Pitch Black.