Friday Box Office Analysis
by Tim Briody
August 31, 2013
BoxOfficeProphets.com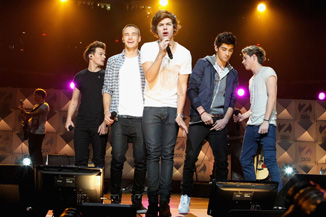 ---
One Direction: This Is Us

The boy band concert film/documentary earned a solid $8.9 million on Friday. As recent concermentaries have gone, One Direction is well ahead of the Jonas Brothers and Katy Perry, and just about even with Hannah Montana, but not quite Justin Bieber. The Bieber film was released in February 2011 and after starting with $12.3 million on Friday, managed a 2.38 multiplier, good for a $29.5 million weekend.

While the holiday may mess up the math a bit, the only concermentary (yes, I made up that word, what are you going to do about it?) that ever had a good weekend multiplier was Hannah Montana/Miley Cyrus: Best of Both Worlds Concert Tour which started with $8.6 million in February 2008 and had a $31.1 million weekend, for a pretty astounding 3.59 multiplier. More recent movies have shown this to be an aberration, so it's more likely that we've just seen the best day This Is Us will have already. Still, it shows that while they may have questionable musical talent, they're more than just a product of the hype factory (see Brothers, Jonas). I would give One Direction: This Is Us a weekend of $22.2 million, with about $25 million in four days.

Instructions Not Included

The Latino-targeted film from Pantelion Films earned $1.9 million, more than either of the other two new releases. Distributed in only 347 venues, it's going to have a solid weekend of $5.7 million and have a lot of people saying "What the heck is that movie?" when they see the top 10 results.

Getaway

Largely a non-factor this weekend is the [bp:2021_]Ethan Hawke[/bp]/Selena Gomez thriller Getaway, mustering only $1.4 million on Friday. Give it about $3.5 million for the weekend and $4 million or so in four days.

Closed Circuit

With $750,000 yesterday and only $1.3 million since its Wednesday debut, this Eric Bana/Rebecca Hall film won't even be noticed and certainly won't be in the top 10. It'll struggle along to less than $2 million for the weekend, less than $4 million for four days.

Lee Daniels' The Butler

Two week champion The Butler is bumped out of the top spot by One Direction, but continues to hold well, off just 24% from last Friday with another $3.6 million. Another $12.4 million for the weekend (and $14 million over four days) will get it closer to $100 million.