Weekend Wrap-Up
Summer Box Office Doesn't End – It Implodes
By John Hamann
August 25, 2013
BoxOfficeProphets.com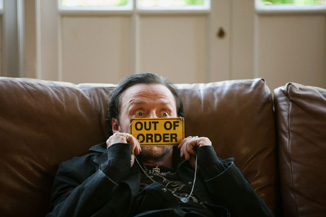 ---
Almost like clockwork, the summer box office is not only over, any sense of it has disappeared, as three new films make few waves at the box office this weekend. If this is August, I am frightened of what's coming in September.

This weekend is almost a mirror image of what went on at the box office in late August last year. A year ago, three new films opened, and all failed to make an impact at the box office with the highest newbie coming in eighth with only $6 million. This year, we have higher placements and better numbers for the openers, but the mood is the same. Summer is over, and all the shiny product has been put away until at least Thanksgiving. New releases this weekend include an Edgar Wright film, The World's End, with Simon Pegg and Nick Frost; The Mortal Instruments: City of Bones, another YA novel adaption trying to be Twilight; and You're Next, a horror release from Lionsgate that was trapped on the shelf while the company merged with Summit Entertainment (it was made with string and cotton balls so no one at Lionsgate noticed it was missing). The highlights of the weekend are the holdovers, as Lee Daniels' The Butler and We're The Millers continue to strut their stuff.

Our number one film for the second straight weekend is Lee Daniels' The Butler, the Forest Whittaker/Oprah Winfrey drama that debuted to $24.6 million last weekend. This weekend, the hold is fair, as the well-reviewed film took in another $17 million from 3,110 venues, up 117 screens from last weekend. The Butler dropped 31%, which is decent - but not a spectacular hold. The 41 producers of The Butler will be happy, though, as the $30 million Weinstein release has now earned $52.3 million. With the hold this weekend, The Butler should easily become a $75-$85 million earner domestically, so it will see a solid return on investment.

The Weinstein Company was shrewd with their release strategy for Lee Daniels' The Butler, using as much free press as possible, as well as a faith-based campaign that may be driving the non-traditional moviegoer into theatres. TWC also used the same point in the calendar that Disney released The Help, the $170 million domestic earner that also dealt with race relations. It also repeated at number one (three times) over the weekends of late August in 2011, and eventually delivered an Oscar to Octavia Spencer. Given the success at the box office, I would expect The Weinstein Company to push Forest Whittaker as an Oscar contender this year. Can The Butler hold for a third straight weekend? Maybe, but will depend on how many teens flock to the One Direction movie next weekend.

Finishing second this weekend – and for the third weekend in a row - is We're The Millers from Warner Bros. The Millers earned another $13.5 million this weekend, dropping a terrific 25%. Somewhat surprisingly, The Millers will likely cross the $100 million mark next weekend, despite costing the studio only $37 million to bring to the screen, but before a fairly hefty marketing budget. Regardless, this is a huge win for the studio, Jennifer Aniston and Jason Sudeikis, who is more known for his work on Saturday Night Live than in movies. This is another film that was well placed on the release calendar by its studio, and is reaping the rewards. There is a strong possibility that the Millers could be in second for a fourth straight session next weekend, as Labor Day openers look weak. So far, We're the Millers has managed to earn $91.7 million.

One new release that is falling flat this weekend is The Mortal Instruments: City of Bones, the $60 million release from Constantin Films (big risk financier) and Screen Gems (no risk distributor). The teen-targeted film has struggled since opening on Wednesday, when it found only $3 million, and the writing was on the wall for a troubling opening frame at the domestic box office. On Thursday, it dropped 42% to only $1.7 million before earning $3.1 million on Friday. Over the Friday-to-Sunday portion of the opening, The Mortal Instruments earned only $9.3 million, which means over five days, the YA release earned $14 million. Twilight this is obviously not.

Why studios think they can simply turn a young adult novel with a following into a hit movie without really trying mystifies me. Like Twilight, this film is awful, coming in at only 13% fresh at RottenTomatoes. These films can be bad (teens don't seem to mind that), but they can't be boring. The Mortal Instruments clocks in with a 140 minute run time, and in the age of ADD and smart phones, boring simply isn't going to work. You can throw whatever budget and cast you want at it (in this case, Lily Collins,the daughter in The Blind Side, and Jonathan Rhys Meyers), but without a script, it's going nowhere. At this point, I think The Mortal Instruments will be lucky to earn $25 million domestic, so Constantin is going to need a big overseas haul to find a profit.

The new release that offers some good news is This World's End, the new comedy from Edgar Wright, which stars, amongst others, Simon Pegg and Nick Frost. The pub crawl slash Invasion of the Body Snatchers comedy posted a weekend estimate of $8.9 million from only 1,549 venues, giving it a decent venue average of $5,773. From the director of Shaun of the Dead and Hot Fuzz (which also stars Pegg and Frost), as well as Scott Pilgrim vs. The World (a personal favorite), the Edgar Wright comedy received fantastic reviews. At the time of this writing, At World's End is 91% fresh at Rotten Tomatoes, which is oddly the same score that both Shaun of the Dead and Hot Fuzz received. It also received a B+ Cinemascore.

None of Edgar Wright's films have blown the cover off the box office. Scott Pilgrim was his highest opener at $10.6 million, but was also his most expensive picture at $60 million. It earned $31.5 million stateside and $16 million overseas, although home vid probably turned it into a win for Universal. Wright's British films were more successful. Shaun of the Dead cost $6 million, and earned $30 million worldwide. Hot Fuzz cost $12 million and earned $80.5 million worldwide. At World's End cost $20 million to bring to the screen, and with the $15 million already earned overseas, this one will be a profitable venture. Next up for Wright is Ant-Man for Marvel.

Fifth spot this weekend goes to Planes, Disney's rip-off of their own Pixar property. Now in its third weekend, Planes earned another $8.6 million and fell 36%. The $50 million animated release (that was supposed to go direct-to-video) has now earned $60 million.

Sixth is the disappointment that is Elysium, as the box office since opening weekend has been like air leaving a tire. In its third weekend, the $115 million Sony pick up took in only $7.1 million as it declined 48%, which comes on the heels of a 54% drop last weekend. Elysium has now earned $69 million at the domestic box office.

Seventh is Lionsgate's You're Next, a well-reviewed horror flick that the studio failed to market. The 80% fresh horror release earned only $7 million this weekend, despite being the tracking pick of the week to lead the newcomers. This one should have been easy to open above $10 million, following extremely good reception at festivals in 2011. Unfortunately, it was shelved for two years as when Lionsgate took over Summit, giving them more product than they knew what to do with. You're Next was likely a cheap pick-up for the studio, so even with lower than expected numbers, this one will still likely be a success for the studio.

Percy Jackson: Sea of Monsters is eighth, and is proving to be another questionable gamble on a young adult novel. Sea of Monsters earned $5.2 million in its third weekend, dropping 41%. This one cost $90 million, and has a gross so far of only $48.2 million.

Blue Jasmine, the Woody Allen release starring Cate Blanchett, finds its way into the top ten with a ninth place finish. After a couple of weekends in limited release, Sony Classics put Blue Jasmine out to 1,297 venues, and the result is a weekend gross of $4.3 million. That's an increase of 88% compared to last weekend (where it was in 229 venues), and gives the drama a running total of $14.8 million at domestic theaters.

Kick Ass 2 got its ass kicked again this weekend. After opening lower than expected last weekend to $13.3 million, the Universal sequel dropped an alarmingly bad 68% for a weekend gross of only $22.4 million. Kick Ass 2 cost only $28 million to bring to the screen, but has a gross so far of only $22.4 million.

Overall, summer is starting to fade, and so are box office totals. The top 12 this weekend earned $91.6 million, which actually compares favorably with last year, when the top 12 picked up $82.8 million. New releases next weekend include Closed Circuit with Eric Bana, Getaway, with Ethan Hawke and Selena Gomez, and One Direction: This is Us, the new concert movie from Morgan Spurlock.