Weekend Forecast for August 23-25, 2013
By Reagen Sulewski
August 23, 2013
BoxOfficeProphets.com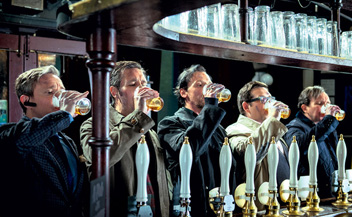 ---
Every year, there's a couple of weekends I'm sorely tempted to blow off, due to a monumentally uninteresting lineup of films. Usually these occur early in the year and late in the summer or mid-September. But for a sort of cultish film opening this weekend, this would be one of those to throw on the pile.

That film is decidedly not the one that got a jump on the weekend, The Mortal Instruments: City of Bones. Yet another young adult novel adaptation but not, as my producers are notifying me just now, a fast-tracked Beautiful Creatures sequel (you can understand my confusion), it stars (is that the right word? Apparently yes) Lily Collins as a young woman who discovers that she belongs to an ancient race of... somethings... that hunts down demons that are attempting to take over the human world. Faster than you can say "I can haz new Twilight now?" she's using her new powers to join a group of heavily-tattooed other hunters that only she can see.

Although it's based on a series of six books and has that presumptive semi-colon in the title, one needn't get in line for the second film just yet. Wednesday's opening figure was just over $3 million. Once again, studios forgot the "making sure there's actually a buzz behind your franchise" part of the franchise-building exercise. Then again, other young adult franchises have had something distinctive about them (yes, even Twilight), while a lot of the substandard copies have looked like generic mashups of every fantasy trope. The Mortal Instruments seems no different and should limp home to around $11 million this weekend.

This leaves things wide open for You're Next to take the weekend. A horror movie from some of the people behind the cult hit V/H/S, it's more of a traditional horror film, if you could call a bloodied-up version of Home Alone traditional. In it, a "nice," upper-class family retreats to a secluded mansion to celebrate a milestone, when masked villains start shooting up the place with arrows, and then stalk the scattered and terrified survivors around with axes. One member of the group (oh, the female non-relative – how *novel*) discovers a bit of a talent for fighting back through direct and indirect means, and your home-invasion survival horror film is *on*.

Getting uncharacteristically strong reviews for an indie horror film, it echos a bit of this summer's The Purge, albeit with a bit of a comedic edge. I'm not out to claim Ethan Hawke is any kind of box office superstar (as next week will show to the contrary), but one thing between You're Next and the status of a huge hit is any kind of recognizable name. Just someone, anyone, for audiences to hook on to that they've heard of could have turned this into a monstrous hit. All the same, these well-reviewed horror projects have a way of surprising people, and a $15 million opening weekend would be outstanding for this bargain production.


Which brings us to the real reason to go to the movies this weekend (even if most of you don't think so), The World's End. While it seems to follow on the heels of the many, many apocalypse themed films of the last couple of years, it's actually the long-planned conclusion of the unofficial "Cornetto" trilogy of Edgar Winter, Simon Pegg and Nick Frost, and hopefully most of you still know what I'm talking about. Loosely connected with Shaun of the Dead and Hot Fuzz, The World's End brings back the core casts of those two films for a film about drinking and, well, the end of the world.

Along with Pegg and Frost (reversing roles as screw-up/relative success), Martin Freeman, Paddy Considine and Eddie Marsan join the cast as a set of drinking buddies who reunite to try to complete a legendary pub crawl in their home town, only to find out that things in the town are not quite what they used to be and they're all in grave peril (if you've managed to avoid seeing what kind of peril from the ads released so far, I won't give away the rest of it). As in Shaun and Hot Fuzz, hilarious genre parody ensues, while still being a really effective example of the genre.

Sadly, while the previous two films are minor cult classics, they've never caught on in North America to any real degree, with the two together barely passing $40 million domestic. I don't expect that to change dramatically here, even as Pegg has become something of a household name thanks to the Mission: Impossible and Star Trek franchises. Yeah, James Doohan wasn't opening many blockbusters either. However, the increased name recognition is probably worth *something*, and the last two films may have had enough time to build a bit of a following. I'd look for a modest $8 million this weekend.

Also expanding is Woody Allen's latest, Blue Jasmine, starring Cate Blanchett, Alec Baldwin, Sally Hawkins, Louis C.K. and Andrew Dice Clay (!). Blanchett plays a wealthy socialite in the middle of a breakdown after realizing her general uselessness to the real world. This appears to be "good" Woody Allen, after the disappointment of To Rome With Love, and has already earned about $9 million in limited release. An expansion to 1,200 or so venues should bump this up to around $4 million this weekend.

After an impressive $24 million start, Lee Daniels' The Butler does not look like it's ready for an amazing run, though awards attention could change that. The best opinion of the movie seems to be "well, that was surprisingly unhorrible", and its check-list take on the civil rights movement of the 1960s hasn't inspired much in the way of raves. I don't think we're at full Tyler Perry, but a steep drop to around $11 million could be in the cards.

That's about the same take that We're the Millers should find in its third weekend, as it's proving itself to be a solid little earner with around $75 million in the bank so far. For a late summer comedy, its eventual total of around $125 million is definitely above the average.

In slightly more trouble is our next trio of films, Planes, Elysium and Kick-Ass 2. All of them earned around $13 million last weekend, and they should end up with between $5 and $8 million this weekend, with the family film ranging towards the higher end. That the first two will end well short of $100 million is a major upset, and that the third might not crack $30 million seems like a minor victory for taste.