Weekend Wrap-Up
Only The Butler Kicks Ass at the Box Office
By John Hamann
August 18, 2013
BoxOfficeProphets.com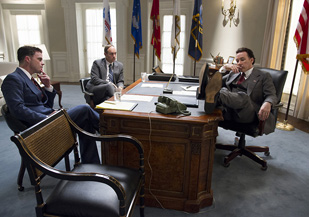 ---
Just as The Help competed strongly with Rise of the Planet of the Apes and destroyed Conan the Barbarian a few years ago, Lee Daniels' The Butler similarly came out ahead of Kick Ass 2, Jobs and Paranoia this weekend.

Our number one film at the box office is Lee Daniels' The Butler, called that because the people at Warner Bros. don't know how to play nice. The star-studded drama was made for only $30 million, and after a Friday night where it earned $8.3 million, The Weinstein Company knew they had a hit on their hands. Over the weekend proper, The Butler (please don't sue me for calling it that, WB), grossed an impressive $25 million, besting tracking and studio estimates that had it opening in the high teens. Out to 2,933 venues, The Butler racked up a strong venue average of $8,527. It earned a powerful A Cinemascore (it's a weeper), and is currently 73% fresh at RottenTomatoes. Its weekend multiplier (weekend gross divided by Friday gross) came in at 3.0, which indicates that a more adult-skewing audience came out for the film over the entire course of the weekend.

The success of The Butler can be attributed to more than a few reasons. First off, the casting was strong. Forrest Whitaker and Oprah Winfrey headline The Butler, and Whitaker is an Oscar winner while Winfrey has been a nominee. Whitaker couldn't open a door as of late, but has a long history of great performances, going back to his small but memorable role in Fast Times at Ridgemont High in the late '80s, to Good Morning Vietnam, The Crying Game, Panic Room, and The Last King of Scotland, for which he won his Academy Award for Best Actor. Winfrey hasn't been on the screen since 1998's Beloved, which was a stunning flop, costing $80 million to make and grossing only $22.9 million. Prior to that, though, Winfrey made a big splash in The Color Purple, which earned $95 million in 1985 as well as an Oscar nomination for the icon. The Butler had the pedigree to be successful.

Additionally, both Harvey Weinstein and Winfrey helped get a lot of free press for The Butler. Weinstein's tussle with Warner Bros. over the title gave The Butler about two weeks of free press, as the studio mogul played David to Warner Bros. Goliath, at least towards the press. Then we have Winfrey's tale of woe in Switzerland, where she ran into a purportedly racist clerk who I guess hadn't seen Pretty Woman. Lastly, The Butler promoted the faith-based aspects of the movie, and as we have seen in the past, if there is a special interest group that supports movies, look out for churchgoers. All of these things helped propel The Butler to the top. With the solid Cinemascore, The Butler could hold on at the box office for a while, and may see some Oscar recognition down the road.

Finishing a surprising second is We're the Millers, which relied on the failure of Kick Ass 2 and Elysium to surprise, instead of anything it did on its own. We're the Millers picked up $17.8 million in its second weekend, dropping an solid 33%. The Millers did some good business over its first set of weekdays, as it was the top title from Monday to Thursday, taking down Elysium, which beat it by only $3.5 million last weekend. The $37 million Warner Bros. release has now pulled in $69.5 million, and could reach $100 million before all is said and done. It should also do decent business overseas, eventually.

Third is the disappointing Elysium, which many hoped would the next big thing, but simply isn't. Elysium is also underachieving at the box office. Last weekend, Elysium was estimated to have earned $30.5 million, but when actuals came out, it was only at $29.8 million. This weekend, things are much worse, as the Matt Damon starrer took in only $13.4 million, which gives it a devastating drop of 54%. Remember that Sony paid $115 million to acquire Elysium, and at this point, it looks like the Sony release will only earn $75 million at the domestic box office. Foreign box office will prop this one up somewhat, but it will be a tough slog for it to be profitable.

Fourth goes to Kick Ass 2. Ever since Jim Carrey dissed his own film, it seems to have been an uphill battle for this sequel as it headed toward release. Its numbers were lackluster as it grossed only $13.6 million from 2,940 screens. It saw a decent Thursday preview of $1.3 million, but has faded ever since. Reviews were the same; they started off okay, but as more people saw the film, the more the score dropped at Rotten Tomatoes. In the end, it finished with a 28% fresh rating, though it did manage a B+ Cinemascore.

There would be no surprise this time around about how different this film is, and how violent. Producers based a greenlight decision on the breakout opening weekend of the original, which looked good on a paper with its $20 million debut against a $30 million budget. However, as usual in Hollywood, there is always more to the story. While it did have a strong debut, the original Kick Ass didn't have a weekend drop above 50% until weekend six, as it dropped 53%, 52%, 67%, and 64%. In other words, audiences beyond the fanboys didn't care for the original, and in reality, a sequel never should have been made. The original had an open-to-total multiplier of 2.4, a number that does not scream sequel. This one was made for $28 million, a number this one will reach domestically, but no one is getting rich with Kick Ass 2.

Fifth is the Pixar rip-off Planes, and I am pleased to see the bottom falling out of this one. Planes earned only $13.1 million in its second weekend, dropping 41%. Made for $50 million, Disney will see some profit from Planes, but families seem to be picking up on the fact that it is crap. So far, it has earned $45.1 million at the domestic box office, but it will certainly not see the heights of the Cars franchise, where the original earned $244 million, and the sequel took in $191.5 million.

Sixth is Percy Jackson: Sea of Monsters, and like We're the Millers, didn't completely fall on its ass in its second weekend like the other two openers from last weekend did. Too bad it's too late for redemption. Percy Jackson 2 took in $8.4 million in its second weekend, dropping a not awful 42%. It's going to struggle to get to a $50 million domestic total, but I bet foreign box office and home video make it a win for Fox. So far, it has earned $38.9 million against a $90 million production budget.


Seventh is another opening failure. This time, it's Ashton Kutcher in Jobs (Kutcher thought producers said "a job" and signed up immediately). The Steve Jobs biopic did not get its audience out this weekend, and the small pic distributed by Open Road debuted to only $6.7 million. Out to only 2,381 venues, no one was expecting this one to break out, but even this total was lower than expected. It received poor reviews (24% at Rotten Tomatoes) and earned only a B- Cinemascore, and will end up as a footnote in the history of Steve Jobs.

Eighth goes to 2 Guns, the Denzel Washington/Mark Wahlberg release. Since opening well at $27 million, 2 Guns has faltered ever since, dropping 58% last weekend, and 50% this weekend. That means the Universal release earned only $5.6 million this weekend, as the film approaches its $61 million budget with ticket sales. It has yet to open overseas, though, so likely whatever it finds over there will help this one get to profitability. So far, the action flick has gunned down $59.2 million.

Ninth is those damn Smurfs, as despite seven new films over the last two weekends, this one still has a spot in the top ten. Smurfs 2 earned only $4.6 million and fell a pleasing 51%. Sadly, overseas audiences continue to lap this up, as it has already pulled in over $110 million overseas. Domestically, though, we are getting smarter as Smurfs 2 has earned $56.9 million against its $105 million budget.

The final top ten spot goes to The Wolverine, which manages to hang around for another weekend despite steady declines each week since it debuted below the total of the previous Wolverine film. This frame, the Hugh Jackman superhero movie took in $4/4 million, down 45%. Its domestic total of $120.5 million is only so-so (and just matches the production budget), but internationally, it's already nearing the $200 million mark.

In other box office news, the final opener, Paranoia, which displayed a cast that included Harrison Ford, Gary Oldman and Liam Hemsworth, flopped badly this weekend. Paranoia earned only $3.5 million, which means it finished 13th this weekend. It had only one positive review out of a possible 55, so audiences certainly didn't miss much with this one. It cost $35 million to make.

Overall, the box office is starting to really lag behind last year. The top 12 films this weekend earned only $120.5 million. Last year, seven films earned more than $10 million, leading the box office to $127.3 million. Next weekend brings Mortal Instruments: City of Bones, and two films that are getting great reviews - Edgar Wright's The World's End, and You're Next, the latest horror release.