Friday Box Office Analysis
By David Mumpower
August 17, 2013
BoxOfficeProphets.com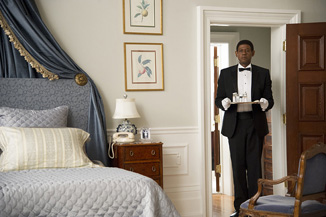 ---
Another engrossing August weekend at the box office has begun. Four new movies entered the marketplace, each catering to a specific demographic. A biopic, a comic book adaptation and a corporate thriller all had cause for optimism to win Friday and the weekend. In the end, The Butler did it.

Yes, Lee Daniels' The Butler was the number one movie in North America on Friday, grossing $8.3 million. The unusually titled Oscar contender mimicked the debut of 2011's The Help. The Tate Taylor release debuted in mid-August, earning $7.6 million on its first Friday and finishing with $26 million during opening weekend. The Help was lauded with four Academy Awards nominations including a victory in the Best Supporting Actress category for Octavia Spencer. That movie's stunning triumph in terms of North American revenue ($169.7 million) and critical acclaim became the blueprint for end of summer attempts such as The Butler.

Why did North American audiences flock to see The Butler? The inspirational story is a magnificent combination of The Help and 42, another 2013 blockbuster exploring the racial dynamics of the United States. During a time when the media frequently cites 1960s civil rights issues as a comparison to gay rights today, movies that examine the key players in those turbulent times are appealing.

The Butler is also aided by some of the most remarkable casting in recent memory. The titular protagonist is a White House employee whose career coincides with the tenures of legendary American presidents. This affords The Weinstein Company production the unprecedented ability to cast John Cusack as Richard Nixon, Robin Williams as Dwight D. Eisenhower and Alan Rickman as Ronald Reagan. Yes, Professor Snape is Ronald Reagen, Patch Adams is FDR and Lloyd Dobler is Tricky Dick. Who wouldn't want to watch that?

Adding to the must-see nature of The Butler is the presence of Oprah Winfrey as the wife of the main character. Oprah had not acted in a live action movie since 1998's Beloved, adding another enticement to the project. Winfrey remains one of the few Hollywood icons whose presence in a project moves the dial in terms of turning potential customers into actual movie goers. If only her longtime friend Roger Ebert could have lived long enough to see her in one final movie.

Lee Daniels' The Butler is a slam dunk to win the weekend. A multiplier of 3.2 would indicate a total weekend of $26.6 million, thereby surpassing most industry expectations. At this point, The Butler is a contender for $100 million although it is not the slam dunk that The Help was at this point two years ago.

The second most popular new release on Friday was a comic book sequel, Kick-Ass 2. Three years ago, unsuspecting movie goers were introduced to the concept of Nicolas Cage as a would-be action hero who was a rather lousy parent. He trained his too-young daughter in the art of killing, which created uncomfortable viewing for a vocal minority of Kick-Ass viewers. The $28 million production was still a prosperous outing, as the movie earned almost $100 million worldwide.

Three years later, the idea of 16-year-old Chloë Grace Moretz assassinating many, many people is slightly less horrifying. It is definitely not as scary as the presence of Jim Carrey in a role that causes most Hollywood insiders to try to pinpoint exactly where his career fell apart. Whatever the answer, the producers of Kick-Ass 2 accomplished an impressive feat. They maintained the $28 million budget of the original while adding an arguably more famous washed up A-list actor. Oddly, this maneuver did not help the bottom line any.

Kick-Ass 2 totaled $5.8 million on Friday, 25% less than the $7.66 million of its predecessor. Part of this can be explained by the fact that the original Kick-Ass was such a divisive movie due to its violent content/concepts. The other sticking point is that the sequel did not have the novelty of the first movie, whose popularity was largely concept driven. Catching up with those same characters a few years down the line is a nice touch. It is not however, as fresh as Kick-Ass, which did claim the strong selling point of real people trying to be actual superheroes. Still, unlike last weekend's disappointment, Percy Jackson: Sea of Monsters, its financial outlay was so modest that there is nothing but upside to an opening weekend of $15 million. Kick-Ass 2's frugality will carry the day.

The bloom is off the rose with regards to Steve Jobs. A beloved entrepreneur throughout his life, the recently departed innovator was by all accounts a monster in his professional interactions. All of the people who were unwilling to speak out against such a powerful man when he was alive lined up en masse to dance on his grave. Since I never met him and really love my iPad, I find such behavior uncouth, but the key words are "never met him."

In the wake of those stories about Jobs the person, Hollywood rushed to create a signature biopic about this complicated genius. Ashton Kutcher famously took the role so seriously that he wound up hospitalized after discovering the downside of a sudden change to a fruitarian diet. Despite his chameleon-like attempt to recreate the humanity (or lack thereof) of Jobs, Kutcher's boldest acting attempt will not be a box office winner. Jobs debuted to an apathetic $2.6 million on Friday. While modestly produced for only $12 million, the Jobs project has claimed heavy buzz for the body of a year now. A single digits weekend of $7 million is by no means financially disappointing. Jobs is a blueprint example of opportunity cost revenue loss instead of actual money loss, though. A LOT of money has been left on the table. No movie that receives so many free headlines should debut to such a paltry amount.

Finally, the fourth new movie this weekend is an unmitigated failure. Paranoia, an impressively cast movie about corporate intrigue, was a non-factor on Friday, grossing a paltry $1 million. The Harrison Ford/Gary Oldman/Liam Hemsworth movie somehow proved to be less than the sum of its parts. Claiming arguably the least engaging trailer of calendar 2013, Paranoia aspired to be a modern version of Disclosure, a 1994 hit about sexual harassment and cheap third world technology manufacturing (no, really). Instead, Paranoia is even looking up at Antitrust, a 2001 box office disappointment that I happen to love. A weekend total in the range of $3 million is indicative of a project unlikely to earn $10 million domestically. A couple of years from now when the new Star Wars movie comes out, Harrison Ford is going to try to pretend that this movie never existed. The only other thing we learned from this travesty is that Ford is NOT good looking as a bald man.