Weekend Wrap-Up
Elysium Number One but Millers True Winner
By John Hamann
August 11, 2013
BoxOfficeProphets.com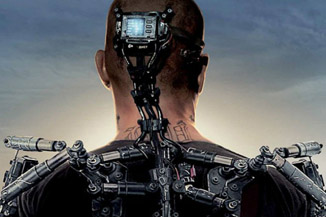 ---
For once, a Wednesday opening makes sense. Even though We're the Millers may not be box office champ this weekend, the Warner Bros. release is the best investment of the new openers. If I had said that a month ago, I would have checked myself into the asylum. Back then, I thought Elysium was the surest best in town.

It's a busy box office weekend. Four openers faced off, with two debuting on Wednesday, and the other two getting their start on Friday. Percy Jackson: Sea of Monsters and We're the Millers opened on Wednesday. Percy Jackson wanted some distance from Disney's Friday opener Planes (despite being invisible), and We're the Millers wanted some distance from Elysium, the film everyone thought had the biggest chance to break out. With 2 Guns not burning down the box office house last weekend and The Smurfs 2 imploding domestically, the box office was wide open for a breakout success. Unfortunately it didn't happen, as only one of the new releases was able to break the $30 million dollar plateau, at least over the Friday-to-Sunday portion of the weekend. There's not a lot of revenue difference between the #1 one and #3 films at the box office, but we have big differences in costs. In one case, we even have what is hopefully large damage to a very successful brand.

Our number one film, at least over the Friday-to-Sunday portion of the weekend, is Elysium, the new film from Neil Blomkamp, who gave us District 9 (and we should have returned the favor with an Oscar, but that never goes right). District 9 was the epic, $30 million film from a brand new visionary. It was 90% fresh at RottenTomatoes and opened to $37.4 million over an August weekend in 2009, going on to earn $210 million worldwide. Given that Elysium was Blomkamp's follow up to District 9, this time with a much bigger budget and two A-list stars in Matt Damon and Jodie Foster, a month ago this new release was set to rip up the box office. However, a poor marketing campaign from Sony and so-so reviews kept buzz at bay for Elysium, and the result this weekend is less than dramatic.

Elysium opened to $1.6 million from Thursday previews, a number that was never going to be good enough for the movie to break out. 2 Guns earned $1.3 million from previews the weekend before, and other releases this summer have certainly seen bigger results from a Thursday late night screenings, like World War Z ($3.6 million), Pacific Rim ($3.6 million) and even The Great Gatsby ($3.2 million). Without a single showing on Friday, we knew that Elysium was not going to be very big, and at best would struggle to make Sony's low-ball estimate of $35 million. The Friday number was reported at $11.2 million; however, once we take the Thursday grosses out, it means that Elysium failed to crack the $10 million mark on Friday, which means more disappointment for Sony. The weekend figure for Elysium came in at $30.5 million from 3,284 screens, giving the sci-fi actioner a venue average of $9,287, and disappointing numbers across the board.

For Matt Damon, this is not a good result. The A-lister has had only one film gross more than $100 million at the domestic box office (True Grit, which was more of a supporting role) since the last Bourne and Ocean's films came out in the summer of 2007. Since then, there have been some good films for Damon (The Adjustment Bureau, Invictus), but no real breakout successes. I find it interesting that while Ben Affleck was going through his career pain, Matt Damon was on top of the world with two highly successful franchises. Now that Affleck has transformed into a mega star-slash-director, Damon's fortunes have waned.

Worldwide rights to Elysium were sold to Sony by Media Rights Capital for $115 million, and the true budget is not known. That pick-up cost for Sony would not include prints and advertising, so we likely need to add at least another $100 million in worldwide marketing costs to see the true expense for the studio. Given the opening weekend, Elysium is going to need to find some success overseas if Sony is going to come out ahead. An issue that the studio must be worried about is the fact that District 9 earned $20 million LESS overseas than it did at the domestic box office. If that trend holds, Sony will lose a bundle on Elysium.

The entertainment press (yes, I'm looking at you, Hollywood Reporter) has had some fun this summer bashing Sony over After Earth, the Will Smith release that earned only $60 million domestically against a $130 million budget. What you may not know is that After Earth took in $184 million overseas, leading to a worldwide gross of $244 million. Yes, Sony will lose money on After Earth, and a lot of money on the $150 million White House Down, but the sky is not falling. Smurfs 2 was soft domestically but will make it up overseas; Grown Ups 2 and This Is the End were comedy hits; and they still have Mortal Instruments coming in late August. Elysium is a disappointment, but don't believe people that will call it a flop.

Finishing second is We're the Millers, the comedy that dominated Wednesday and Thursday, and then grossed even more on Friday when the big competition was supposed to be showing up. The Millers earned $6.8 and $4.7 million over Wednesday and Thursday respectively, impressive numbers for an original comedy opening mid-week. The Friday number grew to $8.5 million, which meant word-of-mouth was good, and Elysium caused no problems. Over the Friday-to-Sunday portion of the weekend, the Jennifer Aniston comedy earned an impressive $26.5 million, and the film had a five-day gross of $38 million. What would you rather hold in your portfolio, a $115 million sci-fi epic that opened at number one with $30.5 million or an R-rated comedy that cost only $37 million to make and took in more over five days?

Jennifer Aniston continues to make great choices for movie roles. While Wanderlust, last year's miss with Paul Rudd, didn't do very well, it's more of an exception than a rule. Prior to last year, Aniston had two consecutive $100 million plus movies with Horrible Bosses and Just Go With It. Prior to that, she had $100 million wins with The Break-Up, Marley and Me, and Bruce Almighty. Next up for Aniston is Life of Crime, and comedy caper flick from Elmore Leonard, due out in September.

Finishing third this weekend is Planes, which looks like it's from Pixar, but is actually from Disney's direct-to-video division. If that's not bait and switch, I don't what is. Parents were fooled into thinking this was a quality release from Pixar, and the cartoon earned $22.5 million from 3,702 locations this weekend. While Disney did sell a lot of tickets, Planes was also the worst reviewed release of the lot of four (25% fresh). This critical thrashing could damage the brand. The Pixar brand that started with cars and now has expanded to planes has brought Disney $3.5 billion worth of ticket sales over the years, so in my mind, this franchise should be the golden fleece they want to protect. Now that Disney has Marvel and Star Wars, maybe they feel they can move away from their core business. Disney may make big money from Planes (it supposedly cost $50 million) but in the long run, this is not a good move.

Fourth is Percy Jackson: Sea of Monsters, the other film that opened on Wednesday. The Fox release got started with an okay $5.5 million start on Wednesday, but has been shrinking since. On Thursday, Percy Jackson earned only $3.4 million before increasing on Friday to $4.9 million, but that number was still behind the opening day tally from Wednesday. Over the Friday-to-Sunday portion of the weekend, Percy Jackson: Sea of Monsters earned $14.6 million from 3,031 venues, and $23.5 million since opening mid-week. This is an okay debut for a film that was never going to do much. The original opened to $31.2 million over a February weekend, and was completely forgotten domestically, as it finished with $88.8 million. It did earn $138 million overseas, which is likely the reason for the sequel. I see a less promising result coming domestically, especially with Mortal Instruments not that far off. The sequel cost Fox $90 million to bring to the screen ($5 million less than the original).

Fifth is 2 Guns, which got hammered by all the new product. After opening to $27.1 million last weekend, the Denzel Washington/Mark Wahlberg starrer fell a nasty 59% to $11.1 million this weekend. Given that 2 Guns cost only $61 million to make, Universal will make out just fine here, as it has a gross so far of $48.5 million, and it will get to $65 million at least, before matching that amount abroad.

Sixth is The Smurfs 2, which holds better than 2 Guns. Smurfs 2 earned $9.5 million in its second weekend, declining 46%. The Sony release cost $105 million to make, and will likely earn $65 million domestically and $150 million overseas. The best news is that with four more new films next weekend, these Smurfs may be out of my hair quite quickly. The Smurfs 2 has earned $46.6 million at the domestic box office so far.

Seventh is The Wolverine, and after a 60% plunge last weekend, it continues its freefall, despite its $120 million budget. Wolverine earned only $8 million, dropping 62% in weekend three. The Wolverine opened to $53 million, fell to $21.3 million, and is already bottoming out. Overseas it is finding a lot more success, with a total of $194 million.

Eighth is The Conjuring, and we are finally starting to see this one start to break down. Warner Bros. dropped the screen count for the horror flick by about 500 this weekend, and The Conjuring fell 49% to $6.7 million. It's all good news for this one, though, as the $20 million release has brought its domestic cume up to $120.7 million.

Ninth is Despicable Me 2, which also loses a massive number of screens. Moving from 3,207 venues last weekend to 2,395 this weekend, the minion sequel could only find $5.7 million as it fell 43%. It is still moving toward the biggest releases ever for Universal, as it has earned $338.3 million domestically, only a few million behind E.T. and Jurassic Park, which topped out at $359 and $357 million during their first runs at the domestic box office.

Finally in tenth is Grown Ups 2, as Adam Sandler and his gang of friends hang around in the top ten for one final weekend. The comedy managed to take in another $3.7 million, good for a decline of 53%. Considering how little effort it took to make this movie happen, Sony has to be pretty thrilled that it has earned $123.8 million at the domestic box office so far.

Overall this weekend, the box office remains hot as none of the four openers hit the dirt this weekend. The top 12 films grossed $143.7 million, which is ahead of last year, when The Bourne Legacy led the top 12 to $133 million. Next weekend brings another basket of releases to theaters. Openers include Jobs, Kick-Ass 2, Paranoia, and Lee Daniels' The Butler.