Friday Box Office Analysis
By David Mumpower
August 10, 2013
BoxOfficeProphets.com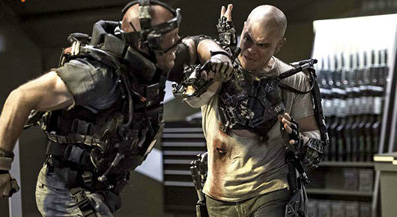 ---
A rare box office showdown was expected on Friday. A high concept science fiction film, an originally planned as straight-to-DVD family film and a good old-fashioned 1990s style sloppy T&A MILF comedy all squared off in a battle to be champion. Elysium won the battle. We're the Millers won the war. As for Disney's Planes, its raison d'être has nothing to do with movie ticket revenue so anything it grossed this weekend is found money for the industry's most important distributor. Also, a Percy Jackson was released.

The takeaway headline from Friday is that Neill Blomkamp's Elysium finished in first place with a lower-than-expected but still tolerable $11.2 million. Blomkamp became an overnight sensation in 2009 when his directorial debut, District 9, shocked the industry. The action parable about the madness of racism and xenophobia proved to be a financial triumph, grossing a factor of seven more in worldwide box office than its modest financial outlay of $30 million. Simultaneously, District 9 became a hallmark achievement in critical and audience reception. Blomkamp's debut is 90% fresh at Rotten Tomatoes while also claiming an 8.0 among IMDb users. District 9 is a perfect project.

Obviously, a follow-up to such an acclaimed production faces all the dangers included with heightened expectations. Elysium has been oftentimes cited as one of the most important movies on the 2013 schedule. As is regularly the case with second releases from heavily lauded content creators, Elysium has failed to live up to the hype of its predecessor. The movie is "only" 66% fresh at Rotten Tomatoes while currently claiming a score of 7.2 at IMDb. Clearly, it falls into the category of good whereas District 9 is undeniably quantified as great.

The similarities include the opening weekends as well. District 9 launched into 3,049 locations, grossing $14.2 million on opening day on the way to a $37.4 million weekend. As a de facto sequel, Elysium was expected to debut slightly higher. Alas, an $11.2 million start is not only $3 million lower (not adjusting for four years of box office inflation) but also troubling due to the staggering difference in production costs. Elysium cost just under $100 million, more than triple Blomkamp's first film. That's the bad news. The good news is that an opening weekend of $29 million combined with solid prospects overseas virtually guarantees that Elysium will be a profitable endeavor for Sony.

What is troubling is that the addition of bona fide A-list talents Matt Damon and Jodie Foster added nothing to the bottom line of Elysium's box office potential, while significantly increasing the production expenses. As such, Elysium's debut is a relative draw, and probably something of a sophomore slump for Blomkamp. Even so, every male between the ages of 18-49 in the free world desperately wants him to announce that his next project is Halo, which was originally intended to be his directorial debut before Microsoft got too greedy.

Finishing in second place is We're the Millers, surprising if only because its presence here demonstrates the disappointment of Disney's animated release. We're The Millers accrued $8.4 million on Friday, which brings its three-day total to $20 million. With a projected weekend take of $22.7 million, We're The Millers will gross just under $35 million from Wednesday-to-Sunday. It is the real winner this weekend, at least with regards to box office.

We're The Millers was produced for a paltry $37 million, so it will be in the black in a matter of days. Apparently, the tactic of selling North America on the idea of receiving a lap dance from Jennifer Aniston was a shrewd marketing ploy. Of course, the grim news for Ms. Aniston is that her latest attempt to recreate the popularity of Marley & Me and The Break-Up forced her to become 2013's answer to Stifler's Mom.

Unquestionably the most divisive release of the weekend is Planes, which finished in third place with $8.1 million on Friday. Originally announced as a straight-to-DVDe title, Planes was a blatant by Disney to expand the world of Cars beyond the core concept. Many hysterical columns have been written about the disturbing dystopian society that has borne witness to the extinction of humanity in favor of sentient vehicles. All of that is irrelevant to the franchise's target audience, young boys. Cars has become the most popular toy brand since Star Wars, and I say that without hyperbole. Any time toy sales are measured in the billions, even Disney's bottom line can be positively impacted.

Of course, the flip side of the coin is that Planes embodies every negative aspect of shameless commercialism. From a creative perspective, there was absolutely no need for a Cars sequel in 2011. A Planes movie in 2013 is begging for incendiary critical analysis. None of that matters to Disney, though. If Planes merchandise proves to be even 10% as popular as Cars, they have expanded the brand by 10%, which is again no small feat since the franchise's toy sales ARE measured in the billions. As such, any revenue Planes grosses worldwide is like more gold in a dragon's den. How much is enough? Only Disney accountants know. Planes is headed for a weekend total of $25 million, which will allow it to overtake We're The Millers for second place. In the end, the primary determinant in the success or failure of Planes is toy sales, though.

Over the past two years, the unwelcome sequel has been a phenomenon debated to death in our industry. Perhaps no 2013 title represents the concept better than Percy Jackson: Sea of Monsters, the follow-up to 2010's Percy Jackson & The Olympians: The Lightning Thief. While I credit Fox for streamlining the title from an unwieldy eight words to a slightly less awkward five, the existence of this project still leads to more questions than answers.

The original Percy Jackson movie grossed only $88.8 million domestically against a production budget of $95 million. The overseas revenue of $137.7 million was barely enough to switch the title from bomb to box office draw. Despite this lackluster performance, Fox forged ahead with their intended plan to create a franchise from Rick Riordan's five book series. To their credit, they did reduce the budget by $5 million to minimize risk, but I have to believe that there were better uses of $90 million than this particular sequel.

North American audiences were predictably indifferent to the new product. The movie grossed $4.9 million on Friday, bringing its three-day total to $13.8 million. For comparison, the first film earned $31.2 million in its first three days so this is a Narnia situation developing. Percy Jackson: Sea of Monsters should gross $15.2 million this weekend with a grand total of $24.1 million. The project will once again require overseas revenue to save it from being a bomb, presuming that lightning strikes twice. I refuse to make a pun/joke about lightning thieves here but you are warmly encouraged to do so.