Weekend Wrap-Up
2 Guns Mows Down Smurfs at the Box Office
By John Hamann
August 4, 2013
BoxOfficeProphets.com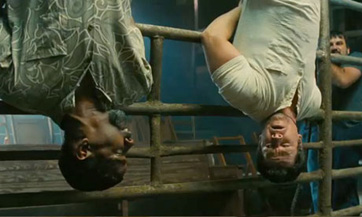 ---
Smurfs 2 opened at the box office in third this weekend, and there was much joy throughout the land.

It should have been an easy weekend for Smurfs 2 to open at #1, as the other opener, 2 Guns, stars Mr. Reliable, Denzel Washington, so all the Smurfs had to do was open beyond $25 million. Denzel may be one of Hollywood's most consistent stars, but he has only had four films open to more than $25 million prior to this weekend; the original Smurfs debuted to $35.6 million, and sequels generally tend to open larger than their originals. Not this time, as Sony chose to open Smurfs 2 on Wednesday for a reason not easily ascertainable at this time. In the end, Sony produces a bad film that will end up with bad box office news, at least on the domestic side. However, with Smurfs 2, Sony isn't too concerned with domestic audiences – they are three times as concerned about overseas kids.

Our number one film over this notoriously slower August weekend is 2 Guns, the adult-oriented action-packed release from Universal, that studio that has had a number one film a massive six times over the 2013 summer season, a feat the studio accomplished only three times last year (they could make it seven times when Kick-Ass 2 opens on August 16th). 2 Guns was never supposed to be massive, and it wasn't. The Denzel Washington/Mark Wahlberg starrer opened to $1.3 million from Thursday previews, and when added to opening day, 2 Guns managed to pull in $10 million. Over the weekend proper, 2 Guns managed a decent if not spectacular $27.4 million from 3,025 venues. It earned a venue average of $9,045, and cost Universal and partners $61 million to produce after tax incentives (why the state of Louisiana gives up $20 million for a movie to shoot there escapes me, but that's another column). For Washington, 2 Guns opened to the plus side of his wheelhouse, as he has had 13 films open between $16 and $25 million over his illustrious career. 2 Guns doesn't quite get to the heights of Inside Man ($29 million opening), The Book of Eli ($32.8 million), Safe House (40.2 million) or American Gangster ($43.6 million opening), which may disappoint Universal somewhat, as three of those four top grossers for Denzel were Universal releases. For Mark Wahlberg, the debut is decent, getting past his last film, Pain & Gain ($20.2 million), as well as 2012's Contraband ($24.3 million opening), where Wahlberg also worked with his 2 Guns director, Baltasar Kormákur.

Reviews and future prospects for 2 Guns are both mixed at best. RottenTomatoes counted 104 total reviews at the time of this writing, of which 60 were fresh, leading to a slightly rotten score of 58%. That score is on par with some of Denzel's other more action oriented releases, like Safe House (53%), The Book of Eli (48%) and The Taking of Pelham 1 2 3 (50%). All of those films performed well both domestically and overseas, which leaves some fair prospects for 2 Guns given the movie's budget. Should 2 Guns earn $75 million domestically, it will then likely earn at least $50 million overseas, returning a profit eventually for the studio. A winning formula in Hollywood is Denzel Washington plus a $60 to $80 million budget. You can almost take it to the bank that such a project will profit.


Finishing way back of its $53 million opening last weekend, Wolverine is wondering what the heck just happened given its A- Cinemascore. In its second weekend of release, the Hugh Jackman starrer pulled in only $21.7 million, giving it a large drop of 59% in its second weekend. Considering the first weekend wasn't all that, the fair reviews (68% fresh) and the solid Cinemascore, 20th Century Fox had to be hoping for a hold closer to 50%. However, considering the fact that the studio has pulled in $90+ million in its first week overseas, they will likely care little about the domestic result beyond opening weekend. Wolverine has pulled in $95 million on the domestic side and is a hit internationally, so the $120 million comic book feature should double its production budget worldwide, at the very least.

That puts Smurfs 2 down in third. The Sony animated release earned only $18.2 million from Friday-to-Sunday, but did manage $27.8 million since opening Wednesday, which comes in under Sony's reduced expectations ($30 million five-day) for this sequel. Like Wolverine, though, domestic numbers for Smurfs don't mean much. The original awfulness pulled in three times as much overseas: $142.6 million domestic, versus $421.1 million from foreign shores. Sony announced a $52.5 million overseas opening for the sequel, which shows one can make a bad movie for kids (12% fresh), and still make scads of cash. Sony spent slightly less on the sequel - $105 million versus the original's $110 million, as the sequel will likely earn less than the original's $563 million worldwide gross. For adults looking for entertainment value from Smurfs 2, I suggest reading the reviews, as many are quite funny. A personal fave is from The Wrap's Alonso Duralde, who compared the entertainment value of Smurfs 2 to a cardboard box, with the box being much more stimulating, and containing no jokes about testicles.

Horror flick The Conjuring finishes fourth, as the low budget Warner Bros. smash continues to hold. In its third weekend, the Vera Farmiga release earned another $13.7 million and dropped 38%, giving us two consecutive weekends where the horror release kept the hold above the 50% water mark. Releases like The Conjuring and January's Mama with Jessica Chastain are showing that audiences are coming out for more of these old school horror movies. The Conjuring cost only $20 million to make and crossed the $100 million mark on Saturday, its 16th day of release. That's a day faster than Grown Ups 2 and Hangover Part III, so maybe there is righteousness in the world after all, despite the release of Smurfs 2. The Conjuring has now earned $108.6 million and is just getting started overseas.

Fifth spot goes to Despicable Me 2, which is still in the top five despite five weekends of release. Gru and his minions earned another $10.4 million, which was down 37% compared to last weekend partly because the debut of the Smurfs sequel. Universal called Despicable Me 2 its most successful film ever, given the $76 million production budget, a domestic gross of $326.7 million so far, and overseas gross that has eclipsed the stateside take. Currently, Despicable Me 2 sits in third on Universal's top grossers list, behind only historic films like E.T. and Jurassic Park ($357 and $359 million). Those numbers will likely be tough to reach, but $350 million isn't completely out of the question.

Grown Ups 2 is sixth this weekend, and simply won't go away. The Adam Sandler release earned another $8.1 million this weekend and dropped 30%. With few straight comedy choices out there for adults, Sandler's shtick is hanging in. Grown Ups 2 cost Sony $80 million, and has a domestic gross so far of $116.4 million.

Turbo, from 20th Century Fox, is seventh, and is really feeling the heat from the advent of Smurfs 2. The $135 million release earned only $6.4 million and fell a hurtful 53%. Turbo managed to reach half its production budget stateside, as it has a gross of $69.5 million, so overseas numbers need to be huge for this one. So far, they simply aren't. I think I would rather have a Pacific Rim in my library ($230 million worldwide gross versus $190 million budget) than Turbo, which has only grossed $42 million overseas.

RED 2 holds onto to a top ten spot because there isn't enough new product this weekend to push it out. RED 2 grossed $5.7 million and was off 39% compared to last weekend. The $83 million Lionsgate release has now earned $45.2 stateside and I think it's safe to say we won't be seeing another one.

The Heat is ninth, and after six weekends of release, the box office receipts are cooling. The Sandra Bullock/Melissa McCarthy starrer took in $4.7 million and was off 32% from the previous frame. The comedy has now earned more than X-Men: First Class did in 2011 with its $160 million budget, despite costing the studio only $43 million. The Heat has earned $149.6 million, and another $30 million overseas.

Finally in tenth is Pacific Rim, which is trying to will itself toward $100 million. The sci-fi robot film earned only $4.5 million, down 41% compared to the previous frame. As I said last weekend, Pacific Rim is not quite the flop people think it is, as it's taken in $93 million stateside and another $140 million plus overseas against that $190 million budget. It's not going to be a disaster for Warner Bros. and Legendary Films by any means, as it has earned $66 million more than The Lone Ranger at this point, and cost $25 million less to make.

Overall this weekend, the total for the top 12 films in release continues to shrink, however it does stay ahead of last year. In 2012, The Dark Knight Rises led for the third consecutive weekend, while Total Recall and Diary of Wimpy Kid struggled. That top 12 took in $113.8 million; this year, the top 12 found $126.3 million. Next weekend will be interesting, as Elysium hits, along with Planes from Disney, the comedy We're The Millers, and the latest Percy Jackson release.