Weekend Forecast for August 2-4, 2013
By Reagen Sulewski
August 2, 2013
BoxOfficeProphets.com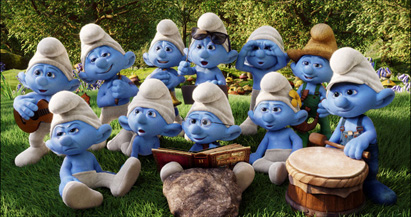 ---
While I wouldn't call August a wasteland for movies, it's definitely the time when the B-Team comes out to play. Which isn't to say we don't have A-list names, it's just that they're in somewhat generic scenarios and/or aren't in established franchises. There may (or in the specific case of this weekend, may not) be quality to be found, but the giant earners are almost certainly done – Hollywood's made sure of it.

A case in point is 2 Guns, which brings Denzel Washington and Mark Wahlberg together for a buddy cop thriller (I hesitate to say "comedy" even though the film is clearly playing up the two stars' chemistry for laughs). The two play a DEA agent and a black ops specialist respectively, who have both been placed undercover on the same job without each other's knowledge for reasons that I'm sure are important somehow. After successfully robbing a bank, they turn on each other, only to find out the truth about their operation, leading them to form an uneasy alliance to figure out exactly why they've been set up and by whom.

Twists abound, apparently, in this adaptation of a comic series, although the film is apparently happy to play the action and character interactions fairly straight (This is Wahlberg's second interaction with Icelandic director Balthasar Kormakur, whose Contraband was also relatively straightforward and conventional in its action). Really, it's a case where either you see the two names at the top of the billing and say "Finally!" or you just shrug your shoulders and wait for it to show up on cable.

The two leads have not inconsiderable fanbases, which is what makes this a marketable project in the first place. Washington is riding something like a 13 year winning streak (with the occasional vanity directing project that we won't count), while Wahlberg has proven himself as a capable draw, the odd poor decision (The Happening was five years ago can't we let him be for that already, guys? NEVER!) notwithstanding. This feels like one of those 1+1=1 situations, however, as I can't imagine that the list of Washington's fans and Wahlberg's fans diverge much. Perhaps if it looked like a particularly special buddy thriller, we might have something here, but with as generic as this looks, it seems unlikely to break out of the solid range these two stars have established. I'd look for a $32 million opening weekend.

When it comes to kids' films, there are three general categories – films adults look forward to seeing with their kids, films they grudgingly attend to keep them company, and films they find impossible to bear. This weekend, I'd like to add another category – films that make you reconsider the entire concept of entertaining children. In fact, if the choice is between this weekend's Smurfs 2 and placing all children in Skinner boxes until they're 13, I'd have to think about it for a minute or two.

While I have nothing in particular against The Smurfs themselves, at least in their original form, the first Smurfs movie was a triumph of insipid pandering, embarrassing acting, and crass debasement of the material with toilet humor. Even Alvin and the Chipmunks couldn't dream of dredging these depths. With all the major players back (and how sad is it that this is Jonathan Winters' last credit?), the sequel might as well be called "More of the Same", although we do have the added wrinkle of The Naughties – Smurfs knock-offs created by Gargamel (once again played by Hank Azaria, clearly paying off a mortgage) – that could be turned into real Smurfs by a magic spell that Smurfette knows, which is bad for some reason.

Technically not an August film, as it opened on Wednesday, The Smurfs 2 has already had part of its verdict written – and I'm mostly proud of you people. Its first day was just slightly over $5 million, throwing under the first day of the recent Turbo. Considering the original's $35 million opening and decent final total of $140 million, it's a surprisingly soft bow. Perhaps people actually got wise to just how bad the first film was, and are punishing the filmmakers for a lazy and unnecessary sequel. In any case, we seem to be on pace to avoiding Smurfs 3 – unless those horrible foreign numbers are high again – so you people better not let me down. A three day weekend of $22 million should suffice.

The Wolverine limped home to about $53 million for a weekend win in its debut, down over a third from the last Wolverine film – so there's our franchise damage calibrated right there. Word-of-mouth seems fairly friendly to it as being faithful to the spirit of the comics, so it has at least that going for it. Still, as a comic movie, it'll have to overcome a lot in order to be considered "leggy". That means about $27 million this weekend at best. Realistically, we're shooting for $150 million domestic.

For other returning films – The Conjuring will pass $100 million by Saturday at the latest, and with that being almost pure profit, Warner Bros. is frantically shoving money at James Wan to get him to make a sequel. I'd expect around $12 million here.

Despicable Me 2 continues to be one of the few bright spots of the summer, as it is on the verge of becoming the fifth highest grossing animated film of all time, with a very outside chance of hitting fourth place by the end of its run. Kids are simply crazy for minions, and it's been a rare case of a film dominating a market segment. Give it $11 million this weekend.

That's possibly one of the reasons for the underperformance of Turbo (though its just plain weirdness might also be a factor). With a $135 million budget, its sub $100 million performance is just a disaster for Dreamworks. It should find about $8 million this weekend.

Further down the list we have Grown Ups 2 with about $7 million, Red 2 with $6 million, and The Heat with about $5 million – the latter another bright spot of a summer when many sure things have missed and missed badly – just look at Pacific Rim and R.I.P.D. below the $5 million mark this weekend (though at different scales of fiascos there). It's coming close to the last chance for summer films to salvage anything.