Weekend Wrap-Up
Box Office Sputtering as Wolverine Fades
By John Hamann
July 28, 2013
BoxOfficeProphets.com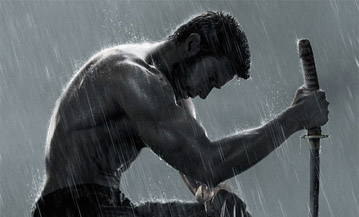 ---
After a few weekends of questionable entries at the box office, and a muted opening for The Wolverine, any momentum that Hollywood had going this summer is now gone.

After an expected debut in the $65-75 million range, The Wolverine missed this weekend – not badly, but still coming in lower than expected. Along with the recent openings of R.I.P.D., Turbo, RED 2, and Pacific Rim, the box office is running on fumes and starting to backfire. Wednesday's Smurfs 2 release might bring the kids back next weekend, but with animation overload happening right now, even that title is fraught with risk. It's too early in the season for the summer doldrums at movie theaters, so the series of bombs we've seen over the last few weeks is catching up to the year overall, and will leave the box office with a hangover, one that could get worse next weekend.

This weekend, expected superhero blockbuster The Wolverine failed to break out or even get to the level of tracking expectations. The Fox release got started nicely with Thursday previews, where it earned $4 million, but instead of those previews adding something to the opening, it appears that those dollars simply made Friday night at theaters less busy. On Friday, The Wolverine was reported at $21 million, a decent enough number on its own, but when those Thursday previews are removed, the number in the half-empty scenario becomes $17 million, about $4 million LESS than the very first X-Men opened to 13 years ago. In the half-full scenario, that $21 million is also very close to what X-Men: First Class earned on its first Friday in 2011, so one has to wonder if the same people are showing up for all of these films. If so, one has to wonder about the logic around spending $120 million or more bring one of these films to the screen, given that prints and advertising are bringing that number up to at least $200 million.

Over the weekend proper, the Hugh Jackman starrer didn't pick up much steam, and finished the weekend with only a so-so $55 million. Fox was likely very happy with the first tracking estimate that came out earlier in the week that had The Wolverine potentially opening to $75 million. The writing was on the wall when that tracking estimate was downgraded to $65 million later in the week. Tracking firms have had an abysmal summer, as they have been out and out wrong many more times than they have been right. This is a 25% miss on the estimate, and I would not be pleased if I were Fox. Had the studio known their blockbuster was going to open at $50 million and change, it could have adjusted their last minutes marketing strategy, much like Pacific Rim did.

The Wolverine will make money for Fox thanks to overseas grosses (it earned a bountiful $86 million overseas this weekend), but in the end, Fox is left with another dubious entry on their summer slate, as it joins Epic, Turbo, and The Internship as forgettable openings for their summer films. All they have left now is a Percy Jackson sequel, which is a follow up to a so-so original that likely lost money after all was said and done.


Was four years not enough time following the release of X-Men Origins: Wolverine? Despite being awful, the 2009 release opened to $85 million, and for many, it rightfully soured fans on a character that many followed (including me). The Wolverine at least is a better film, with a 68% fresh rating at RottenTomatoes versus Origins' 38% fresh (though not near the awesomeness of X-Men: First Class at 88%). This Wolverine also earned an A- Cinemascore, so at least the perceived quality of the brand is improving. In the end, though, The Wolverine will likely make $120 million domestically, and a similar amount overseas (or more), so Fox will make out fine.

Our only good news story from the ugliness that was last weekend, The Conjuring, slips to second, but for a horror release, it performs much, much better than its brethren usually do over the second weekend of their box office run. The Conjuring earned a solid $22.1 million in its second weekend of release, and was off a not bad 47% compared to its opening frame. Usually, horror films fall 55-60% (or more – see The Purge at 76%) in their second weekends, so this kind of hold should be considered fabulous for Warner Bros.

Obviously, word is getting out as to how good and how scary this film actually is – and how old school, with no torture porn this time around. Add to that a single opener that under-performed this weekend, and all of a sudden Warner Bros. is going to have a highly successful film, given The Conjuring's $20 million budget, and domestic gross so far of $83 million. It's now the highest grossing horror film of the year. The only question now is how far beyond $125 million this one goes on the domestic side, and whether or not it can gain any traction in overseas markets. Regardless, The Conjuring is going to make up for some Warner Bros. mistakes they had earlier in the year, like Jack the Giant Slayer, Gangster Squad, and Beautiful Creatures, which had a combined cost of $315 million, and a domestic gross of only $130 million between them.

Despicable Me 2 continues to be one of the big stories of the summer, as Universal's $75 million minion movie crosses the $300 million mark at the domestic box office this weekend. Only in its fourth weekend, Despicable Me 2 earned another $16 million and dropped a slim 36% considering its gargantuan overall gross. Gru and friends crossed the $300 million mark on Saturday, only its 25th day of release, and is the 18th fastest to $300 million ever. It got to the $300 million mark three days quicker than it took Star Wars: The Phantom Mistake and it was nine days faster than Shrek the Third. Despicable Me 2 did not open big and die off quick as some sequels do. Instead, it has opened big and held on, and now looks to finish with as much as $350 million at the domestic box office. So far, those lovable minions have lapped up $306.4 million – let's hope its success doesn't crash when Smurfs 2 opens on Wednesday.


Fox and DreamWorks Animation's Turbo slips to fourth. After a soft, $21.3 million opening in the previous frame, Turbo took in $13.3 million this weekend, giving it a 37% drop. Fox was looking for a franchise out of Turbo, but with the weak opening and only an okay hold in the second frame, franchise thoughts are pretty much out the window as the studio concentrates on trying to get as much of the $135 million investment (plus marketing) that went into it. Despicable Me 2 is not sweating the addition of Smurfs 2 next weekend, but Turbo certainly is, as this entry will likely be decimated in the next frame. Turbo is currently eyeing about $70-75 million on the domestic side, which means it will need $125 million plus overseas if it hopes to meet its budget. So far, Turbo has earned $55.8 million.

Grown Ups 2 manages another weekend above $10 million, as the Sandler sequel earns $11.5 million. It declines 42% as it begins to lag behind the original. The first Grown Ups had earned $110 million after weekend three; the sequel has a gross so far of $101.7 million.

RED 2 is sixth, and found no hold to dig it out of the soft opening it had last weekend. RED 2 earned only $9.4 million this weekend, which gives it a big second weekend drop of 48%. The original fell only 31% in its second weekend, and cost $26 million less than the sequel did. That's bad news for Lionsgate, as RED 2 likely has no chance of seeing a profit against its $84 million budget. So far, RED 2 has earned only $35.1 million, well off the $43.5 million the original had earned in the same amount of time.

Seventh goes to Pacific Rim, and the news continues to get worse – at least domestically – for Warner Bros. and Legendary Films this weekend. In its third frame, Pacific Rim earned only $7.5 million, off 53% compared to the $16 million take it found last weekend. With new films next weekend targeting the very young (Smurfs 2) or the older male (2 Guns), it may have a chance to hold, but it's all too late. Pacific Rim has a gross so far of $84 million against that mighty $190 million budget. The good news for the financiers, however, is that Pacific Rim is much stronger overseas, where it has pulled in over $140 thus far. If Rim can find $250 million worldwide, it will still lose money, but it will take the sting out of this one, and may remove the flop brand that it is currently tagged with.

Eighth is The Heat, which has quietly found huge success at the domestic box office. The Heat earned another $6.8 million in weekend five and dropped a slim 26%. The domestic gross grows to $141 million against the comparatively tiny $43 million budget.

Ninth is R.I.P.D., which is now the character study of a flop at the box office. After a laughable $12.7 million opening last weekend for the $130 million release, the news got worse this weekend, as R.I.P.D. earned only $5.8 million in weekend two, which means it fell 54%. Only God can save R.I.P.D. now, as it has a gross so far of $24 million.

In tenth is one of our arthouse expanders this weekend, Fruitvale Station. The "ripped from the headlines" story expanded to 1,064 venues this weekend, and the move paid off, as the Weinstein release pulled in $4.7 million. That's an increase of 530% compared to last weekend, and this small release brings its gross up to $6.3 million.

Other smaller arthouse fare also excelled this weekend. The Way, Way Back took in $3.3 million from only 886 venues. The Fox Searchlight release has now earned $8.9 million. Opener The To-Do List, starring Safety Not Guaranteed's Aubrey Plaza, took in $1.5 million from 591 venues, which isn't bad compared to the film's $1.5 million budget. Also in limited release is Woody Allen's Blue Jasmine, which scored a best ever per location average for the director, as well as being the highest this year at $102,128. Its three-day total was $612,767, and it will certainly be expanding in the weeks to come. Thus far, its reviews would indicate that this is a good Woody film (he seems to alternate every other year).

Overall this weekend, the box office is getting softer, as there isn't enough new product to make up for the slide caused by questionable releases over the last few weekends. The top 12 this weekend earned $158.3 million. A year ago the top 12 earned $126.5 million, as the industry was reeling from The Dark Knight shooting massacre, and two films flopped. Next weekend brings The Smurfs 2 (whether I like it or not), as well as Denzel Washington and Mark Wahlberg in 2 Guns. It's the weekend after, though, that is already looming, when Elysium, We're the Millers, Planes, and the Percy Jackson sequel all face off against each other.