Weekend Forecast for July 26-28, 2013
By Reagen Sulewski
July 26, 2013
BoxOfficeProphets.com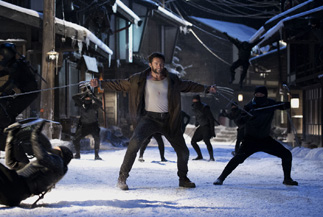 ---
The Franchise Redemption Train has pulled into yet another station, as yet another studio tries to erase its terrible, terrible mistake, and hopefully not flush $200 million down the toilet. Here's to doing things right (maybe?) the second time!

After the original X-Men trilogy wrapped up with the dismal The Last Stand, Fox got the bright idea that many of the individual characters could hold up movies of their own – and they're right, in principle anyway. And who doesn't love an origin story, anyway? That led to 2009's X-Men Origins: Wolverine, which took the most recognizable and story-ready mutant and expanded him to feature length. And while it opened well, the movie itself was, shall we say... sub-par (let us not forget they also ruined Deadpool)? Fox quickly reacted by saying "Hey, look over there!" as it stripped the Origins title from its Xavier and Magneto movie. For their second trick, they'd like us to forget X-Men Origins: Wolverine ever happened with the rather declarative title of this new movie, The Wolverine.

Hugh Jackman returns to the character for the fifth (really sixth) time as we tell the story of his post-Jean Grey travels, centering on the famous Wolverine Goes to Japan backstory. A dying Japanese businessman who Wolverine once saved from one of the atomic blasts in WWII offers to remove his mutant healing powers as a "gift" - one of release from immortality. In essence it's the chance to live a normal life, but of course nothing is that easy. Enter the Yakuza and ninjas and every other Japanese movie cliche short of Godzilla. Imagery for the movie has been short on knockout punches beyond "Hey, it's Wolverine, and he's doin' stuff!", though a sequence on a bullet train has promise. Other things to feel hopeful about: director James Mangold and writers Scott Frank and Christopher McQuarrie, who each have experience in bringing dark material to the screen while maintaining the "fun" and "cool" of the stories.

We do have to wonder how much damage was done to the character by the 2009 outing. Undoubtedly it was "some," but other superheroes have come out of similar situations still standing – see Spider-Man, Superman. One thing is definitely true, that Wolverine and company will have to earn back the trust of a skeptical comic community. Instead of the massive $85 million it opened to in 2009 (which might be $100 million at today's prices), The Wolverine will instead have to settle for around $66 million.

Opening in national release in what must be an attempt to generate word-of-mouth a la Pitch Perfect is The To Do List, the first starring role for Parks & Recreation's Aubrey Plaza. A bit of a throwback to '80s sex comedies (but set in the 90s), Plaza plays against type as an uptight valedictorian who decides to catch up in the sexual department before heading off to college (as is tradition, everyone here is about 10 years too old, at least, to be playing their characters). Awkward sexual encounters ensue, and an embarrassing time is had by all.

The To Do List is arguably most famous for Plaza's stunt at the MTV Movie Awards where she meekly tried to rip Will Ferrell's Lifetime Achievement Award out of his hands before giving up and getting kicked out of the ceremony. As non-traditional advertising goes, it was a fairly poor attempt. The hope, then, is that the deep cast of comedy stars, including Bill Hader, Rachel Bilson, Alia Shawkat, Andy Samberg, Chris Mintz-Plasse, Donald Glover, Adam Pally – I could go on – will bring in people by sheer volume. Unfortunately, it's a lead people are looking for and as funny (and Emmy-worthy) as Plaza is, she's not yet at that status. The film this most resembles, Adventureland, opened to just $5 million on triple the screens this is getting. A solid result here might be $3 million.

Two films, Fruitvale Station and The Way, Way Back expand into wide release after headline-grabbing and respectable limited runs respectively. The first stars Michael B. Jordan as Oscar Grant, the victim of a shooting during an arrest in which he was shot while already handcuffed by a Bay Area transit officer. The video of that arrest and shooting made national news, and the film is unfortunately kind of timely following the Zimmerman trial. With ecstatic reviews at Sundance and a trip to Cannes where it won its director the Best First Feature award, it's a bit of an anomaly, in that it's a potential Oscar nominee appearing in the middle of summer. With some rather gaudy per screen numbers, upwards of $20,000 on 34 screens, it's a good candidate for the 1,000 screen treatment, though one wonders how regional it's going to play. This weekend's expansion should bring it up to around $5 million this weekend.

The Way, Way Back is yet another coming of age story, and is the follow-up to The Descendants for Nat Faxon and Jim Rash, two of the three screenwriters of that film. Relative newcomer Liam James stars as a teenager suffering through a summer vacation with his mother, her boyfriend and the boyfriend's daughter, played by Toni Collette, Steve Carell and AnnaSophia Robb respectively. Taking a job at a local water park, he finds an unlikely friend in the uncouth manager played by Sam Rockwell, and your Adventureland alarm bells should be going off for the second time today. It has already earned a little under $5 million in three weekends and now expands to around 900 venues. The jump in amount earned should not be that dramatic, and I'd be looking for something a little closer to $3 million.

The Conjuring surprised people who weren't paying attention with a first place finish and over $40 million last weekend, as suspense horror made a re-entry to the big time. Of course, it's unlikely to hold that well even with solid word of mouth – it's the inherent weakness of non-paradigm-shattering horror. A second weekend of $19 million will be nothing to be ashamed of, however.

Despicable Me 2 will cross the $300 million mark this weekend, and will still have a decent amount of room to run. While I think most expected a bit of an improvement in returns on the first film, that it seems very possible for it to earn over $375 million can easily be called a surprise. In a summer filled with high profile bombs, this is one bright spot. It should add around $15 million this weekend.

Less "bright spot" talk can be had when we talk about the rest of last week's new films, with Turbo coming out the best with a mere $21 million. I'm tempted to blame animation exhaustion, but the ridiculous premise without the Pixar name may have doomed the "racing snail" film. Give it about $12 million here.

RED 2, meanwhile, should fall to about $9 million, as there are few more depressing things than a sequel no one wanted to a film that wasn't that popular in the first place. Throw this in Bruce Willis' bin with The Whole Ten Yards.

Grown Ups 2 should have a similar earning amount this weekend, but at least started out higher up on the food chain. And yet, $125 million as a final total doesn't seem all that great for a Sandler sequel anymore (This cost $80 million? How?).

Finally, following that we have Pacific Rim with around $7 million, and I'm really disappointed in you people, is all I have to say.