Weekend Wrap-Up
Conjuring Scores; Universal Ripped by a Flop
By John Hamann
July 21, 2013
BoxOfficeProphets.com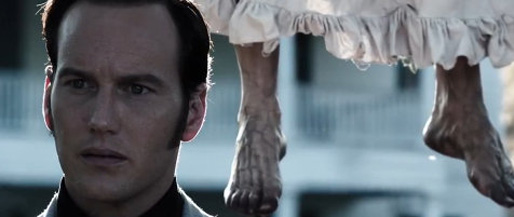 ---
The Conjuring is a big success this weekend, but it's not the big story. Universal's R.I.P.D. is the dog of the summer, and is going to cost them what they made on The Purge and part of Fast & Furious 6.

It's a very interesting frame at the box office for a lot of reasons. The Conjuring is a hit, but it's trailed by two expensive disappointments and an out and out flop. Even so, the overall box office is still moving along with very healthy numbers. Along with the $20 million Warner Bros. horror title, we have the $135 million Turbo, from DreamWorks Animation and Fox, the $85 million Red 2 from Summit and Lionsgate; and the $130 million R.I.P.D. from Universal. Hollywood's hot streak ended last weekend with Pacific Rim and Grown Ups 2, but it gets worse this weekend.

First, the good news. Our number film of the weekend is well-reviewed, audiences love it, and it didn't cost a gazillion dollars to make. That film is The Conjuring, an old-school horror flick from James Wan, one of the minds behind the Saw franchise. The Conjuring earned $3.3 million from Thursday previews, and about $13.7 million on Friday night. That's a massive success for a film that cost only $20 million to make, as the weekend gross came in at $41.5 million from 2,903 venues. It earned its production budget back by end of day Saturday, and is the second big horror success of the summer, debuting bigger than The Purge ($34.1 million). The Purge is said to have cost $3 million, but I think we all know that backend deals for Ethan Hawke, Jason Blum and Michael Bay and others would have pushed the real cost beyond $20 million. Additionally, The Purge literally collapsed after opening weekend, and hasn't found much success overseas. The Conjuring is different. Instead of The Purge's rotten 38% rating, The Conjuring is uber-fresh at 85%. The Purge also received only a C Cinemascore, whereas The Conjuring Cinemascore came with a gorgeous A-, a score not often held by horror flicks.

Warner Bros. and New Line made a good film. They knew it and got the word out – it's that easy. The studio released the film at two film festivals prior to release – one was a horror fest, the other was the LA Film Festival, where the studio knew they would get west coast critics talking. Out of the LA Fest, the Warner Bros. flick got fabulous reviews, and word-of-mouth started for The Conjuring a month before release. Instead of marketing it to death, Warner Bros. used the press to get word out, and the move worked. Additionally, director Wan used actors audiences were familiar with from the genre. Vera Farmiga (Bates Motel) and Patrick Wilson (Insidious) were cast, as well as familiar names like Ron Livingston (Office Space) and Lili Taylor (Say Anything...). These names give The Conjuring a sense of additional quality that audiences bought. The Conjuring has a much better chance at legs than The Purge ever did, simply because it didn't go as ridiculously cheap. In the end, the additional funds spent up front will be of benefit to this winner.


Second this weekend is Despicable Me 2, which is leaving Monsters University in the dust. After a $44 million frame last weekend, and $250 million in revenue prior to the weekend, Despicable Me 2 still managed to earn another $25.1 million this weekend. The minion movie dropped a so-so 43% compared to last weekend, and now has a superstar domestic gross of $276.2 million. It has now earned more than the original did over its entire domestic run ($251.5 million), and will finish well beyond the $300 million mark. The overseas gross is ahead of the domestic side, which means the Universal release is approaching the $600 million worldwide mark. The original took in $291 million overseas, a number the sequel has beaten as it now has accrued $308.4 million from overseas venues. Remember, Despicable Me 2 cost only $76 million to make, so it will be able to fund the losses coming from R.I.P.D.

Third goes to Turbo, which can't get past the three-weekend old Despicable Me 2, and only got by Adam Sandler's awful Grown Ups 2 by a hair. From DreamWorks Animation and Fox, Turbo cost $135 million to produce and likely another $100 million to market, so a $50 million plus opening weekend was needed to push this one towards profitability. Turbo didn't come close. The animated film earned $21.5 million over the weekend proper, and $31.2 million since opening Wednesday. That Wednesday release was a mistake for the studio, as while I understand they were afraid of Smurfs 2, they needed to be more afraid of Despicable Me 2. Turbo beat the three-weekend-old sequel only once, on opening day, when the minions earned $5.23 million, and Turbo earned $5.55 million. Turbo got trounced by a million on Friday compared to Despicable Me 2, and only got by Grown Ups 2 by about $100,000.

This result is simply not good enough, and for Fox, this is history repeating itself. The studio released Epic in May. It earned $33.5 million over its first three days, more than what Turbo earned in five days. Epic went on to earn $105 million domestically and $135 million overseas so far, against a budget of $100 million. Epic might have made a few dollars for Fox, but certainly not much, as marketing costs are not included in that budget. Turbo cost $30 million more and opened with far less. It had only so-so reviews, and while it had a strong Cinemascore, let's remember this is an underdog story and opening night would have been populated by children so I don't put much into that. Turbo is simply a Cars rip off with snails; parents have seen this before and hated it, so I would imagine that just the kids saw this one this weekend. Next weekend will give us a better indication of what's at stake for Fox, but at this point, it doesn't look good.

Fourth is Grown Ups 2, a film that isn't worth the effort of writing about. It earned $20 million in weekend two and dropped 52%. The original earned $19 million and dropped 53% in its second frame, but that was July 4th weekend. This is the same movie starring the same people being seen by the same people. So far, North America has been fooled out of $79.5 million.


Our third opener is Red 2 and it finishes a sad fifth. The Bruce Willis actioner for seniors earned $18.5 million, a few million less than what the original opened to in 2010 ($21.8 million). The sequel cost $26 million more than the original ($84 million versus $58 million), so to open lower and cost much more is death for this supposed franchise. Additionally, the original Red was 72% fresh, while the sequel is 40% fresh. The entire reason the first one was successful was because it had legs, so with poor reviews, Lionsgate will likely take a hit on this one, costing them the dollars earned from Kevin Hart: Let Me Explain. They deserve it, as Red 2 was simply a cash grab, although a cash grab starring the always fabulous Helen Mirren.

Pacific Rim is sixth and is in serious trouble. The Guillermo del Toro flick earned only $16 million this weekend, off a hurtful 57% compared to opening weekend when it earned $37.3 million. Despite being a good film, audiences are not coming out, so its $190 million budget is looming for Warner Bros. Pacific Rim still has a shot at hitting $100 million domestically; and it already has $110 overseas, so it could see a worldwide cume of $250 million. The price tag was likely $275 million all in. So far, Pacific Rim has earned $68.2 million at the domestic box office, and frankly I'm surprised at the loss the studio will take on this one.

On the other hand, I'm not surprised at the loss Universal is going to take from R.I.P.D. Universal seemed to out and out ignore this one leading up to release, and the result of that lack of marketing is in plain view today. Despite a $130 million plus budget, R.I.P.D. earned only $12.8 million over the weekend and will top out in North America with less than $35 million. If Universal's marketing spend is the same overseas as it was domestically, the studio stands to earn very little at the box office for R.I.P.D., and it will provide Ryan Reynolds his second mega flop in a couple of years. The last was the Green Lantern, which cost Warner Bros. $200 million to make (plus marketing), and took in only $219 million worldwide. At least the domestic/overseas grosses outpaced the budget for The Green Lantern, something I don't see happening for R.I.P.D. It joins Pacific Rim, The Lone Ranger, and White House Down as the flops of the summer; however, I think "flop" is not the right descriptor for Pacific Rim and The Lone Ranger. Those two films were disappointments, (along with Turbo, which also starts Reynolds), whereas White House Down and R.I.P.D. are good old fashioned flops. R.I.P.D. must have sounded good on paper, but a 12% rotten rating at RottenTomatoes indicates the good idea got lost in the wash.

Eighth spot goes to The Heat, which has just that going for it in weekend four. The Sandra Bullock/Melissa McCarthy starrer took in another $9.3 million this weekend, dropping a solid 33%. Made for only $43 million, this one has a total so far of $129.3 million.

World War Z hangs out in the top ten for one more weekend, as it takes ninth place with a total of $5.2 million. It's been a pleasant surprise for the studio given all the negative buzz during its production, with a domestic total of $186.9 and nearly $270 million from overseas venues. Its domestic total is actually going to slightly exceed the production budget, which has to be considered a win.

Tenth is Monsters University, which earned $5 million. The Disney Pixar release has not found the momentum or the overall success that Despicable Me 2 has. It dropped another 53% this weekend, and has a domestic gross so far of $249 million, against what is likely a $200 million budget. The overseas box office has passed the $280 million mark.

In other box office news this weekend, The Way, Way Back expanded to 304 screens and grossed another $2.2 million. It had a venue average of $7,368, and has a gross so far of $4.6 million. Fruitvale Station expanded to 34 screens, and took in $742,272, giving it a venue average of $21,832.

Overall this weekend, the top 12 total is still strong, but it's no match for last year when The Dark Knight Rises opened. This year the top 12 managed to pull in $181.4 million – despite two disappointments and one flop opening. A year earlier, The Dark Knight Rises led the top 12 to $233 million. Next weekend bring the summer box office season's turn, where we only have opener in The Wolverine, and will start to see declining revenues from the top 12.