Friday Box Office Analysis
by Tim Briody
July 20, 2013
BoxOfficeProphets.com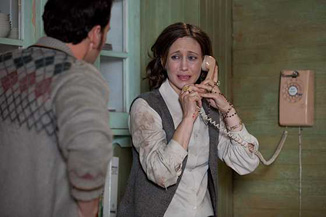 ---
The Conjuring

The big winner on Friday is The Conjuring, which earned $17 million, way ahead of everything else in the marketplace. The horror film built a tremendous amount of buzz over the last few months based off being legitimately terrifying and having some of the best reviews of the year for a wide release certainly doesn't hurt either. Last month we saw The Purge start off with $16.7 million and finish with a $34 million weekend (before collapsing completely to where it has earned $64 million total, meaning it earned 26% of its total box office on opening day and had an opening to total multiplier of 1.88, but that's another column.) The positive reviews and social media response will blunt the front loading somewhat, but it's still a horror movie. An impressive weekend of $42 million awaits The Conjuring.

Turbo

The animated entry is third on Friday with $6.5 million and earned another $9.7 million over Wednesday and Thursday. This is fine, but it's still behind Despicable Me 2 (which passed Monsters University at the end of last weekend for #3 film of the year) on the weekend, which means the new release is the number two choice for families behind a three week old release. That's never a good sign. It should have a pretty acceptable weekend multiplier but you'll likely have forgotten it exists by the time it hits DVD. Give it a weekend of $20.8 million, with $30.5 million in five days.

Red 2

The old people sequel earns $6.4 million on Friday. Red earned $7.3 million on its first day in October 2010, so clearly the sequel needed more [bp:96_]John Malkovich[/bp] maniacally running with dynamite strapped to him. It stands to do fine over the rest of the weekend, it's the best option for adult audiences for whom The Conjuring might be too scary. A weekend of $18.7 million is fine.

R.I.P.D.

The Men in Black wannabe R.I.P.D. is pretty much, well, D.O.A. with just $4.8 million on Friday. Based on budget, the [bp:1182_]Ryan Reynolds[/bp]/Jeff Bridges comedy looks to be one of the larger flops of the summer. R.I.P.D. was not screened for critics, which is something usually reserved for horror films and Tyler Perry movies, and that certainly doesn't help matters. A weekend of $12.4 million seems to be where it will land, before completely vanishing.

Notable Holdovers

[bp:1130_]Adam Sandler[/bp]'s Grown Ups 2 drops 61% from last Friday to $6.4 million, which is pretty much what Adam Sandler movies do. A second weekend of $17.7 million will send it marching towards the $100 million mark, which it will look to pass in the next two weekends.

With four new releases, Pacific Rim finds itself bumped all the way down to seventh place on Friday with $4.7 million, off 68% from last Friday. Look for a weekend of $14.3 million.