Weekend Forecast for July 19-21, 2013
By Reagen Sulewski
July 19, 2013
BoxOfficeProphets.com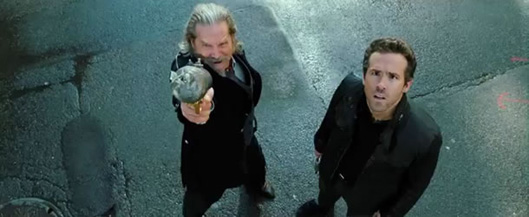 ---
An already stuffed marketplace gets four new films this weekend, with studios seeing the summer coming to a close and hoping to get their highest potential titles out there while the irons are hot. Some studios might be well served to dial down some of those expectations, however, as a summer that's already seen some high profile failures looks certain to get one more. Hint: Ryan Reynolds may want to rethink that down payment.

With four new films, obviously the weekend couldn't hold them all, so Turbo gets its mild disappointment out of the way before the weekend, beating the rush, as it were. Opening to $5.5 million on Wednesday, it barely beat out the two-weeks old Despicable Me 2, and that's with the benefit of first-day anticipation. Thursday will undoubtedly see it already slipping to second or worse. In DreamWorks Animation's latest, Ryan Reynolds voices a snail that's always dreaming of racing in the Indy 500. After a trip through a nitrous-infused manifold, a miracle occurs, and he's suddenly capable of travelling at 200 mph. I mean, I guess it's no weirder than Spider-Man on some level, but...

Really, this seems to have developed from no more than "what if a snail could go, like, really fast," which also makes me wonder what they're using for inspiration material over at DreamWorks, and whether Snoop Dogg(sorry, Snoop *Lion*)'s inclusion in the cast is telling in any way. Anyway, cut to 357 variations of "A snail can't race in the Indy 500!" "Yes I can!" and you've got your movie. Gripping stuff, I know.

Filling out the rest of the film, we have the requisite cast of mid-level celebs in voice roles (because that's what kids care about!), such as Sam Jackson, Paul Giamatti, Bill Hader, Maya Rudolph, Michelle Rodriguez and Ken Jeong, but without Pixar's branding or an established franchise or property to connect this to, adults are wincing in fear of what might be waiting for them (fear not – worse is coming soon). The pudding has already been proven with the Wednesday opening, and we're looking at something like a $31 million three-day total for Turbo.

On to Friday's contenders, which have basically switched orders since this schedule became apparent. The Conjuring was a low-budget, low-buzz horror film from a director who had largely worn out his welcome and had struggled to live past his biggest hit (ring any bells, Eli Roth?). James Wan started to turn things around a couple of years ago with Insidious, which relied more on creepy than torture for its horror elements. This film brings back Patrick Wilson from that movie and teams him up with Vera Farmiga as a couple of real-life paranormal investigators (who were behind publicizing the Amityville story). While looking into the story of a potential haunting in a house owned by Lili Taylor and Ron Livingston, they discover that there's more to the story than just a simple ghost (there always is, isn't there?).


Buzz has steadily been building for the film over the last couple of months, with a handful of legitimately disturbing ads and trailers backing up the claims of "almost too scary to watch". While it does seem to rely a lot on the "look behind you!phewAAAA" type scares, that's almost a novel approach to horror these days and a well executed example of the idea, like this appears to be, could break out of the voyeurism trend with the genre. Anything that gets us back to real suspense is fine by me, and that it's one of the best reviewed movies of the year is just a bonus. I expect this to wind up winning the weekend with $37 million.

In the category of "I guess that's worth a sequel", we have Red 2, which reunites Bruce Willis, John Malkovich and Helen Mirren (casting spoiler!) as a group of "retired" CIA agents being hunted for reasons important to the plot somehow who cares. Anyway, this time, Mirren is on the other side, hunting down Willis and Malkovich, who are busy protecting slightly loopy nuclear scientist Anthony Hopkins. Mary-Louise Parker is also back as Willis' squeeze, who necessarily is threatened by the return of his old one, played by Catherine Zeta-Jones (he's got a thing for hyphens, apparently), who is strong with the shooting and driving and driving and shooting. Much stylized action ensues.

Red was only a mild hit in 2010, opening to $21 million, but it had unusual legs for a fall action picture, and made $90 million domestic. A similar international story brought the full total up to around $200 million and thus we get Red 2, but with a change of director to Dean Parisot, most notable for Galaxy Quest (this is you nodding enthusiastically) but also for things like Home Fries and Fun With Dick and Jane, so, you know, manage expectations. Reviews are middling, as befits an action sequel that was predicated on a gimmick that really only made sense for one movie. Still, there's good reason to expect a slight uptick for a sequel, even if it's just because it has to have gained some fans in a cable run. This edition should open to around $24 million.

Why did Red 2 need a new director? Because Robert Schwentke decided to move over to R.I.P.D., which probably seemed like an awesome idea at the time but will likely be filed in the David Caruso Hall of Fame when all is said and done. Based on a Dark Horse comic book, the film follows recently deceased Ryan Reynolds as he's recruited to the Rest In Peace Department, a band of the world's greatest lawmen, who patrol the afterlife looking for souls trying to break back into the real world. He's joined by Jeff Bridges, borrowing more than a little from his True Grit performance, along with Mary-Louise Parker (a two-fer!), Marisa Miller and James Hong as the avatars of the two law men (lest dead people walking around be noticed) and a curiously-not-in-the-ads Kevin Bacon.

With highly stylized comic action and outlandishly designed bad guys, this looks like nothing so much as an after-life version of Men in Black, but with no Will Smith, or even a Will Smith 2013 version. The initial trailer sparked a wave of interest, but since then, it's appeared that that's all they have, and when three of your trailer hotspots revolve around your characters getting squished by a car, well, it's right to be a bit suspicious. It seems almost that the box office goes down with each ad shown. It's a curious death spiral that Universal just hasn't been able to respond to, or have just resigned themselves to. What seemed like an innovative style now looks more like covering for bad FX. Adding to bad omens, it's been withheld from critics. That $130 million budget is looking mighty precarious, and Lone Ranger's $250 million debacle is looking positively spendthrift in comparison. We could be looking at something in the disastrous area of $14 million this weekend.

Returning films should once again be led by Despicable Me 2, which will have passed $250 million by the weekend. In a mild upset, this puts it past Monsters University for good, and puts it on pace to speed past Man of Steel for the number two spot for the year (Iron Man 3 will not be caught). The Minions movie remains a bit of a wildcard still, but it's certain that Universal has money to spare for it (and a shiny object to distract from R.I.P.D., of course).

While big action spectacles rarely see legs, I hold out a little hope for Pacific Rim, which while garnering a smaller-than-hoped $37 million for its opening weekend, left the vast majority of its audience completely satisfied. That has to translate into some kind of good word-of-mouth, which might still not be recognized as "legs" per se. Something in the area of $20 million might qualify.

I give it a slight advantage over Grown Ups 2 if only for sanity's sake and my opinion of the general public. Adam Sandler has a particular audience and I don't see any evidence that the behaviour of this film should be any different than the first one, so give it $19 million this frame.

Coming in behind these films are The Heat, with about $8 million, The Lone Ranger, fading into irrelevance already in week three at $6 million, Monsters University at about the same, and World War Z at $5 million, as it strains to reach $200 million domestic.