Weekend Wrap-Up
Pacific Rim: Down But Not Out
By John Hamann
July 14, 2013
BoxOfficeProphets.com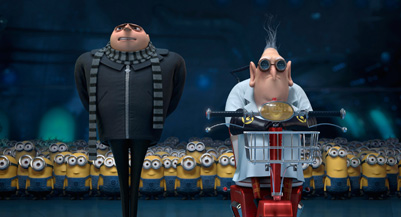 ---
Just because a film called Grown Ups 2 is out this weekend, it doesn't mean we have new films for adults at the box office.

Vying for top spot this weekend are openers Pacific Rim, the well-reviewed teen-boy monster mash-up from Guillermo del Toro, Grown Ups 2, the sequel to the oddly popular original about boy-men and their problems, surrounded by a chorus of jokes about vomit and urination, and last weekend's mega-champ, Despicable Me 2. Of course, the two films aimed at the younger set have strong word-of-mouth and great reviews, while the other, from Adam Sandler, is getting some of the worst reviews of the comedic actor's career. Then again, he will always have Jack and Jill. In a perfect world, Grown Ups 2 would finish third or worse this weekend, but a perfect world it isn't. At least it's not Twilight.

The race to the top was fabulously close this weekend. Several positions in the top ten could even change come Monday afternoon. For now, our number one film is Despicable Me 2, which earned $143 million over five days last weekend and $83 million over the Friday-to-Sunday portion of the July 4th long weekend. With $184.4 million already in the bag domestically before the weekend began, one had to wonder how far the sequel would drop in its second frame. The Friday gross came in at $13.4 million (a 50%+ drop from the previous Friday), and over the weekend, the sequel earned another $44.8 million. Despicable Me 2 dropped 46% from the previous weekend, and while that is high for a family film, remember that the sequel crossed the $200 million domestic mark on Saturday, only its 11th day of release. It took the original minion movie 28 days to reach $200 million in 2010, so this is simply a case of more people seeing the film earlier in its run.

Also important to remember is that Despicable Me 2 did not carry the Lone Ranger's $250 million cost, or Pacific Rim's $190 million. The Universal sequel cost only $76 million, which means the studio likely spent more money marketing this one than making it. Even if those global marketing costs were $125 million, Despicable Me 2 has already earned the production and marketing amounts back domestically. Sure, they will give a lot of that back to theaters, but the animated event film has now rung up $229.2 million in sales, and is definitely looking for at least $300 million domestic, if not a lot more. Overseas cinemas are finding Gru and his minions to be no slouch either, as the foreign total has already reached $243 million. Despicable Me 2 won't be the biggest earner of the summer, as Iron Man 3 crossed the $400 million mark a couple of weekends ago, but it cost $125 million less before marketing. On a budget versus worldwide gross scenario, this animated product from suddenly hot Universal is likely the season's big winner.

Second spot unfortunately goes to Grown Ups 2, Adam Sandler's first sequel, as he tries to wash away the disasters that are Jack and Jill and That's My Boy from the "minds" of his core audience. The trick worked, and by bringing back his friends Chris Rock, Kevin James and David Spade, the audience came back as well – despite the warnings. Grown Ups 2 earned $42.5 million from 3,491 venues. Grown Ups 2 earned more in its first day ($16.3 million) than That's My Boy earned over its entire opening weekend ($13.5 million). It gives Sandler one of his bigger openings, but not as much as the The Longest Yard, which opened to $47.6 million in 2005. This debut was on par with the original Grown Ups, which took in $40.5 million in 2010. The opening also falls into the Sandler wheelhouse, as his films tend to start between $35 and $43 million. Oddly enough, Pacific Rim may have stolen some of the thunder from Grown Ups 2, as Sandler's fanbase tends to be teen boys, which is Pacific Rim's target demographic. At the time of this writing, Grown Ups 2 had garnered only five positive reviews out of a possible 70, leaving it 7% fresh at Rotten Tomatoes, the second lowest rating of Sandler's career (Jack & Jill at 3% fresh will follow him forever). Grown Ups 2 cost Sony and Happy Madison $80 million to make, and if the original is any indication, it should be a $250 million worldwide hit before all is said and done.


Third spot goes to Pacific Rim, and despite all the "woe is me" out there in the media regarding this one, I think Warner Bros. is going to be just fine after all is said and done, and will finish with a better score than The Lone Ranger. Pacific Rim got started with Thursday previews, taking in a quite strong $3.6 million on Thursday night. Friday wasn't as strong, though, as the reported number was a second place $14.6 million including those Thursday night previews. Thus, the true Friday number was $11 million, leaving it in third, a few million back of Despicable Me 2. Over the weekend proper, Pacific Rim brought in an okay $38.3 million – not the $40 million plus it needed, but better than the $29 million that the Lone Ranger took in over three days last weekend. Much has been made about Pacific Rim's $190 million production budget; however, that's $60 million less than The Lone Ranger cost to make and Pacific Rim will play about 1,000 times better than The Lone Ranger in Asia. Additionally, the $190 million is all on the screen.

Given that Pacific Rim is 72% fresh at RottenTomatoes, and has a subject matter that will play to teen boys for years to come, all is not lost on this effort. The word-of-mouth on this one is quite good (A- Cinemascore), which means that $100 million domestic is not out of the question. Additionally, Pacific Rim is going to be huge in Japan and other Asian countries as well as Latin America, so there is no reason to think it won't follow the Prometheus model, where $125 million was earned domestically, and $275 million was earned overseas. Another example is Real Steel, which earned only $85.5 million domestically and another $210 million overseas. Pacific Rim also has the opportunity to become a cult classic, and do huge business on home video.

Finishing fourth this weekend is 20th Century Fox's The Heat, which has become another big win in a summer of success stories. The Melissa McCarthy/Sandra Bullock comedy had another strong frame, as it earned $14 million in its third frame, down 43% from the previous weekend. It crossed the $100 million mark on Friday, only its 15th day of release. It took the same amount of time for films like Wedding Crashers and American Pie 2 to reach the same mark. It took the original Grown Ups 16 days to reach $100 million, while it took The Proposal 20 days and Identity Thief 22 days. The total for The Heat has now reached $112.4 million, against a production budget of only $43 million.

The battle for fifth is between two Disney films, one wildly successful, and the other The Lone Ranger (which may need the loan arranger). Coming out on top (for now) is The Lone Ranger, Disney's disappointing attempt at another franchise and toy seller. After an opening weekend that brought $29.2 million over three days, The Lone Ranger gets spanked again, as it falls a woeful 62% to only $11.1 million this weekend. Yes, things just got measurably worse for the Johnny Depp/Armie Hammer flop, as $100 million at the domestic box office is now out of the picture. Remember, the budget here is reported to be as high as $250 million, which means the loss on the film could be as a high as $190 million, depending on what happens overseas. For now, the domestic total has reached $71.1 million, and should top out around $90 million.


Sixth is Monsters University, which is performing at a level that The Lone Ranger producers must be drooling over. Now in its fourth weekend, Monsters University earned another $10.6 million and declined 46% compared to last weekend. While no budget data has been released for the Pixar release, one has to assume based on trending that it cost close to $200 million. Still, it will be profitable given its $237.8 million domestic gross, and $236 million overseas take. Look for this one to finish with about $265 minions (I mean million).

Paramount's World War Z is seventh after four weekends of release. The Brad Pitt starrer earned another $9.4 million as it dropped a hefty 49%. Obviously, the new teen boy films cut into World War Z's trend this weekend; however, it has now reached $177.1 million at the domestic box office. The zombie thriller cost $190 million to make, but with a worldwide take of almost $425 million, Paramount has to be feeling okay about everything now, and should be prepping a sequel.

Eighth is White House Down, which is Sony's Lone Ranger. Roland Emmerich's thriller got taken down again this weekend, as it earns only $6.2 million in weekend three, falling a hurtful 54%. White House Down cost Sony $150 million to make, and it will be lucky to earn half of that at the domestic box office. Currently it has a cume of $63 million, and less than $20 million at overseas theaters so far.

Ninth goes to Kevin Hart: Let Me Explain, the wildly successful concert movie released last weekend. After taking in $17 million over the five-day frame last weekend, Lionsgate was over the moon, considering the film cost only $750,000 to make. This weekend, it earns $5 million and drops 50%, but it has a gross to date of $26.4 million, so no one is complaining.

In tenth is Man of Steel, which opened to $116 million five weekends ago and is almost out of the top ten this weekend. Man of Steel earned $4.8 million in its fifth frame, dropping 58%. The Warner Bros. release has now earned $281 million domestically (not great considering the opening and the $225 million budget), but has crossed the $300 million mark overseas.

In limited release this weekend, The Way, Way, Back expanded to 79 theaters and pulled in $1.1 million, giving it a venue average of $14,051. Also, the Weinstein Company opened critical fave Fruitvale Station at seven theatres this weekend, and pulled in a venue average of $54,857.

Overall this weekend, the box office continues to tear up the summer. The top 12 films at the box office this weekend earned a powerful $190.9 million, yards ahead of last year when Ice Age: Continental Drift led the box office to $153.9 million. Next weekend will be very interesting as four new films take over 12,000 screens next weekend, when openers will include Turbo, R.I.P.D, The Conjuring and Red 2.