Weekend Forecast for July 12-14, 2013
By Reagen Sulewski
July 12, 2013
BoxOfficeProphets.com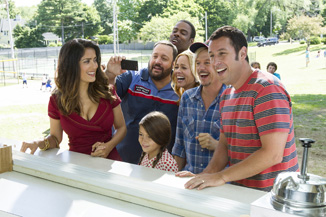 ---
It's hard to imagine a more summery summer movie than the lead film this weekend, and were it any more summery, it'd be sipping lemonade on the beach reading a bad detective novel. Why, then, is this not expected to blow the doors off the multiplexes? Perhaps it's just a bit on-the-nose for people. Maybe we're saying we know what we like, Hollywood, but that's no reason to give us exactly that!

Pacific Rim is what happens when you give Guillermo del Toro unlimited funds and tell him to make what he wants. In this case, one of the last purveyors of Hollywood weird brings us a gigantic "monsters vs robots" action sci-fi film, fought on a global scale. While it's derivative of the classic (you heard me) Robot Jox and pretty much the entire country of Japan, I don't think we can say that anything quite like this at this scale has ever been brought to the big screen.

The story in short: after a giant undersea creature awakens and attacks a number of cities around the edge of the Pacific Ocean (Cabo? NoooooOOoo!), humanity strikes back in the most logical fashion – by building a number of tandem-piloted, skyscraper-sized robots to do battle with and destroy those monsters. Nukes? I presume there's a reason why not, but I expect that – while del Toro is not exactly a "dumb" filmmaker – this is not a film that's going to be long on explanations of why not stuff. Just sit back and enjoy your mayhem. Robot using an oil tanker as a baseball bat? What else could you possibly want, you philistines?

Apparently it should have some sort of tie-in to an existing franchise and/or product (if you saw one or more Transformers movies and do not plan to see this EXPLAIN YOURSELF TO ME). Initial responses to the film's trailers have been a bit of "huh?" and "Is this for real?" Perhaps it's a lack of recognizable stars – it's headlined by Charlie Hunnam, who's been busy on Sons of Anarchy but not much else (but then – Shia LaBeouf! EXPLAIN YOURSELF yada yada) with Ron Perlman, Charlie Day and Idris Elba (prominent for a St. Crispin's Day-rivalling speech in the trailer rounding out the recognizable names.

Perhaps it's just exposure, as Warner Bros. has made the tactical (?) choice of delaying most of its advertising until just now – since there's no reason whatsoever you'd want to build hype, right? Hey, it's their $200 million. Surprisingly enough, this late flurry of activity doesn't seem to have driven a lot of potential business even as reviews are coming in relatively strong (modulated for the type of movie it is, of course). One hates to write the eulogy for a film that's not even dead yet (wait, who am I kidding), but barring some sort of 11-hour turn around, Pacific Rim looks to be a bit of a miss even as it delivers exactly what people want. I'd look for about $45 million this weekend.

In the long, illustrious career of Adam Sandler, Grown Ups 2 represents a first – this is the first time he's bothered to make a sequel to one of his films. That is, assuming you don't consider his entire filmography to be just him making the same film over and over again. But I digress. The twin failures of That's My Boy and Jack & Jill seem to have spooked Sandler and Co., leading him to go back to the well of his last big hit, which brought him and basically every comic he's ever worked with into one big ensemble of just messing around in front of the camera and seeing if it worked as a film. The answer was no, but it made $160 million anyway.

Grown Ups 2 represents literally more of the same in a way that few other sequels have before, other than just remaking the first film all over again. Even the poster relies on the same gimmick of shots of Sandler, Rock, Spade et. al as teenagers even though there are no flashbacks in the movie and why doesn't this bother anyone else!?! I suppose I should say that the film isn't exactly the same, as they've made the decision to offer a significant new role to Shaquille O'Neal, based I'm sure in no part around the idea of just getting to hang around him, the Lonely Island guys, and Milo Ventimiglia as the world's oldest frat boy, apparently.

Despite a critical savaging that makes M. Night Shyamalan wince, including shots at not just comedic incompetence but also basic cinematic competence, Grown Ups 2 should fare decently well in that it gives Sandler's audience exactly what they want – a low-stakes comedy with a notion of just hanging around with Sandler. Prior to his recent slump, Sandler had done a good job of growing up with his audience (for lack of a better term) and figuring out how to hold onto the same group of people. This film gets back to that, and should help him earn around $35 million this weekend.

Neither of these films will hold off the minions (and, uh, Gru, I guess...) as Despicable Me 2 should win a second weekend with around $48 million. It's difficult to overestimate the power of family films during the summer, but Despicable Me 2 could be in the top-three of 2013 by the end of this weekend, depending on whether or not Monsters University's last weekend was an aberration or not.

Non-Sandler comedy will be served by The Heat, which is all set to cross $100 million after three weekends, and should finish somewhere in the $150 million vicinity. This will continue Melissa McCarthy's amazing hot streak, and has helped keep Sandra Bullock's post-40 momentum going (an age when women are usually cast on to an ice floe in Hollywood). It should find around $25 million this weekend.

Years from now, volumes will be written about this period at Disney, which has seen them reach incredible highs (The Avengers) and also waste probably close to a billion dollars on a few very expensive flops - Mars Needs Moms, John Carter, and now The Lone Ranger, which opened to just $29 million last weekend. While this was something that everyone but entertainment journalists saw coming, think about this – Disney managed to make a popcorn summer film based on a classic franchise with Johnny Depp into a failure. Things just get worse from here, as it falls to around $13 million this weekend.

The deep roster of returning films continues with Monsters University, which may have fallen victim to another animated film in its third weekend, but who really knows at this point. I'll give it the benefit of the doubt and look for it to make around $12 million. After this we get World War Z at $11 million, White House Down at $7 million, Man of Steel at $6 million, and the Kevin Hart stand up movie at about the same. That is one stacked top ten list of films.