Weekend Wrap-Up
Minions Rout Ranger at the Box Office
By John Hamann
July 7, 2013
BoxOfficeProphets.com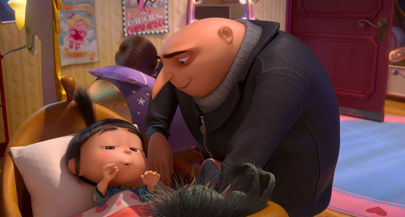 ---
Despicable Me 2's minions rode roughshod over Johnny Depp and The Lone Ranger, as Disney's mega-budgeted western goes down in flames. It's Wild Wild West all over again, but this time things are different, because while The Long Ranger goes into to the tank, Despicable Me 2 is going on to glory. Meanwhile, as all this is going on, Kevin Hart and Lionsgate are making millions off of a small, $750,000 investment. Box office geeks rejoice!

Our number one film of the weekend is Despicable Me 2, the follow up to the very successful Universal original. The original Minion movie earned $56.4 million over its opening weekend in 2010, and went on to earn $250 million stateside and almost $300 million overseas. With the sequel, the original's opening weekend gross was out-earned by 9 p.m. on Thursday, and after only five days of release, the sequel has pulled in well over half of the original's entire domestic gross already. Despicable Me 2 earned $58.8 million via Tuesday midnight shows, a huge Wednesday, and a predictably slower Thursday, as July 4th is a bit of a box office anti-holiday. Gru and company earned $34.3 million through Tuesday previews and Wednesday, then dropped 29% on Thursday to $24.5 million. The Friday gross matched the opening Wednesday gross (without the Tuesday previews), coming in at an awesome $30.2 million.

Over the weekend proper, Despicable Me 2 earned an amazing $82.5 million, which gives the Universal release an amazing five-day Independence Day total of $142.1 million. Universal and tracking were looking for a five-day haul in the $100 million area (or slightly below), so to trounce expectations at this level is astounding. Tracking firms have had a rough summer. The Friday-to-Sunday take was the third biggest July 4th weekend ever, behind only behemoths like Transformers: Dark of the Moon ($97.9 million three-day, $162.6 million five-day) and Spider-Man 2 ($88.2 million three-day, $152.4 million five-day). The fourth biggest is now the original Transformers, which took in $70 million over three days, and $155 million over five. With this result, Despicable Me 2 is guaranteed a $300 million plus domestic result, will become be one of the top three Universal titles ever (the original sits at sixth all-time for Universal) and should be the second biggest title of the summer, behind only Iron Man 3.

Not only is Despicable Me 2 hugely successful, it wasn't made with the extravagant budget we see from Pixar event films (or Disney westerns starring Johnny Depp). The Universal and Illumination Entertainment production was made for a comparatively tiny $76 million, a number the film beat at the box office by Friday morning. As a comparison, Spider-Man 2 and Transformers: Dark of the Moon had $200 million budgets; Toy Story 3 and Cars 2 both cost $200 million and Brave cost $185 million. Shrek 4 cost $165 million, Shrek 3 $160 million, and Shrek 2 was $150 million. The original Despicable Me cost $69 million to make in 2010, so they used the same financial model and have found a lot more success.


How did Despicable Me 2 find all of this success? Through a wild marketing campaign that likely cost more to put together than the film itself. The trailer was funny and had a great response in theaters, the TV ads never seemed to repeat and never gave too much away, and the minions were literally everywhere. The "Despicablimp" (yes, you read that right) is a blimp that looks like a minion and has crossed the southern states after starting in Southern California in March. This, my friends is marketing. Every kid in the southern US who saw that blimp had awareness of the film. Lastly, in my mind, the original is one of the better animated films ever released, with a great performance from Steve Carell, and of course the very kid-friendly minions. Universal had the original everywhere prior to release, and was the number one download at Amazon and on iTunes leading up to the weekend. The sequel was 75% fresh at RottenTomatoes which would have helped, as this weekend audiences stayed away from bad films (Lone Ranger, White House Down) and embraced the good one.

For Universal, their golden summer continues. Fast & Furious 6 has already made $235 million domestically and $450 million overseas against a budget of $160 million. The Purge has earned more than 20 times its $3 million production budget as it sits with a domestic total of $63 million. The studio also has three titles with promise still to come this summer, including R.I.P.D with Ryan Reynolds and Jeff Bridges, 2 Guns with Mark Wahlberg and Denzel Washington, and Kick-Ass 2. This is becoming an unforgettable summer for the folks at Universal.

Waaaay back in second is The Lone Ranger, and as much as Despicable Me 2 did everything right, The Lone Ranger did everything wrong. First, let's look at the numbers. While Gru and friends earned $34 million on opening day, The Lone Ranger found only $9.7 million, which included Tuesday previews (cue the sound of a record scratching). At that point, after all the effort, the $250 million in production cost, and a likely $125 million marketing cost, it was over for The Lone Ranger. Over. The failure to even get into double digits on opening day spelled the end of Tonto and the Ranger, as the Friday gross usually ends up matching the Wednesday gross, and a number less than $30 million for the weekend proper was going to spell financial disaster for Disney, no matter how you cut it.

The Lone Ranger earned $9.9 million on Thursday (somewhat inexplicably, as usually grosses go down on the holiday). It took in $10.7 million on Friday, and ended the weekend with a three-day gross of $29.4 million, and a five-day of only $48.9 million. A best case scenario for The Lone Ranger has it finishing with a domestic gross of $120 million, or $130 million LESS than what it cost to make. This is a repeat of the Wild Wild West nightmare, and once again it falls on the July 4th weekend.


Wild Wild West cost Sony $170 million to make in 1999, and took in only $41 million over five days. It finished with $113.8 million domestically and $108 million from overseas theaters. It was another western with a bloated budget and a huge star, and cratered over the Independence Day weekend. Disney chose not to heed this lesson, instead spending a lot more for a similar result. The Lone Ranger was also a bad film like Wild Wild West (20% fresh, versus Ranger's 24% fresh rating), as the filmmakers heaped on the violence in what is essentially a family movie. Then Disney put their film up against Despicable Me 2, which was the death knell.

You simply cannot position a $250 million film against a sequel whose original earned $250 million domestically. This is a bravado that shouldn't be ignored by Disney shareholders. It speaks to an inflated ego amongst an executive group who (presumably) dismissed a number of warnings and chose to proceed regardless. This is a disaster, and Depp, Gore Verbinski, Jerry Bruckheimer and Disney deserve it. I haven't been more pleased with a flop (respective to budget) in all my years.

Third place goes to The Heat, which is just that as it narrowly misses the dubious mark set by The Lone Ranger. After a fantastic opening weekend of $39.1 million, the biggest for both Sandra Bullock and Mellissa McCarthy, the duo kept the heat on this weekend. The Heat earned another $25 million in its second frame, dropping a not bad 36% compared to opening frame. Remember, this Fox release cost only $43 million to make (about $207 million less than The Lone Ranger), and has now brought in a remarkable $86.4 million. It should cross the $100 million mark next weekend, and will continue to propel Melissa McCarthy toward super-stardom.

Monsters University takes fourth place as somewhat laughably, Disney takes two hits to the chin from Despicable Me 2 this weekend. Not only do the minions KO The Lone Ranger, they also knock down Monsters University. After a second weekend of $45.6 million where it beat The Heat by about $6 million, the Pixar production falls to fourth this weekend, grossing $20 million, and dropping an expectedly severe 57%. Brave didn't fall more than 50% until weekend nine, Toy Story 3 not until weekend 13, Up fell 50.1% in weekend six (which was the highest drop of its run), and WALL-E went 24 weekends before cratering more than 50%. Disney's scheduling of both Monsters U and The Lone Ranger was simply terrible. Don't get me wrong. Monsters University is still a huge success, having crossed the $200 million mark on Friday. It has a running total so far of $216.1 million domestically, and a further $184 million from overseas venues.

World War Z has a bounce back weekend in its third frame, as it grosses $18.2 million and drops 39%, a decent improvement over last weekend's 55% plunge. The $190 million Paramount blockbuster has now earned $158.8 million stateside, and should approach the $200 million mark. It will find its profit overseas, as it has a gross so far of more than $200 million.


Things don't improve much for White House Down following its slow opening frame, when the $150 million Roland Emmerich release earned less than $25 million. This weekend, the Channing Tatum/Jamie Foxx thriller earned $13.5 million, good for a troubling 46% drop. It now has no chance of getting to $100 million, and one has to wonder how a film like this is going to play overseas. Domestically, it has a running total of $50.5 million, and will give Sony more headaches to go with After Earth.

Man of Steel is seventh for the weekend, as it pulls in another $11.4 million. I find it had to believe that this Man of Steel opened to $128.7 million only four weekends ago, and is now struggling to stay in the double digits. Supes had another big decline of 45% to go with its 65% second weekend drop, and 50% last weekend. Also, despite the humongous opening, it is starting to look like the Man of Steel won't earn $300 million domestically. All flash and no substance equal poor legs (The Lone Ranger had neither). So far, The Man of Steel sits with $271.2 million from domestic venues and an almost equal amount from overseas theaters.

Kevin Hart: Let Me Explain, a small concert film from Lionsgate and Summit Entertainment that cost only $750,000 to make, takes eighth place. It made more than six times its budget amount on opening day, by earning $4.8 million Wednesday alone. It had earned 10 times its budget by end of day Thursday ($2.6 million gross), and 15 times its budget by the end of Friday. Over the weekend proper, Let Me Explain earned $10.1 million, and over five days, it earned $17.5 million. That's 23 times the production budget after only five days of release. Kevin Hart: Let Me Explain is the perfect low risk, big reward situation that Universal also used for The Purge. It is counter-programming at its finest.

Ninth is This Is the End, Seth Rogen's end of the world comedy. This Is the End earned another $5.8 million, falling 33% compared to last weekend. The $32 million film has been wildly successful, as it has a gross so far of $85.6 million.

In tenth is Now You See Me, the magic heist film that recently made it past the $100 million mark. The Lionsgate film earned another $2.8 million this weekend, down 51% from the previous film. The unexpected hit now has a domestic total of $110.4 million.

Steve Carell not only dominates the mainstream releases this weekend, he's also dominating in limited release as well. The Way, Way Back debuted at 19 theatres this weekend, and pulled in an impressive $575,000. That gives the comedy an impressive venue average of $30,263, and a solid start to what should be a strong run.

Overall this weekend, the box office is extremely strong again despite The Lone Ranger result. The top 12 films earned $220.6 million this weekend, well ahead of last year when The Amazing Spider-Man led the box office with $62 million. Next weekend brings another showdown, this time between mega monsters in Pacific Rim and bad acting in Grown Ups 2.