Weekend Forecast for July 5-7, 2013
By Reagen Sulewski
July 3, 2013
BoxOfficeProphets.com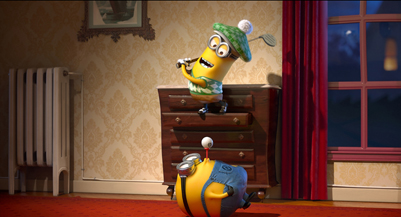 ---
The Fourth of July weekend is often home to one of the biggest tentpoles of the summer, which staked its claim as much as two years ahead of the fact – and then as frequent as not, disappoints. We have just the film to fit that bill this year but fortunately also something that should surpass it.

Despicable Me was the surprise animated hit of 2010, earning over $250 million on the backs of a winning and charming vocal performance from Steve Carrell, a sincere but not saccharine storyline that was also filled with a decent amount of action and slapstick absurdity, and of course, those minions. I'm convinced the little yellow gibberish spouters are responsible for about $100 million of that total, thanks to their inherent adorableness and childlike violence. It's one of the best decisions in an animated movie since Toy Story 2 decided to flesh out Woody's background.

Despicable Me 2 brings back all these elements, but instead of having Carrell's Gru being a quasi-bad guy out to prove to the world he has what it takes to be a real villain, he's drafted by the anti-villain league to fight against a new enemy (voiced by Benjamin Bratt). In addition to all the mayhem and deft swipes at the bureaucratic agencies that would have to exist in these worlds, Despicable Me 2 manages to craft a story around how Gru will deal with his new fatherhood responsibilities while being a "good guy". Relatively standard stuff, one admits, but also a highly relevant topic (in the broader sense) for its core audience, filled with kids who want their parents around more and parents guilted within an inch of their wallets.

Opening in close to 4,000 venues, Despicable Me 2 should build handily on the original's $56 million, with the five-day opening period spreading things out quite a bit. Over three days we can expect around $72 million, with another $45 million or so prior to the weekend.

The Lone Ranger is a film that on paper has a lot going for it – a big name star teamed back up with a director that's had success bringing marginal material to the big screen, a classic, iconic franchise name, and the full backing of a major studio. Why then, does it seem like such a horrible idea to bring this concept to the big screen?

Armie Hammer stars as the title character, a Texas Ranger shot and left for dead (or perhaps actually died! dun dun dun) in post Civil War Texas and searching for justice. With his Indian sidekick Tonto... oh, and here's where things go off the rails! Johnny Depp plays Tonto, and even though he's been "adopted" by a Comanche tribe, this is not something that I really have to pretend to be comfortable with. I can accept that he's doing this with as much respect as possible and as a fully active and engaged character in the film, but it's just one of those things that's of another time. We might as well re-release Song of the South.



Setting all that aside, the action of the film looks to be decent – your standard summer action film fare, with plenty of gunplay, exploding trains and set pieces that try to take as much advantage of their setting as possible. Depp in particular seems to be especially adept at his "just in time" stunts that are borrowed in large degree from his Captain Jack Sparrow, which is appropriate considering he's working with Gore Verbinski again. Westerns have continued to find trouble at the box office in recent years when they try to go high concept – Cowboys and Aliens being the most recent casualty in this manner. In addition, this has all the look of a film that's "too much," and audiences may have picked up on it. A total failure seems unlikely due to the talent involved (including a rare Helena Bonham Carter appearance when Tim Burton isn't involved), but the film's gigantic budget is also unlikely to be justified. Over three days, we should see about $51 million, with another $28 million in the two days prior to the weekend.

Stand-up films are a rare beast these days, particularly ones getting wide release. Kevin Hart might be one of the few who can make that happen (I'd doubt even Louis C.K.'s ability to get that done right now due to the differences in his audiences and output). His latest, Let Me Explain, follows 2011's Laugh at My Pain, which managed a $2 million weekend in just 98 theaters. That's not going to scale quite exactly, but in 800 theaters or so, the comic should be able to find at least an $8 million weekend.

Monsters University took a second weekend at the top of the box office, but meets its match in terms of family entertainment this weekend. However, with $180 million already in the bank, it's kind of a "so what" challenge, even as it's likely to fall by the wayside some. Its predecessor was one of the few notable films actually to show a measurable impact from competition, as it was hurt by the first Harry Potter film, but a summer release and the lower amount of hype for Despicable Me 2 shouldn't bring that level of hurt. Instead, I'd look for a modest fall to around $24 million.

The Heat was the champ of the two new films last weekend, opening to $39 million, proving that two women can open an action comedy and will spawn an enormous number of copy-cats that will miss the point entirely. Such is the Hollywood cycle. Give The Heat about $19 million this frame.

White House Down was in all terms a miss, opening to just $24 million and ceding "blowed up the White House good" championship status to Olympus Has Fallen. Perhaps there were only so many people looking forward to that this year, and they all got used up. I'd watch for this to fall to around $13 million this weekend, even with patriotic (?) fervor.

World War Z should likewise drop significantly to that amount, as the apocalyptic drama has struggled to inspire good word-of-mouth. In the end, we can really just mourn the TV series that never was, or get that Kickstarter going to make it happen.

Lastly in significant returning films, there's Man of Steel, which crossed the $250 million mark on Monday. This is maybe enough to justify a sequel, but we're in marginal return territory here. Add on $10 million this weekend.