Movie Review: Despicable Me 2
By Shalimar Sahota
July 1, 2013
BoxOfficeProphets.com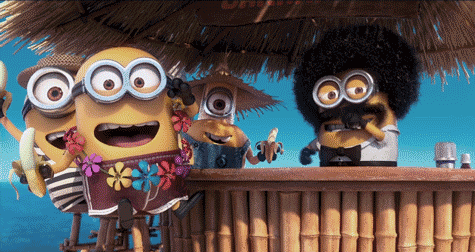 ---
A novel twist for a children's animated film, Illumination Entertainment's Despicable Me had the audience rooting for a bad guy who ends up changing his ways after adopting three young girls. It's an idea that probably wouldn't reform a real bad guy. Nevertheless the film earned over $500 million worldwide, bringing about the possibility of a franchise, or being forced into one. Co-director Chris Renaud revealed that there wasn't really anything in mind for a sequel, and it *almost* shows here. Despicable Me 2 tries to establish Gru as a good guy now saving the world, whilst also trying to find him a girlfriend who can also be a mother to the girls.

Former super-villain Gru (Steve Carell) spends his days making jam and keeping his three girls happy, Margo (Miranda Cosgrove), Edith (Dana Gaier) and Agnes (Elsie Kate Fisher). He suddenly finds himself kidnapped by Agent Lucy Wilde (Kristen Wiig) and Silas Ramsbottom (Steve Coogan) of the Anti-Villain League. Turns out they require Gru's help to go undercover and find a super-villain who has stolen a dangerous serum known as PX41, capable of turning people into indestructible monsters. Gru accepts and soon finds himself working alongside Lucy, hiding out in a mall in a cake shop called "Bake My Day". It's not long before they investigate their prime suspect, restaurant owner Eduardo (Benjamin Bratt).

Despicable Me 2 realizes that it is stretching a thin plot; a spy story so flimsy that Gru and Lucy's main suspect initially comes to them. So it throws in a couple of side stories that involve Margo getting a boyfriend and Gru getting a girlfriend.

Gru himself had already progressed in the first film, yet he's still the most interesting character here, largely because he's not very good at subtlety (after giving his girls some money he tells them to "Go buy some useless mall junk."). Essentially a bad good guy, he does occasionally revert to his evil ways when it suits him, such as his hilariously borderline cruel treatment towards Margo's potential boyfriend Antonio, who also happens to be Eduardo's son. The sequel finds numerous ways to drop hints that the girls don't have a mother; be it an annoying neighbor trying to set Gru up on dates, or Agnes' bland reciting of a poem for Mother's Day, it's all to push Gru into becoming a family man.

Gru's children are no longer important to the story here (Edith, who has somehow become a proficient ninja, is largely neglected). They don't get to do much, but there are a few moments where they get to help Gru out. Instead, the minions are the ones that have become somewhat significant, with a number of them inadvertently turning against Gru (there's a quick nod to the 1970s Invasion of the Body Snatches here). Realizing the popularity of yellow pill shaped characters talking gibberish, it's no accident that the minions are given much more screen time since they provide most of the comedy. One minion, Dave, gets a whole daydream segment involving him and Lucy and rocket launchers.

Directors Pierre Coffin and Chris Renaud return, along with the original writers Cinco Paul and Ken Daurio. One has to admire the effort they go to when it comes to just how much unexpected ridiculousness they can get away with in an animated film. The best involve the way Gru parks his car, what happens to his date Shannon (Kristen Schaal) when taking her back to her home and Lucy's resultant action on a plane when she realises her feelings for Gru. Then there's the animated family film equivalent of Eduardo having a one night stand, grabbing a random woman from outside his restaurant, dancing with her energetically for a few seconds, and then throwing her out once he's done. Writers Paul and Daurio first worked together on the feature film Bubble Boy, which is probably the best example of how their humor translates in a live action film.

However, it is odd that Illumination Entertainment manages to bag talents like Steve Coogan and Ken Jeong; only they don't really exploit their comic abilities. Coogan is lumped with the straight character Silas, while Jeong's wig store owner Floyd is barely in it.

Whereas the first film taught egocentric thieves that there are more important things than stealing the moon, there is little in the way of any overall message here, unless it's to tell parents to spend more time with their children… and that boys stink. In fact the film does set up being in a family as an ideal for the characters to strive towards, despite all their idiosyncrasies. Can't really argue with that… but then is this catering towards single parents, some of whom might worry as to just what kind of conversation will arise after viewing it with their child?

Despicable Me 2 squeezes some decent jokes out of an average story, and the thrilling climax involving a bad-ass Gru with a couple of jam guns is as good as many an action film. With the target audience being children, they'll probably be laughing too much to remember what it was all about. There were actually a lot of laughs during my screening from both children and adults, generally whenever minions were on screen.