Weekend Wrap Up
The Heat keeps box office hot streak going, White House Down disappoints
by Tim Briody
June 30, 2013
BoxOfficeProphets.com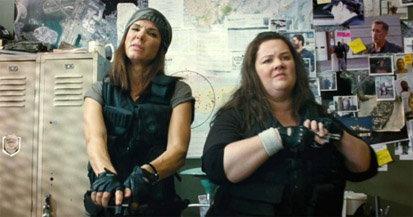 ---
The box office hot streak looked to continue this weekend with two new releases, one a seeming carbon copy of a spring hit and the other a buddy comedy starring two reliable box office draws. Hollywood continued to roll along, though not in the way you might have expected on paper.

The number one film of the weekend is, as expected, Monsters University with $46.1 million. Down 44% from last weekend, the Pixar prequel has earned $171 million in two weekends. Don't be alarmed by the seemingly high drop for an animated movie. Pixar films always behave a little differently, as they have a much higher Friday night rush and opening weekend rush factor due to the power of the brand. It's actually less of a drop than last year's Brave (48.6%) and 2011's Cars 2 (60.3%), so there's little to worry about. The biggest concern Monsters University has right now is direct competition in the form of next weekend's Despicable Me 2. It's probably not going to crack the top three of Pixar films (it would need to beat Up's $293 million) but over the next seven days it will pass the entire runs of films such as Cars 2, Ratatouille and WALL-E. At this point, $275 million is a realistic finishing place.

In second is the first of two openers and it's surprisingly not the one that features Washington D.C. getting blown up real good. Instead, it's The Heat, with an awesome $40 million weekend. It's time to admit it, folks: Melissa McCarthy is a legitimate box office draw. Paired with reliable-performer-in-her-own-right Sandra Bullock (who also now has the biggest opening weekend of her career), we have an incredible opening for a female-led, R-rated comedy.

Starting with $13.6 million on Friday, The Heat landed a solid 2.96 multiplier on the weekend and with a reported $43 million budget, it will have made that back tomorrow. With a 64% Fresh rating at Rotten Tomatoes and an A- Cinemascore, The Heat will likely be a strong comedy option for a few weeks. After Identity Thief earned $134.5 million, this is a virtual lock for the second $100 million film of the year headlined by Melissa McCarthy. (And as a Gilmore Girls fan, this makes me very happy.)

Third place goes to Brad Pitt's World War Z, down 55% with $29.8 million. As David Mumpower pointed out yesterday, this figure is where most analysts had anticipated the zombie movie to open as of a couple months ago, which makes the performance all the more impressive. It's earned $123.7 million after two weekends. There's still quite a ways to go before it reaches the reported $190 million production budget, but it's far from a disaster.

Which brings us to White House Down, taking fourth place on the weekend with $25.7 million. Beaten to the punch three months ago by Olympus Has Fallen, the second film this year about a terrorist assault on Washington, D.C., this time starring Channing Tatum and Jamie Foxx, was clearly deemed too similar to Gerard Butler's film to make audiences care. Olympus Has Fallen opened to $30.3 million and finished just short of $100 million, taking in $98.6 million. White House Down…will not do that.

That's not to call this performance terrible or even bad. In this era of tremendous box office openings, I still cannot in good conscience call something that opened to $25 million a bomb or a flop. It's disappointing, sure, as on paper the one man show of Gerard Butler seemed no match for the combination of Channing Tatum and Jamie Foxx. But audiences had other ideas. Even with Roland Emmerich, no slouch in the blow sh*t up department, at the helm, White House Down got smoked by The Heat. That's why looking at box office is so fascinating, really.

The holdover brigade begins in fifth as Man of Steel earns $20.8 million in its third weekend, down 50% from last week. The Superman reboot now has $248 million in the till, though $300 million sure feels pretty far away based on the last two weekends of declines. The good news for the Zack Snyder pic is overseas grosses now send Supes' total earnings over $500 million. The bad news is that it very likely earned over one-third of its total domestic box office within its first four days. That's rarely a good thing.

This Is the End takes sixth with $8.7 million, off just 35%, in its third weekend. It's got $74.6 million in the bank and has more than doubled its reported $32 million production budget. One of the bigger successes of the summer, it's right on target to finish with $100 million but probably needs two or three more weekends to get there.

Now You See Me becomes the 14th film of 2013 to cross $100 million with another $5.5 million in its fifth weekend. The slick-looking thriller starring Jesse Eisenberg, Mark Ruffalo and Woody Harrelson is one of the better word-of-mouth stories of the summer. It's got $104.6 million and looks to finish with $120 million, firmly in the black against a $75 million budget.

Fast and Furious 6 adds another $2.4 million in its sixth weekend, bringing its domestic total to $233.3 million. This total, of course, pales in comparison to the $438 million earned overseas, which is why we're talking about the sixth film in this franchise with the seventh expected next year. $240 million is about its upper limit as it begins to shed screens.

Star Trek Into Darkness takes ninth place with another $2 million, giving it $220 million in seven weekends. The J.J. Abrams sequel will still fall short of the $257 million Star Trek earned domestically back in 2009, but those pesky overseas grosses make it the more successful of the two films in the rebooted franchise.

The Internship, one of the summer's few misfires, lands in tenth with $1.4 million and has earned $41 million in four weekends. Hoping to recapture the magic of The Wedding Crashers, the Owen Wilson/Vince Vaughn comedy failed in that regard and this will hopefully be the last time we need to mention it.

The top 12 films this weekend earned $185.2 million, which is off a little from last year' $196.8 million when Ted and Magic Mike combined to open to $93.5 million. Still, the box office is doing very well this summer as we head into a long July 4th weekend, which starts on Wednesday with Despicable Me 2 (already doing very well overseas) and Johnny Depp's The Lone Ranger.