Weekend Wrap-Up
Man of Steel Just That at the Box Office
By John Hamann
June 16, 2013
BoxOfficeProphets.com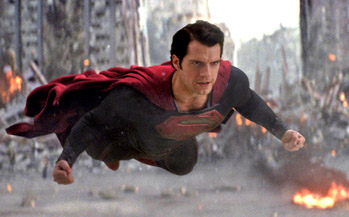 ---
Superman is back in a big, big way, and is saving the box office.

Over its glorious and surprising opening frame, Warner Bros.' Man of Steel took down the opening weekends of both Bryan Singer's Superman Returns and Chris Nolan's Batman Begins, all in only one night (plus previews). The opening weekend gross of Man of Steel beat the entire gross of every Christopher Reeve Superman film, and Marvel's Hulk/The Incredible Hulk (the bad one AND the good one). The result this weekend for Man of Steel is simply staggering, as the Zack Snyder flick pulls down the second biggest opening of the year so far, behind only Iron Man 3.

Our number one film of the weekend is of course Man of Steel, as Warner Bros. built an amazing marketing campaign - one of the best - for this version of Superman, as they released a trailer a few months ago that stimulated discussion like I have not seen since The Matrix, more than a decade ago, or The Avengers. That trailer, largely featuring Russell Crowe and the demise of Krypton, was a piece of art unto itself, and set the stage for what happened this weekend. What happened? Superman blew the doors off the box office.

Before the true weekend was upon us, Man of Steel had two sets of screenings. At 7 p.m. on Thursday, Warner Bros. teamed up with Walmart for a set of special screenings of the new blockbuster, and combining a huge film with a huge company resulted in a $12 million set of 7 p.m. shows (for more detail on these screenings, see David Mumpower's Friday Analysis). Then at midnight, Warner Bros. released their baby onto the masses, and despite the late hour, Man of Steel managed to pick up another $9 million. It made $21 million before the dawn of Friday morning. To keep it comic book hero based, that's more than the first and third Blade films made over their opening weekends, and more than This Is the End made over the weekend proper.

On Saturday, Warner Bros. announced a Friday gross of $44.1 million, with a two-day total of $56.1 million. This means the $9 million in midnight screenings was included in the Friday number, while the $12 million from Walmart screenings was considered a Thursday gross. The $44.1 million figure gave Man of Steel the 20th biggest opening day gross ever; however, the "true" Friday gross was about $35.1 million once the midnights were removed. The Saturday needed to be on par with the "true" Friday figure, and it was, coming in at $36.3 million, which means the estimated Sunday figure for Man of Steel came in at $32.7 million. All told, Man of Steel had an electric opening weekend of $113 million, and including the $12 million from Walmart screenings, earned $125 million. Due to Father's Day, it had a better-than-expected weekend multiplier (weekend gross divided by "true" Friday gross) of 3.2. The opening weekend blitzkrieg blew apart tracking expectations, which were looking for $85-$100 million. The studio also got it completely wrong, as they were lowering expectations by calling for an $80 million opening frame.


The all-in weekend figure puts Man of Steel 14th on the biggest opening weekend of all-time list, behind Iron Man 2 ($128.1 million opening), but ahead of the movie that started the superhero renaissance in 2002, Spider-Man ($114.8 million opening) and other blockbusters like Pirates of the Caribbean: On Stranger Tides ($114.7 million opening) and Alice in Wonderland ($116.1 million opening). For a non-sequel, this is the second biggest debut ever behind only The Hunger Games ($152.5 million) and arguably Marvel's The Avengers ($207.4 million). It is the seventh biggest superhero release ever, behind The Avengers, Iron Man 3, The Dark Knight Rises, The Dark Knight, Spider-Man 3 and Iron Man 2 (note the number of sequels). Warner Bros. has done what Sony did with Spider-Man way back in May of 2002 – they have reset the bar for future openings for well-established comic book characters in non-sequels or reboots.

How did Warner Bros. take their film so far beyond tracking expectations? The superb marketing campaign has already been discussed, but the release strategy also played a large part in how this all worked out. One has to wonder how different the fate of Man of Steel would have been if a film like Fast & Furious 6 ($97.4 million open) had opened last weekend instead of the also-successful The Purge, which debuted with $34.1 million last weekend and fell 76% this weekend. Last weekend's glut (and the severe drop off of the number one film) left the box office doors wide open for Man of Steel, as the big films from May are starting to dwindle. As I mentioned last weekend, this frame resembled the weekend when Toy Story 3 opened to $110 million, and was followed by The Karate Kid at $30 million. That weekend, the average gross for the fourth to tenth placed films was about $5 million, which left a lot of theatres primed and ready for some big new blockbusters.

Names like Zack Snyder, Chris Nolan, Russell Crowe, Amy Adams, Kevin Costner, Diane Lane and Michael Shannon also helped with the opening weekend, as most of these names relate to quality, and aren't necessarily targeted to the under-20 set. Warner Bros. set up a film that was going to cross demographics, as well as electrify the fanboys/girls out there that love the comics. Man of Steel also carried some nostalgia for the older crowd, as this version harkened back to the 1978 version of the film much more than the Brandon Routh version did a few years ago.

Warner Bros. did a much better job handling their property this time around. Instead of making a Superman film and then sitting back and waiting for the money, the studio was aggressive and took no chances. The payoff is going to be huge. Sure, the critics weren't overly enamored with it (57% fresh all critics/54% top critics at Rotten Tomatoes), but audiences seem to dig it, as it earned an A- Cinemascore. The cost to bring Man of Steel to the screen was large at $225 million; however, on top of the big domestic take, Man of Steel also earned $71.6 million overseas this, giving it a global cume thus far of $196.7 million, with a large number of overseas markets opening Man of Steel next weekend.


Finishing second is another success story, this time in the strange form of This Is the End, the new film from Seth Rogen and Evan Goldberg. Funny and critically acclaimed, This Is the End got started on Wednesday, and earned a fabulous $12.3 million prior to the weekend proper. It then earned a so-so $6.9 million on Friday night (the Man of Steel effect), and turned that into an okay weekend gross of $20.5 million, and a decent five-day take of $32.8 million.

A five-day opening like this - literally in the shadow of Superman – should be considered impressive despite the differences in the numbers between the top two films. Usually I don't believe in opening a film on Wednesday, but this was the right move for Sony, as they had a good film on their hands (85% fresh – somehow 28 percentage points better than Man of Steel), which allowed for good word-of-mouth to spread prior to the weekend. It also allowed the press to separate the coverage between Man of Steel and this one, as reviews ran in most papers on Tuesday or Wednesday, whereas Man of Steel's would have run later in the week.

This Is the End was also able to use the truly bizarre (and funny) story to draw crowds, as we haven't seen many comedies about the end of the world, featuring some of comedy's best and brightest young stars playing themselves. This is an adult, R-rated (the R here stands for "rapey vibe") movie, and should parents not want to attend Man of Steel with the wee ones, they could drop the kids off and head into see this. They also targeted the weekend perfectly, as This Is the End is 2D, while Man of Steel was in 3,357 3D theatres (out of a possible 4,207). This likely means This Is the End would have had the decent sized 2D theatres. This Is the End cost only $32 million to make, a number they have matched after only a weekend, but questions remain. Will this sort of movie hold up next weekend? How will it play overseas? So far, This Is the End is a decent success, but we will have to wait to see how successful this one ends up being.

Third spot goes to Now You See Me, which is now in its third weekend. After taking down After Earth in its opening frame and The Internship in its second, Now You See Me held decently against the one-two punch of Man of Steel and This Is the End. It earned $10.3 million in its third frame, and drops 46% compared to last weekend. The $75 million heist/magic film has now matched its production budget stateside, but remember that budget was significantly reduced after Lionsgate and Summit sold off foreign rights. So far, Now You See Me has earned $80 million and is definitely playing the sleeper card, now for three weekends in a row.

Fourth is Fast & Furious 6, which finished behind The Purge and ahead of Now You See Me last weekend. This time around, the blockbuster is ahead of The Purge and behind Now You See Me, as it earns a fourth weekend gross of $9.4 million. It drops a hefty 52% versus last weekend, but has already earned $219.6 million domestically, easily making it the biggest F&F entry ever. Overseas, the film well past the $400 million mark.


Fifth is last weekend's big surprise, The Purge; however, the fall of this horror release almost matches that of its rise. After earning $34.1 million last weekend, the Ethan Hawke thriller took in only $8.2 million, giving it an alarming drop of 76%. Still, when your film costs only $3 million to make, and you have $51.8 million in the bank so far, are you going to complain?

Sixth is The Internship, the Vince Vaughn/Owen Wilson laugher that got off to an only okay start last weekend with $17.3 million. This weekend, The Internship got rocked, losing 60% of that opening weekend audience, and grossing only $7 million. The $60 million Fox release has now earned $31 million, and will somehow have to be strong overseas should any hope for profit be out there.

Seventh goes to Epic, the $100 million Fox/Blue Sky animated release. In its fourth weekend, Epic earned another $6 million and drops 49% compared to last weekend. The green-themed kids' flick has now earned $95.4 million stateside, and will cross the $100 million mark next weekend. While good, Epic has also already earned more than $100 million from overseas theatres, so it will be a large success when all is said and done.

Eighth goes to Star Trek Into Darkness, which is running out of time as a top ten film. Into Darkness earned another $5.7 million this weekend and was off a hurtful 50%, as Man of Steel dominated all comers. It crossed the $200 million mark on Monday, and now sits with a domestic cume of $210.5 million. Overseas, it has passed the $200 million plateau, all against a budget of $190 million.

The Will Smith/M. Night Shyamalan/Jaden Smith disaster After Earth manages another week in the top ten as it earns $3.7 million, down yet another 65%. This ill-considered project has now tallied just $54.2 million domestically, and is going to have to hope for a lot of interest from overseas venues if it is going to make a profit. So far, those international numbers are right at $50 million, so it's close to hitting its $130 budget, but still not really close to being profitable yet.

Finally in tenth is Iron Man 3, as the Marvel superhero is replaced by the DC superhero. Iron Man 3 grossed another $2.9 million in its seventh weekend, falling 49%. It will have to wait another weekend to cross the $400 million mark, as it has a domestic gross so far of $339.6 million. Overseas, Tony Stark has earned over $800 million.

Overall this weekend, the box office is hot thanks to a very strong top two films. The top 12 this weekend earned an amazing $191.2 million. The same weekend last year found only $123 million, when Rock of Ages and That's My Boy both flopped. Next weekend brings World War Z and Monsters University, so it will be another big, big weekend at the box office.