Friday Box Office Analysis
By David Mumpower
June 15, 2013
BoxOfficeProphets.com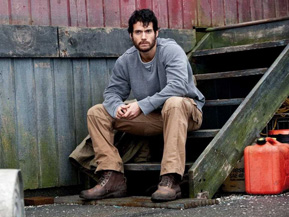 ---
DC Comics icon Superman squared off against a group of famous 20- and 30-something actors best described as the Judd Apatow All-Stars. The Seth Rogen/Jay Baruchel premise for This Is the End seems particularly fresh and original on the heels of the disappointing Vince Vaughn/Owen Wilson Google love-fest The Internship, but in the end, the results weren't much better. Fear not, box office zealots. Superman saved the day in the end.

While sporting a different name, Superman returned to theaters yesterday. Man of Steel's strongest selling point was the presence of Zack Snyder, Batman savior Christopher Nolan's personal choice to helm the project. The newest movie shied away from Lex Luthor's real estate transactions, instead choosing to demonstrate how the character of Superman can pack a yellow sun-enhanced wallop.

Over the last 36 hours, the Warner Bros picture featured one of the most complicated box office release patterns in the history of the industry. We can't argue with the results, though. Man of Steel grossed an estimated $56.1 million from 7 p.m. Thursday until close of business yesterday. To put this performance in perspective, 2006's Superman Returns required three and a half days to earn the same revenue total. In addition, Man of Steel is a mortal lock to earn more on its opening weekend than Superman Returns grossed in its entire first week in theaters – and Superman Returns had July 4th inflation on its side.

Man of Steel launched in a novel capacity on Thursday. Wal-Mart, the world's largest retailer, brokered a deal with DC Comics/Warner Bros. that allowed people to pre-order Man of Steel either as a digital copy or a three-disc Blu-ray set months ahead of time. Anyone who purchased the pre-order also received their choice of either a 2D or 3D screening of the movie at 7 p.m. on Thursday night, just in advance of the movie's "official" opening at midnight. Buying the item separately would cost the consumer somewhere in the neighborhood of $45 (presuming that the person selected a 3D movie ticket). Diehard fans of Superman were more than willing to take the risk, as the film earned $12 million from those 7 p.m. promotional screenings alone. Afterward, the later Thursday exhibitions grossed an additional $9 million, giving Man of Steel $21 million in revenue before it entered Friday. In other words, it earned as much on Thursday as Superman Returns did in its first 24 hours. This total was also more than the all-time opening weekend record holder The Avengers managed from its Thursday sneaks.

Superman continued to exceed expectations on Friday, earning $35.1 million on the day itself. I recognize that a lot of numbers are being thrown at you, so let me summarize. Man of Steel grossed $56.1 million on "Friday", with $44.1 million of it technically being accrued on Friday. In reality, $9 million of that total came from post-10 p.m. exhibitions on Thursday. Thus, an argument could be made that Man of Steel had the 18th single biggest day of box office of all-time, though $12 million of it stems from questionable revenue that came from promotional showings at 7 p.m. the day before it officially opened.

What does this mean for the rest of the weekend? I am less confident than normal because we are dealing with a historically unprecedented addendum because of that $12 million that come from Blu-ray/movie ticket combo sales. What I can say with certainty is this: the good news for Man of Steel has diminished a little bit with each box office update. We know for sure that Man of Steel met all of its fanboy rush demand on Thursday. Friday's box office of $35 million frankly falls right in line with Reagen Sulewski's sub-$100 million weekend estimate. I project moderate growth for Saturday's box office in the range of 15%, which would amount to $40.2 million. Sunday would follow with a decline down to $28.2 million. Note that Sunday is also tricky to predict because it's Father's Day. If there's enough positive buzz that families are enticed to take Dad to the movies, it could have a better-than-typical Sunday. That gives us a grand total for Friday-to-Sunday of $103.4 million. When I include the $21 million from Thursday, the overall weekend total is $124.4 million. Note that I see this as a best-case scenario result. Most of my calculations fall in the $115 million range, but I don't think the studio will be inclined to announce a sub-$120 million number. They need a Justice League movie too much.

This Is the End did not provide the anticipated counter-programming that was projected. Rogen and Baruchel, the faces of Judd Apatow's unheralded TV comedies "Freaks and Geeks" and "Undeclared", had a brilliant idea. Their short film, Seth and Jay vs. the Apocalypse, explored the premise of their cabal of movie co-stars banding together to survive Armageddon. Frequent co-stars Jonah Hill, James Franco and Danny McBride joined The Office alum Craig Robinson in a chaotic mess of comedy that proved a bit too confusing for consumers.

This Is the End grossed only $6.9 million on Friday, well short of the most optimistic tracking predictions. The comedy had a B+ Cinemascore, which means that even the earliest adopters were a bit befuddled. This bodes poorly for its long-term prospects, though critical consensus is strong. Because it opened on Wednesday, This Is the End won't be as frontloaded as it would have been with a Friday debut, which means that it's looking at a three-day total of right at $20 million. Its Wednesday/Thursday total was $12.3 million, so after five days it will have a running total near $32 million.

Amazingly, the difference between This Is the End and Man of Steel is that the film that disappointed on opening weekend is the one that will have matched its budget after five days in domestic release. Meanwhile, Man of Steel borders on being a loss leader for Warner Bros. as they pull out all the stops in building to their hopeful answer to The Avengers.