Weekend Wrap-Up
After Earth Purged from Box Office, Internship Denied
By John Hamann
June 9, 2013
BoxOfficeProphets.com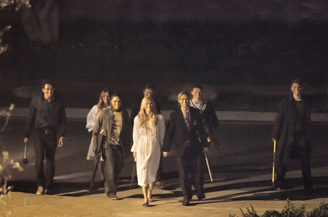 ---
With a blockbuster-free frame at the box office, it may seem like a slow weekend, but there are plenty of weird and wonderful things happening – including a strong Purge and a quiet Internship - and all of it taking place in the very large shadow of the Man of Steel.

After a very strange frame last weekend where the counter-programming piece Now You See Me beat the theoretical blockbuster After Earth, audiences are giving box office analysts another puzzle this weekend, as the micro-budgeted The Purge grossed twice what The Internship did – despite the Fox comedy having a big marketing budget and two A-Listers on board. The holdovers, five of which grossed more than $10 million this weekend, jockeyed for position, and After Earth and The Hangover Part III tried desperately to survive. The main result of the weekend, and this is really the key to the whole thing, is that none of the films in release this weekend should earn more than $15 million next weekend. That will put the very much anticipated Man of Steel and This Is the End in a Toy Story 3/Karate Kid position – where the box office is ready to be top heavy with a $100 million plus opener on top, matched with a strong $30 million earner in second, over a mid-June weekend.

Our number one movie is The Purge, the Universal film where the final product may not be overly smart, but the marketing and approach to release certainly were. The Purge, which cost $3 million to make and according to LA Times "a little over $20 million" to market domestically, blew apart expectations. The Ethan Hawke horror flick grossed $3.4 million on Thursday night alone. That's more than its production budget and more than four times what the star-laden The Internship did in its previews. The Purge went on to earn $13.3 million Friday night ($16.7 million should you include those previews), and finished the weekend with a downright shocking $36.4 million. The Universal release was only out to 2,536 venues (830 fewer than The Internship and 1,235 fewer than Fast & Furious 6), so it had an out of this world venue average of $14,345. So, the "shared horror experience" was everywhere this weekend, which could be good for legs.

Jason Blum, the reigning king of the micro-budget horror flick, produced The Purge. This is the guy who spent $13 million on four Paranormal Activity films (the first one cost $15,000), which earned a combined $719 million worldwide. In 2012, Blum cast Ethan Hawke in the $3 million Sinister, which earned $80 million worldwide. Sinister is 63% fresh at RottenTomatoes - and horror and fresh are two words that often don't go together. Sinister was released on home video in February of 2013, and gave audiences faith in Ethan Hawke as a horror-lead (he also did the fresh vampire flick Daybreakers). The Purge also had a great, fairly simple premise that was easy to sell – society allows 12 hours where anything goes, including murder. I have a friend that was pushing me to see this trailer six weeks ago, and this is not a typical first-night horror goer. Had reviews been better (The Purge is currently 41% fresh, with top critics way down at 21%), I think The Purge could have done even better.

The Purge outgrossed its production budget from Thursday previews. Without the marketing costs, The Purge was in the black by early Friday night. By Sunday night, and guessing at an 80-20 split, with the 20 going to theatres, The Purge was likely seeing pure profit. Many films need to wait years to see a profit, and after home video and ancillaries, a studio might see revenue. Some, like After Earth, will never see a profit – and The Purge is completely in the black in only three days. If you are Universal, you are having a very good year, as Identity Thief cost $35 million and has earned $175 million worldwide; Fast & Furious 6 crossed the half-billion mark this weekend, and Oblivion, despite a sad domestic take, still earned $275 million around the globe. All that and the studio still has what could be their biggest hit of the summer still to come in Despicable Me 2, as the original did a quarter-billion at home and $300 million overseas.

Speaking of Universal, Fast & Furious 6 is number two as it held decently compared to last weekend, despite its already gargantuan gross. In its third weekend, Fast & Furious 6 earned another $19.8 million, dropping a not bad 44% compared to the previous frame. It crossed the $200 million domestic mark on Sunday; well ahead of the time it took Fast Five to reach the same mark. It is Universal's 16th film ever to cross $200 million, and should be the top entry in the Fast and Furious franchise after next weekend (Fast Five finished with $209.8 million). Overseas, Fast & Furious 6 has brought in $381.7 million, making this a huge success for the studio despite the $160 million production budget, and likely another $150 million in worldwide marketing costs. On the domestic side, this one should top out with around $245 million.

Third spot goes to Now You See Me, which is starting to look more like blockbuster material than counter-programming. After pushing dirt in the face of After Earth last weekend, it does the same to The Internship this weekend, as Now You See Me finishes ahead of the comedy with a second weekend gross of $19.5 million. That gives it a percentage drop from opening weekend of only 34% - I say only as we need to keep in mind that percentage drops are always going to be higher in the new box office world where more films preview on Thursday, and inflate the normal opening weekend gross. The $75 million Lionsgate/Summit release has now earned $61.4 million domestically, and is just getting started overseas. The studio should be commended for taking what is basically an expensive, old-fashioned movie, and turning it into a potential $100 million hit.

Fourth is The Internship, the ill-fated comedy with Vince Vaughn and Owen Wilson, and distributed by 20th Century Fox. Few people wanted to see a two-hour ad for Google, as the formulaic comedy could only muster $18.1 million this weekend. This is just over half of the $33.9 million that Wedding Crashers opened to in July 2005, and continues a troubling trend for both Vaughn and Wilson. Vince Vaughn hasn't had a hit since Couples Retreat ($109.2 million in 2009) and Wilson hasn't done much on his own since Wedding Crashers. Reviews were bad and the marketing was worse, leaving Fox to question the $58 million production budget. It will make most of that back stateside, but will need some foreign help to see a profit.

That puts the animated film Epic in fifth this weekend, as it gets the percentage drop it needed to stay relevant with families. In its third weekend, Epic earned $12.1 million, dropping a wonderful 27% as it keeps its fifth place ranking. Epic is a $100 million Fox/Blue Sky production that still has a weekend to work (albeit against Man of Steel) before Monsters University shows up. It has earned $84.2 million stateside, and has crossed the $100 million mark overseas.

Star Trek Into Darkness is sixth, and considering that the reboot sequel earned $11 million less than After Earth did last weekend, you know how things went for the Will Smith sci-fi flick. This weekend, Star Trek Into Darkness put up another $11.7 million, dropping a not bad 30%. Into Darkness continues to be a step back from the 2009 Star Trek, as the reboot earned $17.7 million in weekend four, and had amassed $214.4 million on the domestic front. The sequel has now earned $200.1 million stateside, and has pulled in over $175 million overseas, against a budget of $190 million. It's approaching the worldwide tally of the first Star Trek's $385 million.

After Earth, then, is a sad seventh. After a poor $27.5 million opening, the Will and Jaden Smith starrer earned only $11.2 million, giving it a nasty decline of 59%. A best-case scenario for a domestic finish is starting to look like $60 million, which means it will need $200 million plus from overseas cinemas, if it wants to recoup the $130 million Sony spent on this one. After Earth is the studio's first summer release, but at least they can likely feel good about This Is The End, which opens Wednesday. Then they have to worry about White House Down ($150 million budget), and Grown Ups 2 (the first one cost $80 million, and came out before That's My Boy embarrassed Adam Sandler last June). Domestically, After Earth has struggled to come up with $46.6 million, and will be out of the top ten either next weekend or the weekend after.

Eighth goes to The Hangover Part III, and like After Earth, it got rocked this weekend. The Hangover Part III earned only $7.4 million and dropped a woeful 55% compared to last weekend. It has earned $102.4 million so far, but likely won't earn $125 million domestically. On the positive side for the $103 million film, overseas grosses are already outpacing the domestic.

Ninth is Iron Man 3, which is now in its sixth weekend. Iron Man 3 earned another $5.8 million and fell only 31%. It should cross the $400 million mark next weekend, as it has a gross so far of $394.3 million, and a worldwide take right at $1.2 billion.

Finally in tenth is The Great Gatsby, which has turned into a big film for Warner Bros. This weekend, Gatsby earned another $4.2 million and dropped 35%. Domestically, it has pulled in $136.2 million, while overseas it has pulled in $120 million.

Overall, the box office sets itself up for a big frame next weekend, as The Purge will drop more than 50% and Fast & Furious 6 should come in below $15 million. This weekend, the top 12 films rang up $148.2 million, well back of the $174.2 million earned last year when the top two films, Madagascar 3 and Prometheus, grossed a combined $110 million. Next weekend brings the Man of Steel and This Is The End, two films that could provide a HUGE one-two punch at the box office.