Weekend Wrap-Up
After Earth Implodes on Sony, Smiths and Shyamalan
By John Hamann
June 2, 2013
BoxOfficeProphets.com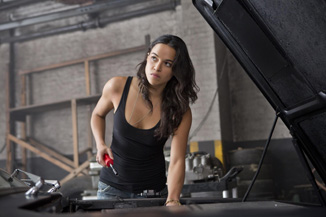 ---
The Smith Family brand is in damage control following the box office debut of After Earth, as Will, Jaden and Jada are all taking a hit on this, as M. Night Shyamalan serves up another turkey.

It's the post-Memorial Day weekend and the blockbuster entry is Sony's $130 million After Earth, starring Jaden and Will Smith, from an original story by Will Smith, and produced by wife and mom Jada Smith (how did Willow not get a credit on this one?). Also opening is Now You See Me, a magic/heist movie, starring someone for everyone, including Jesse Eisenberg, Woody Harrelson (hopefully they discussed Zombieland 2), Morgan Freeman, Michael Caine (sequel pairings anyone?), Mark Ruffalo and Isla Fisher – just to name a few. Now You See Me cost Lionsgate and Summit $75 million to produce, or about half the marketing budget of After Earth. Considering the box office power of Will Smith, this should be a battle between blockbuster and counter-programming, but it wasn't to be, as After Earth came in about $10 million below the lowest tracking figures.

The real power at the box office this weekend belongs to Fast & Furious 6, last weekend's dominant film, which took in a ridiculous $117 million over four days last weekend and powered the top 12 over the Memorial Day four-day frame past $300 million. This weekend, things were obviously going to cool down, as in the last frame, Furious 6 averaged over $32 million per day during the Friday-to-Sunday stretch. That average is basically what the sequel grossed over its entire second frame, as the Universal entry earned another $34.5 million. It was off an expected-but-still-scathing 65% from the opening three-day of $97.4 million, but has a sizzling gross so far of $170.4 million after only 10 days of release. Second weekend drops for blockbusters are becoming harder to gauge, as Thursday night showings are blowing up trends. Universal wisely spent $160 million (plus a large marketing cost) on Fast & Furious 6, and has already surpassed that large production budget stateside.

Fast & Furious 6 is already one of Universal's top 20 domestic grossers of all time, as it got past huge Universal hits this weekend like Knocked Up ($148.7 million), The Mummy ($155.4 million), Meet The Parents ($166.2 million) and Bridesmaids ($169.1 million). It could finish with as much as $290 million, which would make it the third biggest film of all time for the studio, ahead of Meet the Fockers ($279.3 million), and behind only Jurassic Park ($357 million) and E.T. ($359.2 million). Fast & Furious 6 is also huge overseas, with a foreign take of $310 million accumulated so far. Fast Five did $416 million overseas, and there is no reason to think this won't be even bigger.

In the biggest shock of the summer season so far, Now You See Me, the new heist film with the cast of thousands, not only finishes ahead of The Smith's After Earth for the weekend, but on Friday it also finished only a few hundred thousand behind that of Fast & Furious 6 (but included Thursday previews). The new film following a group of magicians called The Four Horsemen got started on Thursday night, and beat the big budget After Earth by scoring $1.5 million versus After Earth's $1 million, although the Louis Letterier flick had an extra showing prior to After Earth. Still, that was enough to make headlines, as David had struck a mighty blow against the Goliath Smith Family. With critics stomping on After Earth following its embargo, that Thursday night result may have been enough to change what people wanted to see over the weekend proper.

On Friday, Now You See Me came up with $10 million, but with the Thursday night showings removed, that amount moved to $8.6 million, which was actually less than After Earth's $8.8 million ($9.8 million less its $1 million from Thursday). However, over the weekend proper, Now You See Me was able to pull past After Earth with a weekend multiplier (weekend gross divided by Friday gross) of 2.8. The result is a three-day take of $28.1 million for the Jesse Eisenberg film, about $5 million more than tracking was indicating. This is not a typical summer film with a big name, so this is a huge victory for Summit Entertainment (now a subsidiary of Lionsgate) not for the weekend gross, but because they took down and finished ahead of a big summer entry delivered by Sony Entertainment.

Reviews weren't great for Now You See Me, but audiences appear to really like it. At Rotten Tomatoes, 34 critics out of a possible 79 found something to like, giving this one a 43% fresh rating at the time of this writing. The site's "top critics" were less kind, with only seven out 27 (26%) giving it a positive rating. Audiences, however, gave the film an A- Cinemascore, so, with a strongish opening and solid word-of-mouth, Now You See Me has a chance to earn a profit for the studio. Summit spent $70 million making the thriller, but reduced their risk by selling off foreign rights to the film (we will never know what their exposure on it really is). In the end, they will have a profitable picture, and a good tale to tell about taking down a giant.

That means that After Earth is our first true bomb of the summer season, despite the struggles of The Hangover Part III. Sony spent $130 million bringing After Earth to the screen, and unless foreign grosses bail them out, they are in big trouble with this one. After Earth earned only $27 million this weekend, despite being in 761 more venues than Now You See Me (3,686 versus 2,925). The venue average comparison is abysmal, with After Earth's coming in at $7,939 versus Now You See Me's $9,590. It earned only about 20% of its production cost this weekend, and finished $10 million below the worst case scenario tracking estimate. Will Smith's average opening for his last three films released during the summer is $56.5 million, so After Earth throws way below expectations.

So what happened? There are too many possible reasons, but let's review a few: It could have been that reviews were so bad (12% fresh at Rotten Tomatoes) that audiences didn't care whether the Smiths were in it or not, as not even Wild Wild West was reviewed this poorly at 21% fresh. It could have been the Shyamalan name, which Sony deliberately tried to hide from the marketing materials. After Earth is NOT M. Night Shyamalan's worst-reviewed film; he will always have The Last Airbender (6%). It could be the Scientology/Battlefield Earth connection, with some critics saying that some of themes in the film relate back to the pseudo-religion, which makes us all reflect on Travolta's Battlefield Earth (2% fresh). It could have been that Will Smith was not the star of this film, Jaden Smith was. That's my reason – I'm not plunking down my hard earned money to watch my favorite actor's kid, I want him in all the film. If he's not, that's a bait and switch. Lastly, I think we're beyond people flying in spaceships and then fighting animals with spears – this is a weak plot to begin with regardless of all the rest. I expect better of Will Smith (and so does Sony, who is going to lose money on this one).

It was a tight race for fourth between the holdovers, as Star Trek Into Darkness, Epic and The Hangover Part III all finished within a million of each other on Friday. The estimate this morning has Star Trek Into Darkness and Epic tied for fourth. Star Trek Into Darkness is now in its third weekend. This time around, the reboot sequel earned $16.4 million, and fell 57% against its three-day Memorial weekend take of $37.3 million. The 2009 JJ Abrams film earned $22.9 million over its third frame, and had amassed $184.5 million. The sequel so far has earned $181.1 million domestically against a $190 million budget. The more positive news for Paramount is that this one has already earned over $147 million overseas, where the reboot topped out with $127 million.

Epic ties for fourth, as the family film was able to use a strong weekend multiplier (3.9) to come back over the weekend from its sixth place finish on Friday. Epic earned $16.4 million in its second frame, down a large 52% from its three-day Memorial weekend gross. Yes, percentage drops are larger across the board this weekend due to the long weekend in the last frame, but the drop for Epic should cause Fox some concern. Epic was matching the success of Rio ($39 million opening, $143 million domestic finish) until Friday, when it dropped a somewhat alarming 56% from its first day. It was able to come back a bit over the weekend, but the result is showing that Epic isn't playing outside of its target demographic – very young kids. So far, Epic has earned $65.2 million for Fox and Blue Sky, and will likely finish short of $100 million at the domestic box office. However, it should earn a similar amount or more overseas, saving it from disaster.

Sixth goes to The Hangover Part III, which got its "you know what" handed to it last weekend by Fast & Furious 6. After earning $41.6 million over three days last weekend, The Hangover Part III could only muster $15.9 million this weekend, giving the Todd Phillips flick a drop of 62%. The Warner Bros. comedy cost $103 million to make, and thus far has earned $88.1 million. It goes wide overseas this weekend, and should see a strong result on foreign shores.

Iron Man 3 is in seventh place, and is naturally fading at the domestic box office in weekend five. The Marvel flick earned another $8 million, down 59% compared to its $19.3 million gross last weekend. The Robert Downey Jr. release has now earned $384.7 million stateside (moving into the top 20 all-time domestic earners), and is just $5 million away from $800 million overseas.

Eighth is The Great Gatsby, which has turned into a decent sized hit for Warner Bros. This weekend, its fourth, Gatsby earned another $6.3 million and falls 54% from last weekend. The Baz Luhrmann release has now earned $128.3 million stateside, and will earn a similar amount overseas, all against a budget of $105 million.

We have a bit of a surprise in ninth, as Bollywood production Yeh Jawaani Hai Deewani earns $1.6 million from only 162 locations. That's good for a per venue average of $9,877, the best in the top 12. This is a film that reunites Ranbir Kapoor and Deepika Padukone, who had previously starred together in a 2008 hit film in India. The distributor, Eros, should be very pleased with the result for this generally well-received project.

Matthew McConaughey's Mud finishes tenth this weekend, and has become Roadside Attraction's biggest release ever. This weekend, Mud earned another $1.2 million and dropped 38% compared to last weekend. The $10 million-budgeted film has now earned $16.9 million.

Overall this weekend, despite the implosion of After Earth and some big drops from the holdovers, the overall box office remains strong. The top 12 films earned $156.5 million, more than the $134 million the top 12 earned last year, when it was led by Snow White and the Huntsman. Next weekend brings the reunion of the Wedding Crashers (Vince Vaughn and Owen Wilson) in The Internship, and an interesting looking horror flick in The Purge, the first wide release horror since Evil Dead in early April.