Weekend Wrap-Up
Fast & Furious Races to Victory
By John Hamann
May 26, 2013
BoxOfficeProphets.com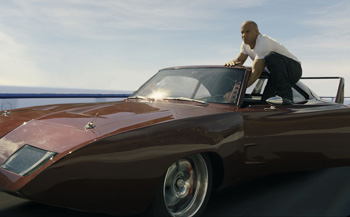 ---
Wow. What a Memorial Day weekend at the box office. Fast & Furious 6, The Hangover Part III and Epic all debuted this weekend, while taking on Star Trek Into Darkness, Iron Man 3 and The Great Gatsby. Something for everyone is a bit of understatement for the Memorial Day frame, which means records fell and for the second weekend in a row, money was likely left on the table.

Last year was quiet over the Memorial Day long weekend, with only the only new releases being Men In Black 3 ($54.6 million three-day) and Chernobyl Diaries ($8 million three-day). The year prior had Hangover Part II and Kung Fu Panda 2 combining for a record breaking three-day tally of $133.6 million. 2010 was floppish, as Shrek Forever After repeated on top, while Sex and the City 2 ($31 million opening) and Prince of Persia ($30 million opening) disappointed. Memorial Day Weekend always brings the power, but usually, tentpoles open alone (MIB3, Indiana Jones 4), and sequels are often prevalent. This weekend, if we count up numbers after titles, the sequel count is an amazing 17, with Fast & Furious 6, Hangover 3, Star Trek 2, Iron Man 3 and Before Midnight (3).

This weekend, we have two huge tentpoles opening on the same weekend (Furious 6 and The Hangover Part III), with both hunting the same audience. At BOP, we have always said that there is no real limit to what the box office can earn, as long as all the right pieces are in place – the right weekend, the right movie – and that any limitations to overall totals is a fallacy, as the age of the multiplex has changed box office. That idea gets tested this weekend, as we have four films all going after the adult male demographic this weekend – Fast & Furious 6, The Hangover Part III, Iron Man 3, and Star Trek Into Darkness. Should one of the openers not get dismissed – including the Fox/Blue Sky animated product Epic – this Memorial Day weekend had a very strong chance at being the biggest ever.

Our number one film of the weekend is Fast & Furious 6, as Paul Walker emerges from his hole once again to appear in this extremely popular franchise. Fast & Furious 6 got started on Thursday night for previews, earning a hot $6.5 million. Sure, it wasn't the $15.6 million that Iron Man 3 earned from previews, but it was just short of Iron Man 2's Thursday box office, which came in at $7.5 million, and it decimated Fast Five's previews, which rang up $3.6 million. Like Iron Man 3, the Thursday previews for Fast & Furious 6 indicated it was going to be huge, and huge it is.

Over Friday, the Vin Diesel/Dwayne "The Rock" Johnson sequel grossed an amazing $38.2 million, but that figure includes those well-attended Thursday night showings. That gives the Universal release a "true" Friday figure of $31.7 million. Fast Five, the previous entry in the series, earned $34.4 million over its opening day, but $3.6 million came from Thursday, so its "true" Friday was $30.8 million. So, we know that the franchise remains hot, but isn't growing too much compared to the last release. This is not a late April weekend, though. It's Memorial Day, so the action packed thriller was going to have four days to work instead of the three the previous version had. Fast & Furious 6 doubled the $17.7 million first Friday of Men In Black 3, and effectively put itself on course for a $100 million plus four day long weekend. I shiver when I think that $100 million was once the sought after TOTAL for a movie. Wow, have times changed.

The Saturday amount for Fast & Furious 6 came in at $31.5 million, another strong number. Fast Five went from a "true" Friday of $30.8 million to $29.9 million on Saturday, which shows some front-loading, especially for a weekend in April. Over Memorial Day Weekend, Fast & Furious 6 basically has two box office Saturdays over the long weekend, as it skips the down Sunday that a regular box office weekend has. That means the three-day weekend estimate comes in at a powerful $98.5 million, just behind the previous Memorial Day weekend record holder, Indiana Jones and the Crystal Skull, which earned $100.1 million from Friday-to-Sunday. The Fast & Furious franchise continues to be uber-hot, despite being six films into the series. No other franchise – except the Marvel Cinematic Universe franchise – has shown this kind of strength this far into a series.

Fast & Furious 6 was made for $160 million - a steal in today's blockbuster world – as we see other summer tentpoles costing much more. G.I. Joe Retaliation cost $120 million to make, and Fast & Furious 6 will earn more than it has in less than four days. Star Trek Into Darkness cost Paramount $30 million more to make than Fast & Furious 6, and was comparatively embarrassed over their respective opening weekends. Universal was once the gods of summer box office (The Mummy franchise, Bourne series, Jurassic Park franchise, just to name a few), but they fell from grace. Now they are returning to summer with films like this, and still have a much-anticipated Despicable Me sequel (my wife can't wait), a Kick-Ass sequel, R.I.P.D. with Ryan Reynolds and Jeff Bridges, and a Denzel Washington release, which is automatic for a $20 million plus opening or more. With the release of Fast & Furious 6, Universal can relax as the pressure is finally off this summer, and they can hope the success of this Memorial Day triumph breathes life into Diesel's next Universal release, Riddick, the third film in the Pitch Black series.

The shine has come off The Hangover franchise with Part III, but that doesn't mean it didn't make any money this weekend. Most folks know that The Hangover Part II wasn't all that great, and The Hangover Part III didn't harken back to the original for critics and audiences, either. Still, the franchise that made Todd Phillips rich did okay this weekend, but matched the grosses of the original, and not the $86 million three-day that the sequel earned. The Hangover Part III got started with Wednesday previews, earning $3.1 million, about a third of what The Hangover Part II did from its previews. Thursday was its first complete day in theaters, where it earned $11.8 million. Normally, this would be a great success, but the comparison to the second film again kills it, and Hangover II put up three times as much on opening day. On Friday, The Hangover Part III earned $14.5 million (about half of what the sequel earned), so you don't have to be a rocket scientist to figure out the trending on Part III. In the end, The Hangover Part III had a Friday-to-Sunday gross of $42.4 million – throwing under MIB3's $54.6 million three-day total. It's going to go down as a pretty big disappointment.

This is the second weekend in a row we have a major studio making a stupid scheduling mistake. Considering that Warner Bros. and Legendary Pictures put an additional $20 million into the budget ($103 million) compared to The Hangover Part II, they obviously had faith in it. But by putting it up against Fast & Furious 6, it can be argued that it kneecapped its chances at success. Moving it to the also-strong July 4th weekend would have put it up against Lone Ranger and Despicable Me 2 (both arguably family or teen films), and removed some of the demographic crossover it saw from Fast & Furious 6 – and most of the other films in the top five this weekend. The other side of the argument, though, is that The Hangover Part III got started a day earlier than Furious 6, so even when there wasn't the competition, this Hangover still failed. Regardless, The Hangover Part III will still make $100 million stateside, and another $150 million overseas (or more), which should keep the studio in the black for this $105 million film.

That puts Star Trek Into Darkness into third this weekend. After opening to a subdued $70.2 million last weekend ($83.7 million four-day), Star Trek Into Darkness fell 46% over the Memorial Day frame, down to $38 million. The 2009 Star Trek reboot fell only 42% in its second frame, as it faced off against the softer Angels & Demons in its second weekend. The four-day Memorial take will lessen the bump, but this has to be considered another weekend where Paramount has left money on the table. The $190 million release has now earned $146.8 million stateside and now gets to face off against a Will Smith sci-fi adventure in After Earth next weekend.

Finishing fourth is Epic from Fox Animation and Blue Sky Studios, the group behind the Ice Age movies. For the first time, Fox and Blue Sky open a non-Ice Age film in the summer, and they get bold by choosing Memorial Day weekend to launch Epic, one of these sleepy, environmentally-friendly family films. Epic did okay, considering it didn't have the built-in audience like all the other films in the top six had this weekend. Epic earned $34.2 million over the Friday-to-Sunday period, as the overall box office expands to allow more big earners in. The animated release had the second-most screens of the weekend at 3,882, second only to Star Trek's 3,907. Fox chose the right weekend to launch Epic, as The Croods had been the only animated choice for almost three months, and the target demo (and their parents) had to be drooling for something new. Reviews were only okay at 63% fresh, and were downright bad from "top critics" at Rotten Tomatoes, as they came in at 41% fresh. Epic cost Fox and Blue Sky $100 million to make, and it should earn $120 million stateside. However, if Epic performs like Rio, Fox could earn three times the domestic gross overseas.

Fifth spot goes to Iron Man 3, as the Disney release works through its fourth strong weekend of release. Tony Stark and friends earned another $19.4 million, and Iron Man 3 sees another drop of 46%, to go with its 51% and 58% declines from previous weekends. However, when your film has already earned $367.5 million on the domestic front, it is hard to keep those percentage drops above the 50% mark. Iron Man 3 crossed the $350 million mark on Friday, its 22nd day, making it the fifth fastest film to reach that mark. It should join the top 20 domestic earners of all time next weekend. The $200 million Shane Black actioner has also earned over $750 million overseas, and it remains anyone's guess as to where it ends up overall.

Finishing sixth, and showing the power of this weekend's box office, is The Great Gatsby, as it is the sixth film to earn over $10 million this weekend. The Baz Luhrmann spectacle took in another $13.7 million this weekend, but drops a rather large 43% compared to last weekend. Still, the $105 million Gatsby has now earned $114.4 million stateside, and will cross the $50 million mark overseas this weekend.

The rest of the top ten are those releases that have been around forever, and are still waiting to get kicked to the side of the road. Seventh is Mud, which earned $1.9 million and has earned $14.5 million to date. 42 finishes in eighth place as it takes in $1.2 million and brings its running total to $91 million. Ninth is The Croods, which tallied $1.2 million and has a domestic total of $179.2 million. Finally, tenth place goes to Oblivion, which doesn't even crack the million dollar mark. Its grand total to date in North America is $86.5 million, and its overseas numbers are about double that amount.

Limited release Before Midnight, the third release in Richard Linklater's Before series, served up $273,944 from only five theaters this weekend, giving it an outstanding theater average of $54,789.

Overall this weekend, we have a new record for a Memorial Day top 12, as this weekend's crop brought in an amazing $252.7 million. Other yearly top 12 Memorial Day weekend amounts: $146.3 million in 2012; $216.2 million in 2011; $145.3 million in 2010; $169.8 million in 2009; and $167.5 million in 2008. Next weekend brings After Earth and Now You See Me into the mix, so it should be another interesting weekend at the box office.