Friday Box Office Analysis
by Tim Briody
May 25, 2013
BoxOfficeProphets.com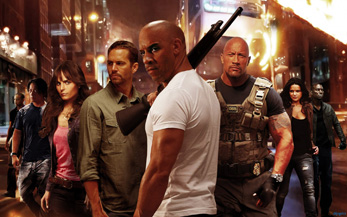 ---
Fast and Furious 6

The latest Fast and Furious entry starts off with a mammoth $39 million on Friday. This is a nice increase from Fast Five's $34.4 million Friday in April 2011, as the franchise inexplicably continues to gain steam over time (and just wait until you see the worldwide figures). Fast Five did only have a 2.5 multiplier as it finished with an $86.2 million weekend, though 6 Fast 6 Furious Fast & Furious 6 will beat that by virtue of this being a holiday weekend and having a better than average Sunday. With the seventh entry already penciled in for next summer, the bar has firmly been set. Give Fast & Furious 6 a weekend of $107.2 million and $122 million over four days.

The Hangover Part III

The Wolfpack is back for a third cash grab and were rewarded with $14.5 million on Friday after taking in $11.7 million on Thursday. Once again, I understand wanting to get a jumpstart, but Thursday openings make your opening weekend proper considerably less sexy. Keep in mind that The Hangover Part 2 also started off over Memorial Day weekend in 2011 with a Thursday opening. The main difference between the two films is that Part 2's Thursday figure was $31.6 million, giving the movie a three day weekend of $85.9 million, a four-day total of $117.5 million and throw in Memorial Day for $135 million in five days. Needless to say, Part III will not approach any of those numbers. While it's kind of idle speculation based on two days of numbers, but there's a decent chance that Part III's total box office doesn't match Part II's first five days.

When we boggled over Star Trek Into Darkness's opening last weekend, we mentioned how we believe the quality of the previous film buys the opening weekend of the sequel. While this statement is best applied when going from an original film to the first sequel, what just happened here is a pretty textbook application as it explains the tremendous opening of Part II and the tepid opening of Part III. The Hangover Part III looks to have a weekend of $40.6 million, which means $52.3 million in four days and $59 million in five.

Epic

This weekend's forgotten entry, Epic, the first animated release since The Croods in March(!), still managed $9 million on Friday. Of course, being aimed at younger audiences, the real money for it is over the rest of the holiday weekend. It's going to have a weekend of $31.5 million and about $40 million in four days.

Star Trek Into Darkness

After last weekend's head scratching opening, the Star Trek sequel earned $10 million, off 53.7% from last Friday, which is…okay. Expectations have to be revised for this franchise, where it seems the reboot was an abberration. It's still going to be the second most successful film in Star Trek's history (not adjusting for inflation) but it's not going to be a $250 million earner like its predecessor. While it is always going to be described as a disappointment in terms of box office, it's certainly not a bomb by any stretch. Give it a second weekend of $32.4 million and $37 million in four days.