Weekend Wrap-Up
Star Trek Into Darkness: A Box Office Space Oddity
By John Hamann
May 19, 2013
BoxOfficeProphets.com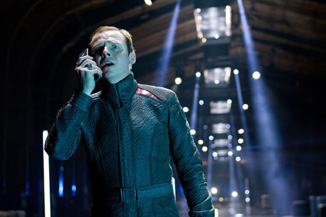 ---
Despite having a top three that includes a dynamite Star Trek sequel, the third Iron Man, and the second frame of a Baz Luhrmann flick, the box office is suffering this weekend.

Paramount chose the wrong weekend to release Star Trek Into Darkness. This is the same weekend that Battleship ($25.5 million opening, $209 million budget) and The Dictator ($17.4 million opening, $65 million budget) tripped over last year. It is also the same weekend that the $250 million Pirates of the Caribbean: On Stranger Tides became the weak sister of the series, opening to $90 million while the other sequels opened to $114 and $135 million. It is the same weekend that Shrek Forever After was soft at $70.8 million, while the other Shrek sequels opened to $108 and $121 million (Macgruber, the SNL spinoff, also opened to $4 million that weekend).

If you had this data, and the successfully rebooted Star Trek franchise was yours, would you release Star Trek Into Darkness this weekend? I certainly wouldn't, and those who did should be fired for not being able to read a spreadsheet. The rebooted Star Trek is one of the best films of the last five years – I really believe that – and could have easily opened the sequel above $100 million. The name Paramount is starting to be synonymous with leaving large amounts of money on the table.

That's not to say the Star Trek sequel did poorly. Let's look at the numbers. Into Darkness got started on Wednesday night for previews, and it was initially reported that it grossed $3.3 million form those showings, most of them IMAX. From precisely that moment, I believe there was a collective whiplash from box office observers, as that number was well below expectations. The key figure to this is that The Great Gatsby – a drama based on a novel - took in the same amount a week earlier from its previews. Star Trek has a fanbase to the extreme, The Great Gatsby had a handful of Baz Luhrmann followers. Apples and oranges doesn't cut it. The news got worse, as Paramount revised that number down to only $2 million. I thought Paramount blew it by changing the release date in early May, moving the opening day back to Thursday, and that advanced tickets were sold for Thursday night, and not Wednesday night. I thought – oh so incorrectly – that we would see a bigger-than-expected number on Thursday. Nope.

The Thursday gross was reported at $13.5 million, but that includes the Wednesday previews, which means Star Trek Into Darkness had a true opening day of a little over $11.5 million, or about $3 million more than A Good Day to Die Hard, which also opened on a Thursday. How hard can I hammer the "not good enough" button? The Thursday number, with the Wednesday gross removed, was the 11th biggest Thursday opening of all time, which sounds like a booby prize to me, as G.I. Joe: Retaliation had a $10.5 million first Thursday.

Paramount deferred criticism heading into the true weekend, saying that it was going to take off, that warp speed would get it to the $100 million for the four day opening. To do so, Star Trek would need to at least match what the 2009 reboot did on its first Friday, and pull in about $27 million. The chances of that happening were slim, as the original opened on a Friday with Thursday previews. As BOP reported yesterday, Star Trek Into Darkness had a first Friday of $22 million, an 18% decline compared to the original. It was at this point that we knew that over Friday-to-Sunday, Star Trek Into Darkness was not going to match the reboot's gross of $79.2 million. Whether opening on Thursday or not, in my mind, this is not good enough. The marketing, pedigree, reviews – everything – is too good for this result.

Paramount then needed to rely on the remainder of the weekend – it needed kids to abandon Iron Man 3 and move to the darker, more adult, Star Trek Into Darkness. The original hadn't seen that trend – with the Thursday previews removed, the multiplier (weekend gross divided by Friday gross) for the original reboot was 2.9, a standard, non-family multiplier for a May release. The sequel would need a multiplier well over 3.0 to gain some momentum back. Into Darkness earned a Friday-to-Sunday gross of $70.5 million. With the Thursday and Wednesday amounts added back, Star Trek Into Darkness had a four-day opening of $84.1 million. That's "just a little outside" of the $100 million that tracking, and more often Paramount, was predicting.

It's always hard to communicate that numbers like this are poor, and they aren't, the key is that Paramount (again) left money on the table due to some bad decisions. They broke the first rule of overestimating box office, making Star Trek Into Darkness an even bigger failure than if they had just clammed up. They can't even blame the tracking firm now. Paramount, if you need some help, you can always call BOP.

Paramount's first bad decision was choosing the opening frame. As I said above, there has only been pain over the pre-Memorial Day Weekend for the last five years, ever since Shrek the Third earned $121.6 million over three days in 2007. Since then, the pre-long weekend of May has been a bust. The other mistake the studio made was changing the release date to Thursday. Paramount caused confusion by moving the day back a day only a few weeks ago (according to them it was because IMAX screenings were selling out). Tinkering with release dates for major studio releases is never, ever advised, as it creates doubt. Paramount needed to protect this sequel as much as possible, as the distributor sold off the rights to the Marvel movies (whoops!), and now only has World War Z coming over the rest of the summer. Star Trek Into Darkness needed to drive the franchise forward, and this opening fails to do that.

So we're clear: Star Trek Into Darkness is a great film (86% fresh at RottenTomatoes), and got the coveted A Cinemascore, so the legs on this one could correct the errors made by the studio brass prior to release. They have had a strong marketing campaign, but it may run into a problem over the Memorial Day Weekend, as three other very big films open, all of which will nibble away at demographic seeking out Into Darkness. These films will take up almost 11,000 venues across North America, so the pie for Star Trek is going to get a lot smaller in only a couple of days.

Finishing second is Iron Man 3, as it drops out of the top spot after two extremely strong weekends at number one. This weekend, Iron Man 3 grossed another $35.2 million, and while a decent number against Star Trek Into Darkness, it fell 51% versus last weekend's $72.5 million take, which was a drop of 58% from its $174.1 million debut. Iron Man 3 has already outgrossed the entire runs of the original Iron Man ($318 million) and Iron Man 2 ($312 million) as of this weekend, because the Marvel movie crossed the $300 million mark on Thursday, its 14th day of release. That puts Iron Man 3 in a tie with Transformers: Revenge of the Fallen for the fourth fastest film to earn $300 million. The only films faster to $300 million were The Dark Knight, The Dark Knight Rises, and The Avengers (it's a comic book world we live in these days). Iron Man 3 also joined the billion dollar club this week, joining the 15 other films that have reached that mark at the box office. Its domestic take has reached $337.1 million, and the overseas gross has touched an amazing $736.2 million.

The only other film with a pulse in the top ten (which makes the opening for Star Trek Into Darkness even sadder) is The Great Gatsby, as the Baz Luhrmann spectacle looked to build on the momentum it created last weekend, with its $50 million opening. However, with its B Cinemascore, and 50% fresh rating at RottenTomatoes, The Great Gatsby was going to have to pull a rabbit out of its hat to keep the drop better than 50%. The second weekend gross for the $105 million Warner Bros. release came in at $23.4 million, giving the colorful flick a weekend-to-weekend drop of 54%. Considering what Gatsby was up against, this isn't a particularly bad score, especially when the opening weekend preview amount ($3.3 million) is removed from last weekend's take. The Great Gatsby has barely started overseas, and when it does, it should be as big as or bigger than the domestic take, as Leonardo DiCaprio is no slouch at selling tickets internationally. The Great Gatsby would be profitable without an overseas release, as it has a cume of $90.2 million so far.

The rest of the top ten is a sad bunch of mostly older titles that barely registered at the box office – the three newcomers opening next week will flush some of these weak sisters out. Fourth is Pain & Gain, the Michael Bay "effort." It earned $3.1 million, fell 38% and has a gross so far of $46.6 million against its $26 million budget. Fifth this weekend goes to The Croods from Fox and DreamWorks Animation. It is enjoying its ninth weekend in the top ten, and pulled in another $2.8 million, dropping 24%. It has a domestic cume of $176.8 million.

Sixth went to 42, the Jackie Robinson biopic that has been out for six weekends. It earned another $2.7 million and declined 41%. It has earned $88.7 million so far against a $40 million budget. Seventh goes to Mud, the Matthew McConaughey arthouse release. Mud earned another $2.3 million this weekend and fell 6%. The small $10 million film has now earned $11.7 million.

Tom Cruise's Oblivion is our eighth place finisher. A domestic loser, Oblivion earned only $2.2 million in its fifth weekend, declining 42%. It has earned $85.5 million stateside, and about twice that overseas. Eighth goes to Tyler Perry Presents Peeples, last weekend's loser than opened to only $4.6 million. This weekend, the Craig Robinson flick dropped 56% and pulled in just $2.1 million. Peeples has a gross so far of only $7.9 million. Finally in tenth is The Big Wedding, a film that had no right being in the top ten for four weekends. It earned $1.1 million this weekend and has a gross so far of $20.2 million.

Overall this weekend, the top three films brought in $129.2 million, and the top 12 brought in $146.7 million, which means the remaining nine films brought in only $20.5 million (yowch). Last year, the top 122 earned $135.7 million as The Avengers repeated for a third weekend, and three other films were floppish. Next weekend could be huge, as we have The Hangover Part III, Epic, and Fast & Furious 6, so let's hope the Star Trek Into Darkness opening was just a blip.