Weekend Forecast
By David Mumpower
May 16, 2013
BoxOfficeProphets.com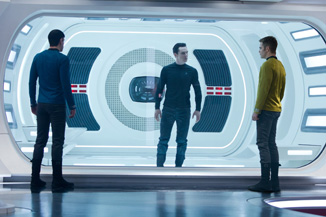 ---
The memories of a miserable start to 2013 have begun to fade. Today, we embrace the prospects of a third consecutive blockbuster opening weekend. Grab a flashlight, nerds! Now is the moment when you Trekkies/Trekkers can head Into Darkness.

In 2009, upstart Hollywood director J.J. Abrams leveraged his ascending reputation as the producer of Cloverfield and Lost as well as the director of high quality action flick Mission: Impossible III into his best gig to date. He was named the new architect of the Star Trek universe. Abrams refused to cater to convention by creating another Star Trek sequel, instead choosing to re-tell the story of the most iconic characters from the franchise, James Tiberius Kirk and Mister Spock.

While the idea is difficult to imagine now, the Star Trek franchise was in shambles when Abrams was recruited. Enterprise, a television series expected to anchor the now defunct UPN network, was canceled during its fourth season. When the final episode aired in May of 2005, the future of Star Trek was bleak. No one could imagine at the time that Abrams would do for Star Trek what Christopher Nolan did for Batman.

Abrams delivered a flawless feature film that somehow encapsulated all of the dynamics of the original crew of the USS Enterprise NCC-1701. A popular television actor of the time, Zachary Quinto, was the clear choice to portray the role of Spock as his physical similarities to the original thespian, Leonard Nimoy, had been pointed out during the height of popularity of Quinto's series, Heroes.

The combination of the executive producer from Lost and the villain from Heroes was in and of itself a huge gamble. This risk was negligible in comparison to the actor chosen to portray the most important role, though. I would be overstating the situation to describe Chris Pine as a virtual unknown when he earned the career-defining role of Captain Kirk…but not by much. Pine's best credits up to then were ones where he was the love interest in a pair of female empowerment teen films. Pine co-starred with Anne Hathaway in The Princess Diaries 2: Royal Engagement and with Lindsay Lohan in Just My Luck. If you just spit coffee on your screen, let me reemphasize the point. When Chris Pine was cast as the most recognizable name in science fiction, he was lucky to be in a movie with Lindsay Lohan. A lot has changed over the past few years.

As everyone knows by now, the 2009 update of Star Trek was a perfect movie project. Everything went right in a way that is rare and awe-inspiring in Hollywood. Glowing reviews were hurled at the project, as Star Trek received a spectacular 95% fresh rating at Rotten Tomatoes. Action films simply do not receive scores like that the overwhelming majority of the time. Consumers were similarly orgasmic about the product. Star Trek received an A+ Cinemascore and currently maintains an 8.0 rating on IMDb. Note that the IMDb rating is the highest for any of the 11 movies in the franchise to date, easily besting Star Trek II: The Wrath of Khan's 7.7.

Star Trek was an immediate box office triumph. It debuted to $79.2 million and wound up surpassing even the loftiest of expectations for an end result. Star Trek grossed $257.7 million domestically as well as $128 million internationally. Prior to the 2009 release, the best overall tally for a Star Trek movie had been Star Trek IV: The Voyage Home's $109.7 million. Even adjusting for box office inflation from 1986 until 2009, Star Trek outpaced all previous titles by $60+ million.

Suffice to say that Paramount was thrilled by the reinvigoration of their storied franchise. Other people in the industry noticed as well, which explains why Abrams will be ceding his spot at the top of the Star Trek hierarchy in order to become the third person to direct a Star Wars movie. A couple of years from now, we will be debating whether that movie becomes the largest opening weekend of all time (spoilers: it will).

For now, the conversation surrounds Star Trek Into Darkness. Somehow, this sequel has become the less important JJ Abrams project overall. For this weekend, however, Star Trek II is the end all be all in the movie world. Even the most pessimistic critics of Star Trek as a rule, Star Wars fans, are forced to root for a big result in order to heighten the mystique of Star Wars VII: May Not Suck Like the Last Three. When even the 40-year-old virgins are in harmony, a project is earmarked for success.

In order to boost the Sunday announcement, Paramount took the additional step of debuting Star Trek Into Darkness on Thursday. Including Wednesday IMAX/midnight showings, the movie should already claim a total in excess of $20 million by the time Friday rolls around. I presume this decision was made in anticipation of claiming a $100 million weekend. It is presumed to fall short of that mark otherwise. An $85 million total over the Friday-Sunday period combined with the Wednesday/Thursday fluff should lead to a starting performance of $105 million over four days. Star Trek Into Darkness is poised to surpass its predecessor on opening weekend and should claim a higher overall domestic take as well.

The real difference in revenue for this $190 million project is the global market, though. Star Trek films have always done well overseas for 1980s/1990s titles. With the explosive global expansion of theaters, Star Trek Into Darkness has the opportunity to best Star Trek's $385.7 million by several hundred million dollars. You can bet that Chris Pine doesn't take Lindsay Lohan's calls these days.

Last weekend's blockbuster surprise, The Great Gatsby, was also the story of Wednesday box office. The Warner Bros. feature usurped Iron Man 3 to become the number one movie in North America. Iron Man 3 had won 12 straight days since its release. The good news for Disney is that Iron Man will reclaim superiority over the weekend with a total in the area of $42 million. The Great Gatsby should claim a solid second weekend drop in the range of 38%, which would be $31.6 million. Such a performance would leave Leonardo DiCaprio movie on the cusp of $100 million after only 10 days in release. Based on these results, I project War and Peace to earn $500 million in 2015.

Peeples is a box office disaster so its second weekend will be defined by whether it hangs around the top ten or not. The Tyler Perry presentation catches a break as only one movie debuts this weekend. Even a drop of 60% would represent a three-day total of $670,000, which should be enough to hang around until Memorial Day's releases crush it.