Weekend Wrap-Up
Gatsby Great Against Iron Man 3
By John Hamann
May 12, 2013
BoxOfficeProphets.com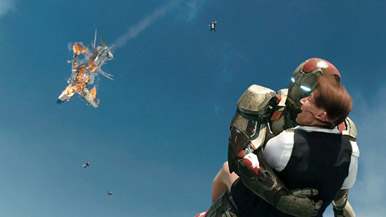 ---
How do you celebrate last weekend's $174 million opening of Iron Man 3? Have a Baz Luhrmann money party starring Leonardo DiCaprio!

The big opener of the weekend is The Great Gatsby, from Moulin Rouge! and Romeo + Juliet director Baz Luhrmann, but pretty much anything opening in the wake of Iron Man 3 was going to be relegated to second this weekend, as the odds were solid for at least a $70 million second weekend for the Marvel superhero. The only other opener was Tyler Perry Presents Peeples, which had promise as it starred Craig Robinson of The Office. Tyler Perry didn't direct, but unfortunately it got sent to the cheap seats this weekend, as Perry failed to show up in drag. It leaves us with a very top heavy box office, where the top two combine for more than $120 million, and the other eight can barely muster $20 million. If I am Star Trek Into Darkness, I am licking my box office chops right now.

Our number one film of the weekend is Iron Man 3. Gatsby never really had a chance. The Robert Downey Jr. three-quel was never in doubt for number one. The only question was how big it would be in frame number two. After a Friday where it was off 71% from its opening day (plus Thursday night), Iron Man 3 was fantastic over the rest of the weekend, earning a three-day total of $72.5 million for a drop of 58%. A 50% drop off would have matched the second weekend of The Avengers, and modeled $87 million for Iron Man 3's second frame. As we saw last weekend, though, Iron Man 3 is not (quite) The Avengers, but only buoyed by it.

With this weekend result, we can now say with confidence that Iron Man 3 will not earn a half-billion domestically. The Avengers earned 60% of its domestic total during its first 10 days. Iron Man 3 is not matching that pace, which would extrapolate to $475 million. Iron Man 3 will easily clear the $400 million mark and has a good shot at $450 million, though. Overseas this weekend, where the film has already earned more than a half-billion prior to the frame, Iron Man 3 continued to be strong, earning another $89.3 million, thereby bringing its foreign total up to a remarkable $664.1 million. Domestically, the Shane Black sequel has earned $284.9 million. With a global take of $949 million, Iron Man 3 will be joining the exclusive billion dollar club by the middle of the week. The latest Marvel tentpole is a mortal lock to become one of the five most popular global releases of all-time, needing only $180 million more worldwide to reach that milestone.

The success of Iron Man 3, and The Avengers for that matter, is going to push costs up for future Marvel productions. There's been a lot of noise in the media this week as to how much Downey was paid for The Avengers ($50 million) and Iron Man 3 (likely $35 million after the final box office is tallied). There are rumors of other Avengers actors being paid a pittance while Downey scored, and that will push the other actors toward higher paydays for Avengers 2, as well as other films coming out of the Marvel Cinematic Universe.

However, let's remember that even a film like Thor made $450 million worldwide against a budget of $150 million; the original Iron Man made $585 million worldwide against a $140 million budget; Iron Man 2 did $625 million versus a $200 million budget; and Marvel's Avengers did $1.5 billion versus its $220 million budget. That's $3.2 billion in box office versus $710 million in costs, and doesn't include the billion plus that Iron Man 3 will earn versus its $200 million budget (or all of the residual dollars that Marvel sees from toys, books, comics, blankets and video games.

What we don't see in these budget numbers, though, is not only the marketing expense (likely another $600 million for the films mentioned above, and not including Iron Man 3), but also the back end percentages that the actors have likely negotiated. To get Downey back for Avengers 2 or Iron Man 4, Marvel and Disney will have to renegotiate Downey's contract, and in my mind, the companies not only get a great actor, but with this actor, they also get a marketing genius on the ground, which will pay for itself several times over.

Finishing a hot shot second this weekend is The Great Gatsby, Baz Luhrmann's 3D spectacle. With a cast that includes Leonardo DiCaprio, Tobey Maguire, Carey Mulligan, Isla Fisher, and Joel Edgerton, and a director who has a style all his own, Gatsby was a good bet for Warner Bros. It became a better bet after Australian subsidies reduced the production budget from $190 million to $105 million; otherwise, this would have been a harder sell to studio brass. In the end, even at $190 million Gatsby would have worked, as the spectacle opened to a blistering $51.1 million, about $15 million more than the studio was estimating, and about $10 million more than tracking was indicating. Summer is only two weeks old at movie theatres, and studios have gone a strong two-for-two, unlike last year when Dark Shadows imploded in summer's second frame.

The Great Gatsby was released to 3,535 theatres – the majority of them in 3D. Luhrmann's odd spectacle earned a strong venue average of $14,460, coming in just under Iron Man 3 on Friday but falling far short over the full weekend. Gatsby opened for previews on Thursday, taking in $3.3 million, which means its "true" Friday gross came in at about $16.2 million. It had a weekend multiplier (weekend gross divided by "true" Friday gross) of 2.95. A number so close to 3.0 indicates that The Great Gatsby had strong audiences all weekend, whereas a number well below 3.0 would have indicated that Gatsby is frontloaded, and that the movie worked only as a date movie on Friday. Most analysts were expecting a frontloaded film, but that is clearly not the case.

Gatsby earned a B Cinemascore – only an okay result for a film like this, and reviews weren't all that much different. At RottenTomatoes, critics were split, with 73 positive reviews and 79 negative (at the time of this writing) for an overall score of 48%. "Top critics" were less kind, with only 14 positive reviews and 30 negative, giving it a score of only 32%. Following the move out of last year's awards season, Warner Bros. knew they had to have a big opening frame, and got it. Kudos to the marketing department (and Stephen Colbert) on the first three days, as personally, I think Gatsby and Luhrmann is an odd choice, but audiences turned up.

For DiCaprio, entering the world of Baz Luhrmann (for a second time) was a good career move, as the actor records his second best opening of his career, behind only Inception's $62.8 million. For DiCaprio, it follows a strong result from Django Unchained ($421 million worldwide), and puts the performance of J. Edgar ($37 million domestic take) further behind him. For Luhrmann, this is easily his biggest film ever, as Gatsby outdoes most of his previous films in a single weekend. His biggest opener previous to Gatsby was Australia, which opened to $14.8 million, an amount Gatsby did in a single day. In the end, Gatsby will be one of those extremely strong films that never hits number one (Star Trek: Into Darkness, anyone?), and DiCaprio should end up with two of those films in the top 15 ever, as Django Unchained sits as 15th biggest film to never hit number one, with a domestic tally of $162.8 million.

The top ten is top heavy this weekend, meaning the rest of the crop is batch of weak sisters, only existing because there are no other films to push these also-rans out of their place. Third is Michael Bay's Pain & Gain, and after a weekend when it lost 63% thanks to Tony Stark and friends, it recovers somewhat this weekend. The Wahlberg/Rock feature earned only $5 million in its third weekend and dropped 33% - a much better hold compared to last weekend, but it's too little too late. Pain & Gain now has a domestic total of $41.6 million against a production budget of $26 million.

Fourth is Tyler Perry Presents Peeples, which stars Craig Robinson and Kerry Washington. This one did much worse than the usual Perry performance, as it took in only $4.9 million this weekend from 2,041 venues. It is DOA and will likely be out of the top ten very shortly, despite very few new films coming out over the next few weekends.

42 drops two spots to fifth despite being in its fifth weekend, and at this rate, could be a top ten film until the first weekend in June. 42 earned another $4.7 million, falling 23%. 42 has managed to ring up $84.7 million at the domestic box office, against a budget of only $40 million. Star Chadwick Boseman will next appear in Draft Day with Kevin Costner; Harrison Ford is back in August in Paranoia.

Sixth goes to Tom Cruise and Oblivion, and based on its domestic box office numbers, audiences are oblivious. Oblivion was another film that got smacked hard by Tony Stark, losing 68% of its audience last weekend. It also bounced back a little this weekend, earning $3.9 million and dropping a better 32% against Gatsby. Better or not, Oblivion is going to fail domestically against its $120 million budget, as it has only a domestic gross so far of $81.7 million. It will be bailed out overseas, though, as the Universal production has taken in over $160 million on foreign shores.

The Croods moves down to seventh, as the audience for this one has likely seen it twice since it has been the only animated feature available for the last eight weekends. This time around, The Croods earned another $3.6 million and fell 14%. It has a total so far of $173.2 million domestically, and another $340 million overseas.

The Big Wedding manages to hang around for a top ten finish. The awful film earned another $2.5 million from some poor, unsuspecting non-readers of this column. It dropped 36% and has a gross so far of only $18.3 million.

Mud is ninth, as the Mathew McConaughey film is having trouble gaining real traction in the marketplace. This weekend, Mud earned $2.4 million from a wider 854 theaters, allowing it to increase by 11%. The film – with its 98% fresh rating – has now pulled in only $8.4 million.

Tenth this weekend goes to Oz the Great and Powerful, which has been hanging around for a couple of months now thanks to poor competition. This weekend looks to be the final hurrah, though, as it made only $802,000 from Friday-to-Sunday, a decline of 62% from last weekend where it held up great. It shed a lot of screens this weekend, so it wasn't a readily available alternative. Its domestic total is $230 million, and it adds over $250 million from international venues. It's a good year to be Disney.

Overall this weekend, thanks to Gatsby and Tony Stark only, the top 12 pulled in $152.7 million. A year ago, Tony Stark was also on top, but in The Avengers, which led the top 12 to a weekend gross of $162.3 million – thanks to a second weekend at $100 million plus. Next weekend we get back to a more traditional blockbuster, as Star Trek: Into Darkness opens and we set up for what should be an awesome Memorial Day weekend.