Friday Box Office Analysis
By David Mumpower
May 11, 2013
BoxOfficeProphets.com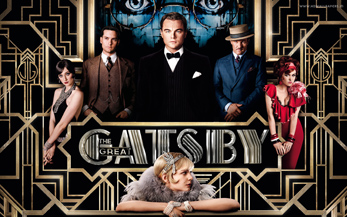 ---
What a difference a week makes. Seven days ago, Iron Man 3 was the toast of the town as we celebrated all of its similarities to The Avengers. Yesterday, one of those boring novels that no one wanted to read in high school English almost ended Iron Man 3's daily streak of first-place finishes at seven.

Yes, the shock of the weekend is that Leonardo DiCaprio's The Great Gatsby almost achieved a box office upset for the ages. The Baz Luhrmann adaptation of the F. Scott Fitzgerald novel debuted with a dazzling $19.4 million, with $3.3 million of that total coming from sneak previews on Thursday evening. It finishes only $400,000 out of first place for Friday and while it will not be winning the weekend, Gatsby has destroyed all reasonable box office estimations. Tracking indicated no better than a $30 million opening, but by the end of the weekend, it will be Luhrmann's biggest debut ever, and will approach Moulin Rouge!'s final domestic total as well ($57.4 million).

The expectation is that Gatsby should be heavily front-loaded, but perhaps not as much as you think. Because it skews heavily female, it should hold up somewhat decently from Friday-to-Sunday, but more important, its long-term prospects look quite solid as well. With the Memorial Day holiday coming in a couple of weeks, the fact that it offers colorful, unusual 3D spectacle should bring the curious to theaters.

When the film was pushed from its awards season debut in 2012, there were concerns that it might flame out once it finally arrived. Warner Bros. made the bold decision to slot the film between tentpole behemoth sequels Iron Man 3 and Star Trek: Into Darkness. For months now, people have scoffed at this strategy, but Warner Bros. is having the last laugh. History is also repeating itself for Leonardo DiCaprio, as a second delayed film of his has destroyed the box office.

The Great Gatsby's actual Friday total is $16.1 million if you remove the money earned from its Thursday sneaks. A relatively strong hold on Saturday and Sunday is expected. While a Saturday setback cannot be ruled out entirely, I am bullish about the film's prospects and expect a $51.6 million opening weekend. In its own way, The Great Gatsby is every bit the success story that Iron Man 3 was last weekend.

After all of the week one comparisons between Iron Man 3 and The Avengers, the start of week two is when we begin to enumerate the differences. The Avengers finished in first place for 21 consecutive days. Iron Man 3 was almost upset on day eight. It is certain to have its streak ended after 14 days with Star Trek: Into Darkness looming.

The more immediate concern is the film's Friday-to-Friday decline from $68.8 million to $19.8 million. That's a 73% drop, 63% if we remove last Thursday evening's revenue from the equation. By comparison, The Avengers had a second Friday decline of 64%, 53% if we pull out the Thursday evening revenue for that film. Suffice to say that the opening week of Iron Man 3 was impressively close to its predecessor, but the similarities have ended there, at least domestically.

With regards to a couple of other recent mega-opening weekend blockbusters, Iron Man 3's performance was more in line with expectations. Harry Potter and the Deathly Hallows dropped an ungodly 84%, but that is due in large part to the $43.5 million in midnight sneaks. Its actual Friday-to-Friday drop was 70%. The Dark Knight Rises fell 77% with Thursday previews included, 61% factoring out the $30.6 million from those Thursday showings.

In terms of actual dollars among the top ten openings of all-time, Iron Man 3 claims the third best total for a second Friday. It lags far short of The Avengers' $29.2 million and has also fallen behind the pace of The Dark Knight, which grossed $23.2 million. Summarizing, Iron Man 3 is doing better than a pair of storied franchise conclusions, The Dark Knight Rises and Harry Potter 8, but does not possess the scalding pace of The Dark Knight, much less The Avengers.

Later today, Iron Man 3 will cross the $250 million mark during its ninth day in theaters, which will tie it for third all-time with The Dark Knight Rises, Harry Potter 8 and Transformers: Revenge of the Fallen. Last weekend, Iron Man 3 had a 2.8 weekend multiplier once we factor out Thursday revenue. A similar performance this weekend would give it a $59 million second frame. I expect a little less frontloading this time and estimate a $62.4 million weekend. That would be the seventh-best second frame of all-time. The bunching is tight between 13th and sixth place, so a disappointing/exciting Saturday could boost/lower it on this chart.

Believe it or not, there was one other new release this weekend, a Tyler Perry presentation called Peeples. In reality, there is very little tying the project to Perry, who does not write, direct or act in the film. People clearly picked up on his absence, as only $1.2 million worth of consumers gave the film a chance. That's roughly 150,000 worth of tickets sold. For perspective, consider that the movie's stars, Kerry Washington and Craig Robinson, both starred in television series the previous night. Washington's show, Scandal, was viewed by 8.9 million people, while Robinson's show, The Office, was viewed by 4.4 million. Only 150,000 of the 13.3 million potential viewers from their television shows were willing to fork out the cash to see Peeples. That's roughly 1.1%. Peeples is a bomb that will earn $3.3 million this weekend and then be forgotten by all but the most obsessive Kerry Washington fans, of which I am one.