Weekend Wrap-Up
Iron Man 3 Avenges Box Office
By John Hamann
May 5, 2013
BoxOfficeProphets.com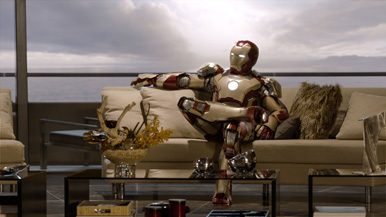 ---
Summer is here, and Iron Man 3 is kicking it off in style.

The Robert Downey Jr. three-quel exploded this weekend, becoming the second biggest box office opener ever, grossing an astounding $175.3 million. While it didn't reach the heights that Avengers did ($207.4 million over three days), expectations never should have been there. We will likely have to wait until 2015 to see the record fall, when The Avengers sequel arrives. Superheroes remain the "it" thing with audiences, as the expensive deal Disney made with Paramount for Marvel is looking like one of the biggest wins in movie history – and making anyone who argued against it look foolish.

We are living in a time where we are seeing great change in the movie world – especially in the summer box office season – as studios are now courting and releasing films to international audiences before they launch domestically, a complete U-turn from how the business worked only a few years ago. Iron Man 3 didn't open this last Thursday; it launched overseas last weekend, and the huge numbers earned overseas brought that anticipation home to North American shores.

Before a frame was shown domestically, Disney and Marvel already had a profitable picture versus the negative cost, as the three-quel had already brought in $330 million overseas versus a $200 million production budget. The marketing campaign – which isn't built into the production budget – likely cost $200 million more. However, with another overseas weekend of $175.9 million under its belt, and a North American open totaling a massive $175.3 million, Disney and Marvel are whistling all the way to the bank. Iron Man 3 already has a worldwide gross of $680.3 million. We are only three days into the domestic release, yet Iron Man 3 has already surpassed the global box office totals of Iron Man ($585.2 million) and Iron Man 2 ($623.9 million). I can't communicate to you enough how insane that is.

Domestically, Iron Man 3 got started off on Thursday night, as Disney decided to schedule Thursday previews at 9 p.m., versus the midnight showings we've seen from other blockbusters. Iron Man 3 earned $15.6 million on Thursday night, not too far off from The Avengers, which earned $18.7 million from its later showings. Compared to Iron Man 2 though, the result was much different. The first sequel did $7.5 million from its previews, but again Iron Man 3 had earlier showings, whereas Iron Man 2 opened at midnight. Friday's gross for Iron Man 3 was reported at $68.3 million; however, with the Thursday previews removed, that number becomes $52.7 million. On paper, that's the seventh biggest Friday of all time, behind a litany of Twilight movies, The Dark Knight Rises, Marvel's Avengers, and the biggest ever Friday – Harry Potter and the Deathly Hallows Part 2, which earned $91.1 million on its "opening day". However, the "true" Friday number for Potter 7.2 is really $47.6 million, as it earned $43.5 million from its midnight screenings. So, in the end, Iron Man 3's $52.7 million Friday was bigger than the last Harry Potter, and it would also have better legs.

Saturday was the key to Iron Man 3's overall weekend. To land as a top three opener of all-time, the three-quel needed to either meet or beat the Friday gross (with the midnight returns removed). Doing so would give Iron Man 3 the weekend multiplier (weekend gross divided by Friday gross) it needed to get beyond The Dark Knight Rises, which took in $160.9 million over its first three days. The less likely scenario was surpassing Harry Potter and the Deathly Hallows Part Two's $169.2 million. As you already know, Iron Man 3 sustained more than enough momentum to best both performances.

The Saturday number came in at $64 million, 21% higher than Friday's "true" gross. That gives Iron Man 3 the second biggest Saturday gross of all time, behind only The Avengers ($69.6 million Saturday) and far ahead of the former number two, Spider-Man 3, which brought in $51.3 million on its first Saturday. The Sunday amount is then estimated at $43 million, and leaves Iron Man 3 with a weekend gross of $175.3 million. That's the second biggest opening of all-time, behind only The Avengers' whopping $207.4 million. Yes, Disney's first two Marvel releases are also the two best box office opening weekends of all time. Harry Potter and the Deathly Hallows Part 2 and The Dark Knight Rises now drop to third and fourth place, respectively. Iron Man is the new Batman. Also, Shane Black and Joss Whedon now claim the top two domestic opening weekends. Not bad for a couple of writers.

With Disney now in control of the Marvel Universe, and Paramount out, one can already see where the Disney influence is taking control. The powerhouse that is the Disney marketing machine had international audiences foaming at the mouth before Tony Stark and friends hit movie screens. Robert Downey Jr. made appearances in dozens of international cities, and the filmmakers put scenes of the film shot in China into the Chinese version, which weren't shown domestically.

Overseas audiences are treating Iron Man 3 like it's an Avengers sequel, as Iron Man 3 has already out-grossed Iron Man 2 overseas. Iron Man 2 had an overall foreign take of $311.5 million, and was actually outgrossed domestically by the original Iron Man, as the sequel earned $312.4 million stateside. The first two titles earned $578.3 million abroad. To say Paramount left money on the table overseas with Iron Man is the biggest of understatements.

By comparison, Iron Man 3 has grossed $504.8 million overseas after only 10 days. It should match the combined totals of the prior Iron Man movies by the middle of the week. I don't believe that the Disney influence changed the content of this Iron Man very much, but it has definitely changed the marketing, and ultimately, the business of Iron Man. The Avengers earned $888 million overseas, and Iron Man 3 has a real chance to best that total. It is a mortal lock to become the 17th movie to join the billion dollar movie club. Entrance into the top five would require global revenue in excess of $1.12 billion. Iron Man is 60% of the way there after 10 days. There are not enough superlatives in the dictionary to distinguish the early accomplishments of Iron Man 3.

Given the huge debut, where does Iron Man 3 finish domestically? That's a very tough question to answer at this point. We know Iron Man 2 opened to $128.1 million and finished with $312.4 million. We also know the reviews were better for Iron Man 3 than Iron Man 2. Iron Man 3 currently has a 78% fresh rating at RottenTomatoes, with 70% fresh from "top critics". Iron Man 2 was 73% fresh overall, but only 61% fresh from Top Critics. Both films received the coveted "A" Cinemascore. Iron Man 2 earned an open-to-domestic multiplier of 2.44. The original earned a 3.23, while The Avengers earned a 3.0. A 2.6 open-to-domestic total will take Iron Man 3 over the $455 million mark, which would be enough for Iron Man to become one of the seven most popular domestic releases of all time. A top five finish on this list is a distinct possibility as well. Star Wars: Episode I - The Phantom Menace currently holds down that spot with $474.5 million.

The Friday night gross for Iron Man 3 roughly doubled what the rest of the top ten films earned over the entire weekend. Last weekend's top film, Michael Bay's Pain & Gain was second, and like all Michael Bay films, it got trounced in its second frame. Pain & Gain could earn only $7.6 million, which means it dropped 62% from its debut last weekend. The Paramount release cost only $26 million to make, and with a gross so far of $33.9 million, no one is going to get hurt.

Third is 42 from Warner Bros., which is now in its fourth weekend. The Jackie Robinson biopic picked up another $6.2 million and fell 42%, which isn't bad considering the towering achievement of Iron Man 3. This small $40 million effort has now earned an impressive $78.3 million, and should continue as effective counter-programming for a few more weekends.

Definitely NOT proving to be effective counter-programming is Tom Cruise and Oblivion, as the sci-fi tale got spanked by Iron Man 3 (that's gotta hurt). Oblivion earned only $5.8 million from domestic theaters and dropped a painful 67% from its $17.8 million take last weekend. All of a sudden, the $120 million Universal feature is in heaps of trouble domestically, but will be bailed out by international audiences. Oblivion has now earned $76 million domestically, but over $135 million overseas.

The Croods, which is starting to feel like it's been around as long as its stone age characters, finishes fifth. In its seventh weekend, the hit from DreamWorks Animation and Fox pulled in another $4.2 million. Down 37%, the animated feature now has a domestic total of $168.7 million, and an overseas gross that has surpassed $300 million, all against a production budget of $120 million.

Last weekend's opener The Big Wedding failed to perform as effective female counter-programming, mainly because it is simply not very good. After debuting to $7.6 million last weekend, the Lionsgate release fell 49% to $3.9 million this weekend. The $35 million film now has a domestic cume of $14.2 million and is already out of the top five. It will also be out of the top ten soon enough.

Seventh is Mud, the art house feature from Roadside Attractions. Mud, which stars Mathew McConaughey, opened last weekend to $2.2 million from only 363 venues. This weekend, that count rises to 576 theatres, and it again earned $2.2 million. The well-reviewed flick now has a gross of $5.2 million.

Eighth goes to Oz The Great Powerful, which is showing signs of being effective counter-programming. After finishing in 13th last weekend with $1.8 million, the other Disney release in the top ten again earned $1.8 million, thereby becoming the only wide release in the top ten to drop less than 37%. Oz has a gross so far of $228.6 million domestically, and has taken in a similar amount overseas.

Ninth and tenth goes to the also-rans, Scary Movie 5 and The Place Beyond the Pines. Scary Movie 5 earned $1.4 million this weekend and dropped 58% while the indie flick took in $1.3 million and fell 52%. Scary Movie 5, which cost a frugal $20 million to make, has earned $29.6 million domestically and another $20 million overseas. Pines has earned $18.7 million domestically against a $15 million production budget. Yes, the Focus Features release was only $5 million cheaper than The Weinstein Co.'s offering, but it also lacked the branding advantage that the Scary Movie franchise provides. The Place Beyond the Pines is easily the bigger success story.

Overall, Iron Man 3 solves all problems coming from a weak 2013 at the box office, but the combined top 12 can't keep up to last year over the same weekend, as that's when The Avengers landed. This year, the top 12 earned $212.2 million, whereas last year, the top 12 produced $249.7 million, $207.4 million of it coming from The Avengers. Next weekend will be interesting again. Leonardo DiCaprio opens Baz Luhrmann's The Great Gatsby (in 3D, naturally) and Tyler Perry Presents Peeples (but doesn't direct).