Friday Box Office Analysis
By David Mumpower
May 4, 2013
BoxOfficeProphets.com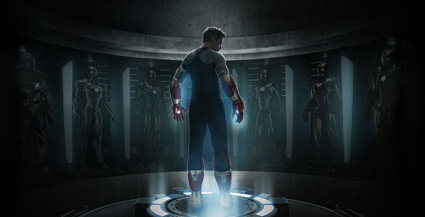 ---
Iron Man 3 made its heavily anticipated debut in North American theaters yesterday. Consumers on this side of the Atlantic followed the lead of the rest of the world in rushing to theaters to celebrate the de facto sequel to The Avengers. In the process, the Disney/Marvel film engulfed the competition. Iron Man 3 behaved like a box office black hole, mercilessly devouring the other films in the release.

With a $68.3 million Friday, including $15.6 million of Thursday sneaks, Robert Downey Jr.'s latest action flick ruled movie theaters with an iron fist (so to speak). If you went to see one of the top ten domestic releases yesterday, there was an 87% chance that you watched Iron Man 3. The difference between first and second place on Friday was $66 million or, as Larry Miller once noted, the difference between shooting a bullet and throwing it. Suffice to say that the dreary first four months of 2013 at the movies are over. There is finally something to get excited about.

The terrible run of 2013 releases ended yesterday with the release of Iron Man 3. In grossing $68.3 million, the latest Marvel superhero title has already become one of the 10 biggest hits of 2013. To wit, that total surpasses the entire domestic run of A Good Day to Die Hard, which has grossed $67,252,596 to date. By the end of today, Iron Man 3 will approach/surpass the domestic tally of G.I. Joe Retaliation, $117,482,316. You see where I am going with this line of thinking. By the end of Sunday, the latest Tony Stark movie will likely slot in third place for 2013 domestic box office. It could feasibly even finish in second if its weekend behavior mirrors The Avengers, a scenario I consider unlikely but cannot dismiss out of hand now that Disney has indoctrinated children into the Marvel world.

No matter what happens next, Iron Man 3 has already more than doubled the previous single best day of 2013 box office. It is a mortal lock to claim the top three box office days of 2013 by close of business Sunday. BOP has meticulously chronicled the ascension of the Marvel universe from the moment that Kevin Feige announced the intention to build toward The Avengers. We exhaustively described the genius of Disney purchasing Marvel for $4 billion in 2009. Our site noted last year that the $1.5 billion earned by The Avengers in combination with the incomprehensible volume of Marvel toy sales had already gone a long way in capitalizing Disney's investment. With Iron Man 3 clearly headed toward another billion dollars in box office revenue, those statements stand, only now they should include multiple exclamation points. In leveling up the Marvel movie universe, Disney has secured their ability to release bi-annual tent-pole releases to solidify the movie portion of their business.

How do we place the Iron Man 3 performance in immediate context? Let's consider the domestic movie slump first. At the start of business yesterday, data from 122 days of calendar 2013 box office had been collated. The list of films that could claim a $10 million day of movie revenue was shockingly low. Only 12 titles could boast of that sort of revenue. The modest hits of 2013 under this criteria are 42, The Croods, Evil Dead, G.I. Joe Retaliation, A Good Day to Die Hard, Identity Thief, Jack the Giant Slayer, Mama, Oblivion, Olympus Has Fallen, Oz the Great and Powerful, and Texas Chainsaw 3D.

Three of those movies had failed to achieve this mark on Friday. Jack the Giant Slayer and 42 broke the $10 million barrier on Saturday, while A Good Day to Die Hard required a holiday-inflated Sunday to join the rest. Yes, only nine titles released in 2013 have debuted north of $10 million on Friday.

Whittling the list even further, only six of the features mentioned above achieved a second day of double-digit domestic box office. Four of those titles also happen to be the only $100+ million earners debuting in calendar 2013. They are The Croods, G.I. Joe Retaliation, Identity Thief, Olympus Has Fallen and Oz the Great and Powerful. Mama and Olympus Has Fallen slot into their own unique category as the only 2013 titles to earn multiple $10+ million box office days without grossing at least $100 million domestically.

Out of the four $100+ million earners released in 2013, only one film has grossed at least $20 million in a single day. That title is Oz the Great and Powerful, which achieved this mark each of the three days during its opening weekend. It grossed $24,096,622 on Friday, $33,017,570 on Saturday and $21,996,261 on Sunday. The next best day of box office this year…well, it's almost Oz again with $18,221,991 the following Saturday. Out of the non-Oz films, The Croods previously claimed the best single day domestic take this year, grossing $18,980,862 on March 23rd, the fourth best total of 2013. Yes, Oz's fourth best day had been the fifth best day of 2013 overall heading into yesterday.

Summarizing, the year 2013 in movies has been so pathetic that only a dozen titles have earned $10+ million in a single day. Out of those 12 releases, only two had managed even $18 million in a day. Only four titles have grossed $100+ million in four full months of release. Compare that to 2009 when three different January 2009 releases (Gran Torino, Paul Blart: Mall Cop and Taken) all earned at least $100 million. In short, 2013 has been every bit as terrible as your perception of the situation.

Extrapolating an opening weekend projection for Iron Man 3 is a bit tricky. Iron Man 2's behavior is not the perfect model since that was a Paramount release occurring prior to the release of The Avengers. I think all our readers would agree that Iron Man 3 skews younger now than its immediate predecessor did in 2010. Iron Man 2 grossed $7.5 million in Thursday sneaks and $43.7 million in Friday revenue. Then, it increased 4.5% to $45.7 million on Saturday before falling 32% to $31.1 million on Sunday. The Avengers grossed $18.7 million in Thursday sneaks and $62.1 million on Friday. It increased 12% to $69.6 million on Saturday before falling 18% to $57.1 million on Sunday.

What we can infer from the above is that once the $15.6 million is removed, Iron Man 3 should see a Friday-to-Saturday increase from $52.7 million. I am expecting somewhere in the neighborhood of 8%, which would indicate a $56.9 million Saturday. This is the litmus number. Anything above this indicates that Iron Man 3 is going to be special. Well, even more special. The Sunday portion is where I believe we will see the Disney influence the most. I believe a 23% decrease should be about right, which is exceptional for a third movie in a trilogy. This calculation results in a $43.8 million Sunday and a $169 million weekend. I should note that some of my models include calculations as low as $145 million, so there is still a lot of fluctuation possible.