Weekend Wrap-Up
All Pain and No Gain in Pre-Iron Man 3 Weekend
By John Hamann
April 28, 2013
BoxOfficeProphets.com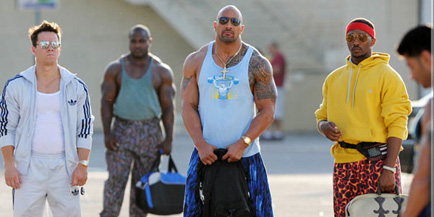 ---
At the box office this weekend, we've got a "small" Michael Bay film, so it must still be April. If you wanted to see a movie this weekend, the best thing to do was fly to Europe for Iron Man 3.

It's the weekend before the summer bonanza starts, at least in North America, so Hollywood is not pulling out any big guns with Iron Man 3 only a few days away. Overseas it's a different story, as the Robert Downey three-quel is already in play, and it's grossing even more than the last Iron Man. In North America, this weekend is about positioning smaller films, as low budget is the only way to go against the first of the behemoths and still survive financially. That means we get Pain & Gain, the Mark Wahlberg/Dwayne Johnson/Michael Bay combo, a film that cost $169 million less than Bay's last film, Transformers: Dark of the Moon. Also opening this weekend is The Big Wedding, a film that features a mature, all-star cast, but is getting Scary Movie 5 kind of reviews. We also get a slew of smaller, art house type movies this weekend, including Mathew McConaughey's Mud, a film I am excited to see.

The number one film of the weekend is Pain & Gain, Michael Bay's bargain-basement film that cost only $26 million to make. This number is $114 million LESS than the director spent on Armageddon 15 years ago in 1998. Pain & Gain opened to a meh $20 million this weekend from 3,277 venues, giving the "plucked from the headlines" story a venue average of $6,103. For Paramount, this is going to be a decent sized success given the budget, but with a cast that includes Wahlberg and The Rock, and Bay directing, one has to wonder how much the studio is giving up on the back end. Still, with the weekend take, Pain & Gain is going to be a success – the question is how big.

While a the debut is decent, it doesn't look like Pain & Gain is going to have much of a future. The film received a disastrous C+ Cinemascore from viewers (C+ = "hated it"). Reviewers call it sleazy, and while the Rotten Tomatoes score throws over Bay's 40% fresh average, the 47% rating for Pain & Gain is not likely to draw more viewers. Simply put, Michael Bay is just not a very good movie director. Everything he does is some style and no substance, and unfortunately Pain & Gain is no different. Paramount released this over the pre-Iron Man 3 weekend for a reason. It would be on the road to profitability after one weekend (the simple extrapolation of a $12-$15 million opening frame puts it into the black) - and the opening frame we see today supports that. There was little-to-no risk for Paramount here, which makes Pain & Gain the perfect candidate for a weekend like this one – cheap and forgettable, but with enough star power to get it to #1. Someone thank The Rock.

Risk was much more apparent for our number two film, Tom Cruise's Oblivion. The Universal release cost $120 million to make, and despite that, chose a pre-summer release date, with the hopes of staying relevant into May. After opening decently last weekend to $37.1 million, that risk was reduced, and with $100 million plus from overseas cinemas, that risk was obliterated. On the domestic side this weekend, Tom Cruise is still facing his popular challenges. Oblivion earned only $17.4 million and dropped 53%, despite no blockbuster competition this weekend. Universal played the worldwide rollout very well from a scheduling standpoint, as they knew Cruise would sell more overseas than domestically, giving it two weekends of room before Iron Man 3 was literally everywhere. Oblivion may approach $100 million domestically, but will likely find $300 million overseas (War of the Worlds did $360 million off-shore). So far, Oblivion has a domestic cume of $64.7 million.

Finishing third is the Jackie Robinson biopic 42, which is now in its third weekend and is already a big success. After a $17.7 million second weekend gross where it dropped a reasonable 36% from its $27.5 million open, the Warner Bros. continues to hold decently. This weekend, the Brian Helgeland flick earned another $10.7 million, and drops an okay 39%. Produced for $40 million, the well-made film has now earned $69.1 million. While $100 million is probably not likely for 42, it will approach that number. Although that potential for $100 million domestically is good news, baseball movies are a tough sell overseas, so it needs to do what it can in North America.

Fourth spot goes to The Big Wedding, but there is little that is big about this one except for names in the cast. Despite starring She-Who-Shall-Not-Be-Named (from Grey's Anatomy and Knocked Up),Robert De Niro, Diane Keaton, Susan Sarandon, Robin Williams, Amanda Seyfried, Robin Williams and Topher Grace, The Big Wedding flopped, grossing only $7.5 million in its opening weekend. Tracking predicted an opening in the low-teens, but audiences likely caught on to the horrible reviews, as The Big Wedding received only four positive reviews out of a possible 60 (that's 93% awful). Even worse for Millennium Films and Lionsgate is that this one cost more to make at $35 million than Michael Bay's Pain & Gain (which opened to three times as much). The Big Wedding is DOA and will be lucky to earn $20 million.

The Croods is fifth, and is now six weekends old, which proves we are desperate for the summer movie season to begin. This weekend, The Croods earned another $6.6 million, falling 29% from last weekend's take. The DreamWorks Animation release has now earned $163 million domestically, and $287 million overseas, all against a $135 million budget.

G.I. Joe: Retaliation is sixth. The wannabe blockbuster earned another $3.6 million and fell 37%. Made for $130 million, the Paramount release won't match that amount domestically, but the overseas gross will save it. In North America, G.I. Joe: Retaliation has earned $116.4 million; overseas, the amount has crossed the $230 million mark.

Another sign that things are slow at the box office is the fact that Scary Movie 5 finishes seventh. The comedy from the Weinstein Company opened poorly and fell 57% last weekend, yet still ranks okay, despite a gross this weekend of $3.5 million. It dropped 44%, and now the $20 film has a gross of $27.5 million.

Olympus Has Fallen finishes eighth. The Gerard Butler action flick picked up another $2.8 million and declined 38%. The $70 million release has now earned $93.1 million domestically.

The Place Beyond the Pines takes a bit of a hit this weekend despite adding 42 more venues. The Ryan Gosling/Bradley Cooper film earned another $2.7 million this weekend, dropping 45% from last weekend's $4.9 million performance. The $15 million release has now picked up $16.2 million.

Tenth place goes to Jurassic Park 3D, which hangs around for one last hurrah thanks to several weekends of blah product. It earned $2.3 million, a decline of 43%, which brings its re-release total to $42 million. If you look at its overall domestic total, the film is now approaching the $400 million mark but probably won't quite hit it.

Also worthy of mention is the 11th place finisher, Matthew McConaughey's Mud. On 363 screens, the extremely well-reviewed Southern drama earned $2.2 million for Roadside Attractions, mainly on the strength of buzz about McConaughey's performance. Lately, he's broken away from his typical fare and expanded his horizons to such stuff as Mud, The Paperboy, Killer Joe and Magic Mike, and perceptions about the actor are shifting as a result.

Overall this is a fairly typical pre-summer weekend, as the top 12 films were able to find only $81.3 million. A year ago, Think Like a Man repeated on top as four new releases crashed and burned, with the top 12 pulling in a much better $97.1 million. Everything changes next weekend, as Iron Man 3 arrives, likely opening above $125 million.