Friday Box Office Analysis
by Tim Briody
April 27, 2013
BoxOfficeProphets.com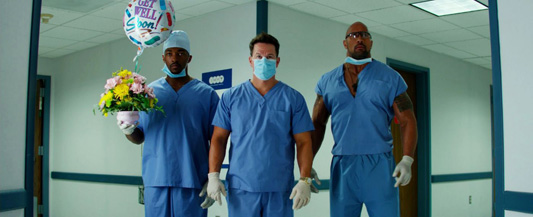 ---
Save us, Iron Man 3!

Pain and Gain

Approximately the 19th film of 2013 starring now former WWE Champion The Rock, [bp:425_]Michael Bay[/bp]'s Pain and Gain earned $7.5 million on Friday. Also starring [bp:1210_]Mark Wahlberg[/bp], the Friday total for the action/crime caper/comedy feels to be less than the sum of its parts. Perhaps comparing it to Bay's recent films (the Transformers franchise) is not the best idea. Still, it's more than The Island earned. The combination of The People's Champion and Marky Mark should be good for a weekend of $21 million, which is more than enough to win the weekend and get it close to its production budget, but it's hard to shake the feeling of money being left on the table.

The Big Wedding

One of the worst reviewed films of the year with a 7% rating at Rotten Tomatoes, ensemble romantic comedy The Big Wedding could only manage $2.5 million on Friday. Every once in a while, something happens that makes you believe there's still justice in the world. This is one of those times. Give it $7.5 million for the weekend and let's hope we never have to speak of it again.

Oblivion

Last week's champion, [bp:145_]Tom Cruise[/bp]'s Oblivion earned $5.2 million, a 60% plunge from its opening Friday. That's probably on the higher end of where it was going to fall which is moderately unfortunate but it's also done gangbusters overseas, which is becoming a recurring theme when talking about box office. Look for a second weekend of $15.7 million.