Survivor: Caramoan Power Rankings
Week 11
By Ben Willoughby
April 23, 2013
BoxOfficeProphets.com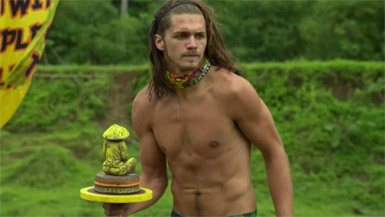 ---
Despite what "Next Time On Survivor" says, I'm not convinced that we are going to see anyone flip over to join the Three Amigos. Reynold, Eddie and Malcolm are seen as huge immunity threats, and after the last Tribal Council they are seen as a tight threesome. Anyone joining them would be very obviously on the bottom rung of that alliance and most likely be out in fourth or fifth place. When they are already guaranteed sixth and leadership of the alliance is up for grabs, it's not much of a carrot.

The other thing on any flipper's mind will be "What will it look like if I make it to the final Tribal Council?" Any flipper would be faced with a jury dominated by Stealth R Us alumni. I think every one of the Stealthers would prefer to play the "I remained loyal to my alliance" card than "I flipped, and doomed almost all you guys sitting over there."

So I think it's more likely that Phillip's departure won't shatter Stealth R Us. I'll get into more detail in the power rankings, but my prediction is that Stealth R Us will pick up the pieces of their alliance, and everyone in it will quietly dump their stupid codenames and reassess who they will be taking to the end now that Plan A is gone.

Here are the power rankings for the week.

1. Andrea

We know Andrea and Eddie have a good relationship, and I'm convinced that Andrea and Cochran are going to square off against each other at one some point. So does that make her a good candidate for a flip? It would be a risky move, and I don't think Andrea has much appetite for risk. And while she could have a budding showmance with Eddie if she wanted one, Eddie's bromance with Reynold has been set in epoxy since Day One.

I think it's more likely that Andrea and Cochran (with Dawn and Sherri) will realize they share a common interest in keeping their alliance for the time being, and work on keeping Brenda and Erik with them.

2. Cochran

Cochran's plan is pretty locked in with Stealth R Us. We've seen him rebuild trust with Dawn, which must have been pretty tentative after their last season together, and with the newly-departed Phillip. What we haven't seen is him build a relationship with anyone outside that alliance. So he's not going to flip, and he's going to do his best to convince other castaways not to flip either.

One thing that will change with Phillip gone is this: who is going to be Cochran's fall guy now? My money's on Dawn.

3. Malcolm

Malcolm had a moment of triumph last week, controlling the vote at the last Tribal Council to oust Phillip. But he also had to burn through two hidden immunity idols to do it, and that's pretty much all the leverage he had left in the game. So I guess he'll be out in the jungle looking for more idols to play, and failing that, trying to win immunity.

4. Erik

As we've seen, Erik is pretty easily manipulated. We also know that he flipped to vote for Phillip. What the Three Amigos need is to make this more than a one-time thing. They know Phillip got four votes as none of them voted for "fillup". "Feel the power of the bro code, Erik. In your heart, you know it to be true," Reynold will say. "Listen to your friend Reynold. He's a cool dude," Eddie will say. Do we think Erik will fall for this? It's possible. And if Stealth R Us decides to split the vote as idol insurance, one extra vote is all the Three Amigos will need.

I'm putting Erik further up on the list this week – but once again it's because he will have to make an important decision that could have a big impact on the game, and he has no idea of what to do.

5. Dawn

Week by week we've seeing the mental pressures of Survivor pile up on Dawn. But now that Phillip is gone, could those pressures mysteriously disappear? Dawn doesn't seem like the type of person who likes pretending, and while Survivor involves a lot of pretending, being in an alliance with Phillip and planning to take him to the end as a goat turns the pretense up to 11.

But Dawn's game has involved a lot of pretending. Obviously she spilled the beans on Corinne's breakaway plan, which ultimately kept her alliance in the game. The next week she played double agent (with no training from Phillip) to convince Malcolm and Reynold she was flipping. Dawn's MO is to get everyone to trust her, but ultimately it leaves her holding the bloody knife while the rest of her alliance is all "Who, me? I was just acting rationally based on the information that Dawn provided." It's the downside of the emotional, trust-based, maternal-figure game Dawn plays.

It's going to continue, too. If the remnants of Stealth R Us can pull it together and Pagong out the Three Amigos, they're still six people and only three (or two?) will make it to the end. Who is trusted by everyone on that alliance? Dawn. Who is probably going to provide the crucial inside info that will allow one group to win over the other? Dawn. Who is likely to be blamed by the losers for their downfall? Dawn. And who is most likely to feel emotionally conflicted by these events? Dawn.

Information-passing aside, we've seen a few clues that Dawn doesn't have much power in the game. Corinne and Malcolm saw Dawn as being on the bottom of her alliance. Even if they were wrong to trust her, maybe they were sort of right about that. And Cochran and Phillip both agreed she might be a good person to take to the end, because she is wide open to accusations of betrayal from people who trusted her. And all the crying and the breakdowns mean that other players believe Dawn wouldn't have made it through without a lot of hand-holding from great players like themselves. Even Brenda saying she wouldn't turn her back on Dawn in the game was basically a sympathy vote.

So despite being the reason Stealth R Us is still in the game, I don't think Dawn gets much respect from her alliance partners. If she makes it to a final Tribal Council she'll be appreciated for her valuable contributions to the Stealth R Us alliance and then future endeavored.

6. Reynold

Reynold's relentless optimism is what keeps him in the game, so I expect he'll be out there finding idols and winning immunities. But long-term he needs to be working on alliance-building.

So how good do we think Reynold is going to be at convincing someone to become the Fourth Amigo? Since he's frequently compared to a used car salesman, I'd say it's not likely. Of course, he doesn't really need to build trust, just point out common interests. But I don't think he'll be any more successful.

7. Sherri

No way is Sherri going to flip. She'd be joining an alliance with two people who she dislikes and cannot trust because she screwed them over before. If she were to flip, and the flip worked, she knows she would be gone at four, barring an immunity win. Does Sherri believe she could ever win immunity? I doubt it.

Now that Phillip's gone, who is going to be Sherri's Phillip now? If anything, Sherri will become the new Phillip. No "favorite" is going to vote for her in the finals, and out of her fellow "fans" only Michael seems to like or respect her.

8. Brenda

Brenda cemented her relationship with Dawn last week through retainer-finding. Wait for this week, when Cochran loses his glasses! We haven't seen much of Brenda building relationships, or much of Brenda. Unless you count physically.

9. Eddie

Time for Eddie to get his flirt on this week. Because he's not going to be contributing any deep thinking or doing that well in challenges, and he has to do something to pull his weight.

We've had a good run of three solid episodes now, with the added bonus of no more Phillip. This means you should have run out of excuses to not watch she show. Come back Thursday for the recap.