Weekend Wrap-Up
Cruise stands tall (figuratively) with Oblivion
By Kim Hollis and David Mumpower
April 21, 2013
BoxOfficeProphets.com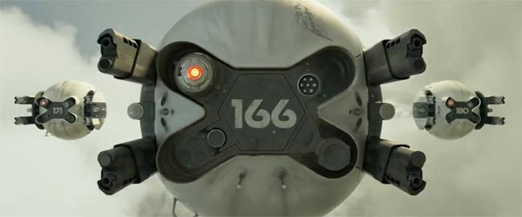 ---
Former Hollywood overlord Tom Cruise has become a box office enigma in recent years. The undeniable kingpin of 1990s cinema, Cruise's tabloid-chronicled personal life has forced some of his prior fans to re-evaluate their support of his cinematic offerings. Cruise's name above the title no longer guarantees that a feature will dominate. Given that other Hollywood icons have gone down in flames thus far in 2013, there was quite a bit of suspense involving Cruise's latest big budget release, Oblivion. Any lingering concerns have been alleviated, though. With $38.2 million grossed domestically this weekend, Oblivion easily became the number one film in North America, earning almost as much as the rest of the top five combined.

Why was Oblivion's box office fate in doubt? In recent years, movies starring Cruise have performed unevenly with some solid performers such as Collateral and The Last Samurai, some legitimate bombs such as Lions for Lambs and Rock of Ages, and a pair of bona fide blockbusters in War of the Worlds Mission Impossible: Ghost Protocol. Cruise's 2012 releases were Rock of Ages and Jack Reacher, a pair of titles that cost $130 million to produce (not counting marketing expenses). Those two titles brought a return of $267.5 million worldwide, a lackluster result for any two major studio releases. For ones with such tremendous name recognition as the adaptations of a famous Broadway play and a 17-novel franchise character. Cruise's appeal is clearly not enough to carry any concept these days. Fortunately, Oblivion has selling points beyond the presence of its superstar.

Creator Joseph Kosinski is the primary selling point even though few people know him by name. Kosinski first received attention for his dazzling work on a Tron-based short film. Executives at Disney used the project, TR2N, as a teaser to promote the news that a Tron sequel was in the works. Kosinski was honored with the title of director of Tron Legacy. The holiday 2010 release became a global blockbuster, at least technically. It earned $400.1 million worldwide against a production budget of $170 million. The consensus opinion regarding the Tron sequel is that it is among the most visually stimulating movies of the modern era; the storyline is less dazzling, though. "Beautiful but dumb" works for a lot of models plus Ryan Lochte. Movie audiences frequently relish the combination as well. After only two films, it is fair to say that this cinematic style has become the calling card of Kosinski.

To wit, opinions are similar to Tron Legacy for Oblivion. 59% of critics at Rotten Tomatoes, including 54% of Top Critics, like the movie enough to recommend it. Audiences were more lukewarm about the convoluted plot as Oblivion earned an alarming B- Cinemascore. Suffice to say that Oblivion will not demonstrate a lot of holdover appeal in coming weeks due to the mediocre word-of-mouth. Universal Pictures is already beyond caring about this aspect of Oblivion's reputation, though. The science fiction action flick is already a global hit, earning $112 million overseas. With a global take of $150 million already, the $120 million production is already comfortably in the black after only a few days in global release. In a year of continued box office disappointment, Oblivion is one of the few original non-horror properties to enter the win column. And Tom Cruise can claim yet another blockbuster on his recently erratic resume.

After a phenomenal debut last week in first place, 42 holds up well as it declines only 34% on its way to the runner-up position for the weekend. The biopic about baseball player Jackie Robinson earned $18 million in its second frame. It should continue to be a top choice for older audiences and families with pre-teens and teenaged children. Thus far, 42 has earned $54.1 million domestically, which means it has already been a profitable venture for Warner Bros.

Third place goes to The Croods, which has effectively been the only family movie option since mid-March. The CGI-animated caveman flick added another $9.5 million to its domestic tally, which means it dropped just 28% from last weekend's total. The movie has now earned $154.9 million in North America, plus an additional $272 million overseas. It's no surprise at all that a sequel was announced earlier this week, as this will be a profitable venture for DreamWorks Animation and 20th Century Fox, possibly earning over half a billion dollars worldwide by the end of its run.

Scary Movie V was the worst opener for the franchise to date last weekend, and it didn't do anything this frame to bolster its cause. This weekend's fourth place film earned just $6.3 million, declining a large 56%, especially considering the deflated numbers we're dealing with. With a $22.3 million total so far against a $20 million budget, it's not an out-and-out disaster for the Weinstein Co, but it should probably bring this franchise to a close other than perhaps direct-to-DVD titles.

We close out the top five with G.I. Joe: Retaliation, which hangs in there with a weekend total of $5.8 million. It dropped 47% from the previous frame, and although its $111.2 million domestic total means it's probably not going to match the original film's $150.2 million North American tally, it's doing big business overseas, with more than $211 million so far from those international venues. It has already surpassed the worldwide total of the first film, which was $302.5 million. Not bad considering that reshoots and repurposing for 3D pushed this project back several months.

Sixth and seventh are close enough that we may see these films reverse places when actual numbers come in tomorrow. For now, sixth place goes to The Place Beyond the Pines, which Focus Features expanded from 514 venues to a wider 1,542. The move proved to be savvy, as the Ryan Gosling/Bradley Cooper indie drama earned $4.7 million, an increase of 23% from last weekend. So far, the theoretical art house release has earned $22.9 million on the strength of lots of positive reviews and word-of-mouth that at least has people intrigued.

That means Olympus Has Fallen takes seventh place, giving Morgan Freeman two films in the top ten this weekend. Olympus Has Fallen has been a tidy little success story for FilmDistrict. It earned another $4.5 million this weekend, down 38% from the previous frame, and now has a domestic total of $88.8 million. This number easily beats the $70 million production budget, though its overseas tally sits only around $5 million at this point.

Closing out the top ten are two movies associated with Sam Raimi along with a 3D re-release of a movie from the 1990s. Eighth place goes to the horror flick Evil Dead, the Sam Raimi-produced remake of his own classic 1981 film by (almost) the same name. It earned $4.1 million, falling another large 57% and bringing its domestic tally to $48.4 million.

Jurassic Park 3D sits in ninth place, as the repurposed Steven Spielberg flick takes in another $4 million as it serves as advertising for the next Jurassic Park movie, planned for release in 2014. The re-release has earned $38.5 million and is really just easy money for the studio.

The other Sam Raimi film in the top ten is Oz the Great and Powerful, which hangs on to a position by virtue of the fact that 2013 has just been a lousy year for the most part. It earned $3 million this weekend, down 37%, and raises its domestic total to $223.8 million. With $254 million from overseas venues, it's approaching the $500 million mark worldwide and getting the franchise off to a solid start.

One other film noteworthy of mention finished in 12th place. Home Run, another inspirational project produced by Provident Films (Facing the Giants, Fireproof, Courageous) and distributed by Samuel Goldwyn Films, earned $1.6 million as it debuted in 381 locations. With that total, the film has already exceeded its budget, though prints and light marketing probably mean it actually has a little ways to go to be in the black. Nonetheless, once it hits home video it's going to find an audience.

Overall, the top 12 films grossed $110 million, down 19% from the same weekend last year when Think Like a Man's surprising $33.6 million debut led the top films to a total of $126.1 million. Next weekend, new wide releases include yet another Dwayne Johnson film in Pain & Gain (from director Michael Bay) and The Big Wedding, an ensemble comedy featuring Robert De Niro, Diane Keaton, Katherine Heigl, Amanda Seyfried, Topher Grace, Susan Sarandon and Robin Williams.