Weekend Forecast for April 19-21, 2013
By Reagen Sulewski
April 19, 2013
BoxOfficeProphets.com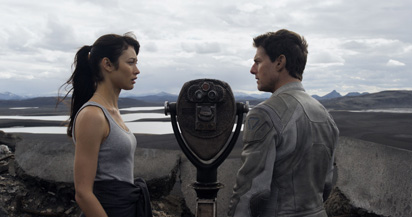 ---
Can we just call it summer already? I realize that half the continent is still covered in snow (*looks out window, sighs*) but how about we just invoke the spirit of summer with the traditional hallmarks, like bright, shiny sci-fi movies with A-list actors, and the impending start of the NHL playoffs, and call it a done deal?

So yeah, let's just call Oblivion the start of the season already. Tom Cruise stars in it as a resource hunter on a post-apocalyptic Earth, ravaged by a war against aliens that we "won", but still required us to leave for a space colony. On one of his trips back, Cruise's character discovers that the abandoned planet may not be so abandoned after all (which I mean, you've guessed, since why else is Morgan Freeman on the poster?). Cue the pitched battles on land in the sky, and conspiratorial conversations as the truth begins to be revealed.

There's a couple of main selling points to this film, primarily among them being the beautiful looking FX shots by director Joseph Kosinski (late of TRON: Legacy, which made no goddamned sense but was at least nice to look at). Jumping around to various ex-landmarks, Planet of the Apes style, is a heck of a hook, as is the mystery teased in the trailers and commercials. There's a mix of the slick and the grungy in this, and as post-apocalyptic wastelands go, it's a pretty one to look at.

Then there's Cruise, though he's not as much of a sure thing as people might imagine. In fact, his 2012 was actually kind of difficult, with Rock of Ages out and out bombing (though he gets to spread the blame around for that one) and Jack Reacher making only a modest $80 million. You could blame this on residual animus from the public for his couch-jumping, but that was years ago now, and I'm more likely to put this on him being 50, and no one remaining a giant box office star for three decades unscathed. What this does indicate, though, is that Cruise is really only a draw in the right kind of role – and he still has a few decent-sized hits to lean on from the last decade or so. Oblivion looks to be this right kind of role, and shares a passing similarity to Minority Report and War of the Worlds, albeit without the Spielberg connection to sell extra tickets.

Somehow not in 3D (but in some IMAX theaters), Oblivion looks ready to be filed in the "decent time-waster" category, and is at least a quasi-original story so we should encourage this sort of thing. I expect we're looking at an opening weekend in the area of $47 million.

No other new films hit wide release this weekend, but last weekend's The Place Beyond the Pines gets an expansion to around 1,500 venues. The gritty crime drama starring Bradley Cooper as a cop chasing bank-robbing stunt driver Ryan Gosling and Eva Mendes as his girlfriend opened to just under $4 million on around 500 screens, and should be able to match that or exceed it a little with a tripling of screens.

Among other returning films, we have 42, the Jackie Robinson story, which opened to about $27 million. Critics of the film called it fairly paint-by-numbers, but that appears to be exactly what audiences wanted from it, as it received some of the highest Cinemascore ratings in ages. This should help it hold to around $20 million this weekend, and this could be well on its way to becoming one of the most successful baseball movies in history.

Scary Movie 5 was not so successful, opening to just $14 million, almost one-third the opening weekend of the last Scary Movie film. In a tremendous upset, this was even beaten out by the clearly-shot-for-catering-money A Haunted House from earlier this year. Can we please stop paying attention to Lindsay Lohan now? Pretty please? Give this $6 million this weekend before it hits video in oh, about two weeks.

The Croods, meanwhile, manages to keep earning despite lacking any sort of form of entertainment, with close to $150 million so far. This warmed over Ice Age-crossed-with-The Flintstones has definitely benefited from being the only animated film out right now, which to me says the pendulum has swung too far the other way for availability of said-same. This is how we wound up with four Ice Age films, people! It should pull in another $8 million this weekened.

G.I. Joe: Retaliation doesn't seem set to match Rise of Cobra's $150 million domestic total, although it's going to be close, with over $100 million so far. The worldwide total looks to be set to pass the $300 million of the first, however, and that might just mean a third one of these. It's such a disappointing time to be a movie buff, and I'm looking straight at you people out there. This will add another $6 million to its total this weekend.

Further down the list we have Evil Dead, which has fallen dramatically as most horror films do, and should see about $4 million this weekend, as will the Jurassic Park 3D re-release, which is on the outside-looking-in at the $400 million milestone.