Weekend Wrap-Up
42 Perks Up Dull Box Office
By John Hamann
April 14, 2013
BoxOfficeProphets.com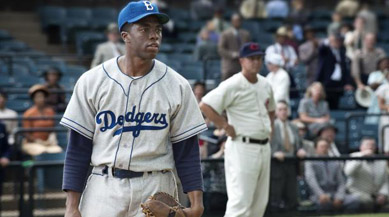 ---
There is good news at the box office this weekend. It has more to do with 42's success than Scary Movie 5's failure, but let's face it, both work in this context.

The new movies released this weekend were completely different to say the least. One of the openers is 42, the new Jackie Robinson biopic, which is old-fashioned, respectful of the hero at the center of the story, and necessary. The other is Scary Movie 5, which is in it for the money, distasteful, and is about as far away from necessary as it gets (yes, unnecessary doesn't cut it). One is a feel good story; the other is 85 minutes of the worst kind of theft - stolen money during tough times. The good news is that this weekend the hero wins (unfortunately a rarity at the box office), as Jackie Robinson makes Charlie Sheen and Lindsay Lohan look foolish.

Our number one movie of the weekend is 42, and the film represents a genre we haven't seen in a while – the earnest-to-a-fault sports biopic. Released by Warner Bros. but made by Legendary Pictures (a well-named studio to release a Jackie Robinson biopic), 42 earned $9.1 million on Friday, and rode that success to a weekend gross of $27.3 million. Released to a quite wide 3,003 venues, the Brian Helgeland (writer of L.A. Confidential and Mystic River) directed flick had a strong venue average this weekend of $9,074. It had a decent weekend multiplier (weekend gross divided by Friday gross) of 2.99 and earned an A+ Cinemascore, which could indicate strong legs may be in its future. It will provide strong counter-programming against the Tom Cruise flick Oblivion, which opens next weekend, and could still be drawing breath by the time Iron Man 3 shows up on May 3rd.

42 is reminiscent of films like Miracle, The Rookie, Remember the Titans and Seabiscuit, all of which were feel-good sports movies that centred on a true story. They also all had massive legs at the box office, as the central theme in those films, winning against massive diversity, gets people talking about what they've seen, and then other people want to feel like that as well. 42 does something that these other films did not. It opened bigger. The biggest opener of the movie mentioned was Seabiscuit, which took in $20.9 million over its opening weekend. These films are not about opening weekend, though. They seem to be made as a love letter to the central character, which in my mind creates the legs.

Seabiscuit had an opening-weekend-to-domestic-total multiplier of 5.8, The Rookie 4.42, Remember the Titans 5.5, and Miracle came in at 3.3 (come on, it was about hockey). With the opening weekend, 42 will now need less than a 4.0 multiplier to get it to $100 million, something that should be easily achieved. It cost only $40 million to make, and I love the fact that Legendary's CEO, Thomas Tull, personally produced 42. The love for Robinson is seen in the trailer and the marketing materials, and that love seems to be engaging audiences.

Finishing second is maybe the most unnecessary sequel ever, Scary Movie 5. After Scary Movie 4 opened to $40 million in 2006, I thought this one might do similarly, but thankfully I am completely wrong. Scary Movie 5 opened on Friday to only $5.5 million as it got trounced by Jackie Robinson (my hero), and Friday was the best day of its run. Over the weekend proper, Scary Movie 5 found only $15.1 million, giving it a weekend multiplier of 2.7. Fans of the franchise showed up Friday, and then theaters were quiet for the spoof film over the rest of the weekend. Probably the best joke coming out of the film is its C- Cinemascore, as those Friday night fans would have graded it as such. Made for $20 million, Scary Movie 5 will still likely make some money. Scary Movie 4 was just as popular overseas as it was domestically, so if the fifth film makes $25 million both domestically and abroad, the Weinstein Company should feel no pain. The only pain here is for those that plunk down their hard earned money to see this dreck. Stay away, folks. It has two positive reviews at Rotten Tomatoes and no Anna Faris.

Third place goes to The Croods, which has been battling G.I. Joe for youth dollars over the last few weekends. Now in its fourth weekend, The Croods seems to have finally shaken the Joes off, but earns only $13.2 million, declining 36%. While it didn't have any real competition show up this weekend, The Croods is simply running out of steam. It has a domestic gross so far of $142.5 million and will finish with about $175 million, as there is no true animated competition until Epic shows up on May 24th. The domestic total surpassed the $135 million production budget this weekend, and the film has crossed the $200 million mark overseas, so The Croods will end as a success for DreamWorks Animation and Fox.

G.I. Joe: Retaliation finishes fourth, as word gets out that this Joe is just as bad as the original. After a 49% drop last weekend, G.I. Joe continues its plunge as it pulls in only $10.8 million and declines 48%. It did manage to cross the $100 million mark, but it is looking like it will fall short of the $150 million earned by G.I. Joe: Rise of the Cobra, the first film in the series. That one also earned $152 million overseas against a $175 million budget. The sequel cost less at $130 million and will earn more overseas than the original. Retaliation has a domestic gross so far of $102.4 million, and has pulled in more than $150 million overseas.

Last weekend's winner, Evil Dead, goes from on-top to afterthought in only seven days as it finishes in fifth. After opening to $25.8 million last weekend, the horror flick does the expected as drops a severe 63% to $9.5 million. This Evil Dead is playing almost more like a sequel than a reboot, as it has the big opening followed by a big drop. For the producers involved (Sam Raimi, Bruce Campbell, Robert Tapert) they were good as gold last weekend, as Evil Dead cost only $17 million to make, and it has a gross so far of $41.5 million.

Sixth goes to Jurassic Park 3D, which had some success last weekend, as it finished the frame with $18.6 million. While it had a good start, it has no legs, as the second weekend gross came in at $8.8 million, giving the 3D re-release a second weekend drop of 53%. Universal will still be happy with the result, as we have to remember that this is a $10 million release to revive interest in the franchise – it's a giant advertisement – and one that has earned the studio $31.9 million thus far.

Olympus Has Fallen takes seventh place. It held well last weekend (-28%) despite G.I. Joe and this weekend it continues that trend, earning $7.2 million fourth weekend and dropping 28%. Obviously, there is better word on the street for this one than G.I. Joe. The Gerard Butler career-saver has now brought in $81.9 million at the domestic box office against a budget of $70 million.

Eighth goes to Oz The Great and Powerful, which is now in its sixth weekend. The Disney release earned another $4.9 million and dropped 39%. Oz has now exceeded its $215 million production budget domestically as it has taken in $219.4 million, and has $250 million in overseas business.

Tyler Perry's Temptation likely spends its last weekend in the top ten, despite only being in its third frame. This weekend, Temptation earns $4.5 million, which means its sees a third weekend drop of 55%, which follows last weekend's drop of 53%. So far, this Perry release has earned $45.4 million.

Finally in tenth is The Place Beyond the Pines, the second collaboration between writer/director Derek Cianfrance and Ryan Gosling, who first worked together on Blue Valentine. This indie sensation, distributed by Focus Features, earned a fantastic $4.1 million from its 514 limited screens. That's a massive 480% increase over last weekend, when it was playing in only 30 locations and earned just over $1 million. Along with Gosling, the film also stars Bradley Cooper and Eva Mendes, and has received strong critical response. Currently, it has an 81% fresh rating at Rotten Tomatoes, and should continue to chug along nicely as the art house crowd seeks it out.

Overall this weekend, the box office is just slightly better than what it was last year. A year ago, five films finished the weekend with more than $10 million, and the top 12 amassed $106.7 million. This weekend, the top 12 earned $109.9 million. Next weekend, Universal tries to release a summer film in April with Tom Cruise and Oblivion. It worked for the studio in 2009, when Fast & Furious opened to $71 million. Can they catch the lightning again? Check back next weekend to find out.