Weekend Wrap-Up
Box Office Strong Over Post-Easter Weekend
By John Hamann
April 7, 2013
BoxOfficeProphets.com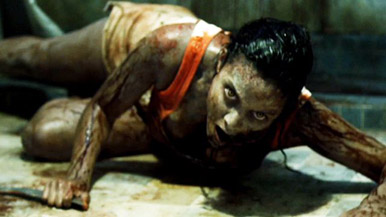 ---
This weekend may not have been Easter, but the dead are still rising at the box office. Returning from the afterlife are Evil Dead, Jurassic Park, and The Croods.

After a frame last weekend punctuated by G.I. Joe and Tyler Perry, this weekend we do the time warp, as new releases include the remake of the 1981 horror classic The Evil Dead and the 3D release of 1993's Jurassic Park. Normally, I cringe at these sorts of weekends, as Hollywood has nothing really new for us this weekend, only repeats of what we've already seen. Things are different with this version of the Evil Dead, as Sam Raimi and Bruce Campbell are producing this one, and Raimi hand-picked director Fede Alvarez to direct (too bad Raimi couldn't get Joel Coen to edit this one as well). On the other hand, Jurassic Park is back in 3D, and really only serves to revive interest in the franchise, so that Jurassic Park IV can open better than the $50 million that Jurassic Park III did in 2001. At best it's an advertisement, but kids still like dinosaurs, so here we go again.

Our number one film of the weekend is the 2013 version of Evil Dead (somewhere in the last 32 years we lost the "The"). The remake, from Sony/TriStar, FilmDistrict, and Raimi's Ghost House, got started on Thursday night, earning $1.8 million. While not a breakout midnight showing, it did set the tone for the weekend, as with that score we knew Evil Dead was going to be a hit of some sort, it was just a matter of how big. The Friday number was reported at $11.9 million; however, we need to take the $1.8 million from Thursday out of that, to get a true Friday number of $10.1 million. That's less than, say, the remake of Nightmare on Elm Street (2010), as that one opened to $15.7 million on its first Friday, with $1.6 million coming from midnight screenings. Still, without a strong central character like Freddy Kreuger, Evil Dead had to work harder, and that it did.

The studios involved with Evil Dead worked extremely hard on the marketing. Serving up Bruce Campbell during the season finale of The Walking Dead was perfect, as he appeared with Fede Alvarez to ensure fans he was behind the remake. Moves like this one worked, as they were paired with some solid reviews (it currently has a fresh rating of 64%), and a sizzling ad campaign. Horror fans were chainsawing in anticipation (hopefully no hands were lost).

In the end, the 2013 version of Evil Dead earned a strong $26 million from 3,025 venues, giving the film a venue average of $8,595. It had a weekend multiplier (weekend gross divided by Friday gross) of 2.18, which is pretty typical for a horror flick. The remake of Nightmare on Elm Street came in at about 2.2, so you can see that Evil Dead had about the same momentum through the weekend. The open finishes just a bit under what The Texas Chainsaw Massacre remake did in 2003, as that one turned a $10.6 million Friday into a $28.1 million opening. This Evil Dead cost only $17 million, a little more than the $400,000 these same producers spent in 1981. The original earned eight times its production budget worldwide, and there's no reason to think the remake won't do the same.

In a somewhat surprising tie for second place (at least until actuals come in) is The Croods, the animated caveman flick from DreamWorks Animation and Fox. After an Easter Weekend where the Friday figure dropped only 8% but the weekend fell 39% to $26.7 million, The Croods bounces back nicely with a reversal of fortune. Although the Friday figure dropped 44% from the holiday Good Friday, the weekend decline is only 21%, giving The Croods a third weekend gross of $21.1 million. Last weekend, The Croods had a weekend multiplier of 2.5 because of Good Friday and a reduced family audience on Easter Sunday; this weekend, it moves back to the norm with a weekend multiplier of 3.52, meaning the majority of audiences came to theatre on Saturday and Sunday.

With a solid Easter Monday ($5 million) and this strong weekend, The Croods has lifted its domestic total to $125.8 million, crossing the $100 million mark on Wednesday, its 13th day. That's the same amount of time it took Shrek ($42.3 million opening, $267 million finish). The Croods won't see the fantastic legs that Shrek had, but at this point, $200 million isn't out of the question. When we started the box office journey with The Croods, I had some concerns for the picture, given its $43 million opening and $135 million price tag. In the end, The Croods is going to be a strong success for DWA, as it adds an overseas gross approaching $200 million to that solid domestic total. Rise of the Guardians this isn't.

Currently tied for second is to G.I. Joe: Retaliation, which had a middling debut last weekend at $40.5 million and a four-day take of $51 million. Because G.I. Joe: Retaliation opened on Thursday last week, the drop-off in the second frame is more muted. This weekend, Retaliation earned $21.1 million, giving the sequel a drop of 48%. The original G.I. Joe, Rise of the Cobra, earned $22.3 million in its second weekend, after opening to $54.7 million. Obviously, the same audience is showing up. After two weekends, the original had earned $98.6 million, whereas the sequel has brought its total up to $86.7 million.

Fourth spot goes to Jurassic Park 3D, but don't let the ranking fool you – it had a strong weekend for a re-release. Jurassic Park 3D earned $18.2 million from 2,771 venues, giving it an average of $6,585. Universal spent $10 million updating the 1993 classic (before marketing etc.), and the move to 3D is definitely going to pay off. As mentioned, Universal wanted to not only make money on this re-release, but also stoke interest in Jurassic Park IV, which is scheduled for release in June of 2014. This 3D re-release is a little ahead of Titanic 3D, which opened to $17.3 million over the same weekend last year. The norm for these is to fizzle out quickly, but I bet Universal will be more than happy with $20 million.

Fifth goes to Olympus Has Fallen, now in its third weekend. After a strong opening ($30.4 million) and a tough second weekend against G.I. Joe, Olympus bounced back. The Gerard Butler flick earned $10 million in its third frame and fell 29%. It has now surpassed its $70 million production budget with a gross so far of $71.1 million, and looks to finish right around $100 million.

Sixth goes to Tyler Perry's Temptation, which opened to $21.6 million last weekend. Tyler Perry's films usually open strongly and then fall in the 50-60% range over the sophomore frame. Temptation did just that, earning $10 million and dropping 54%. It has a gross so far of $38.4 million for Lionsgate. Some things change at the box office; results for Tyler Perry films seemingly do not.

The $215 million Oz The Great and Powerful had another strong frame, despite being in its fifth weekend of release. This weekend, the other Sam Raimi title in play took in another $8.2 million, and fell 30%. After three drops in the 45-47% range, Oz improves this weekend. It crossed the $200 million mark on Monday, its 25th day, and now sits with $212.8 million, and about $240 million from overseas audiences.

The eighth, ninth and tenth films have grosses so small, they are barely worth mentioning. Eighth goes to The Host, the adaptation of the lesser known Stephenie Meyer novel. It earned $5.2 million, a decline of 52%. Its overall total is $19.7 million, which is pretty bad even against its $40 million budget. There won't be much life left in it moving forward. Ninth goes to The Call, with Halle Berry. It earned $3.5 million, fell 27%, and has a gross so far of $45.5 million against a $13 million budget. Tenth is Admission, which earned $2.1 million. It dropped 37% and has a small gross so far of only $15.4 million. Good thing it only cost $13 million to make.

In other box office news this weekend, Danny Boyle's Trance opened on four screens. The hypno-thriller with the lovely Rosario Dawson opened to $136,100 from that small venue count, giving it an average of $34,025. Trance is currently 70% fresh at RottenTomatoes, so it may expand soon.

Overall this weekend, the box office is quite strong with six films in double digits. The top 12 earned $127.5 million this weekend, 9% better than the top 12 of a year ago when the top 12 had a combined gross of $116.6 million. Next weekend, Scary Movie 5 is served up by the box office gods, as well as the Jackie Robinson baseball biopic, 42.