Weekend Wrap-Up
Friday Good at Easter Box Office
By John Hamann
March 31, 2013
BoxOfficeProphets.com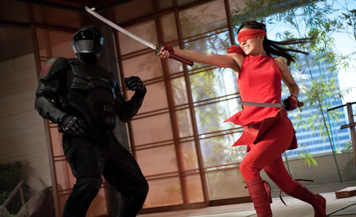 ---
It's Easter weekend, so your best day at the box office had better be Good Friday, as movies like G.I. Joe sequel and a Tyler Perry release are NOT going to rise on Sunday.

Several films did have remarkable Fridays at the box office this weekend, including openers G.I. Joe: Retaliation and Tyler Perry's Temptation. The not-so-hot opener on Friday was Stephenie Meyers' The Host (thank god), as holdovers like The Croods, Oz the Great and Powerful and last weekend's stunner Olympus Has Fallen beat it. Box office needs to be big on the Friday of Easter weekend, as some people end up busy on Sunday and some kids are heading back to school following spring break. Weekend multipliers (weekend gross divided by Friday gross) do the limbo, and fall significantly under the norm over a weekend like this. G.I. Joe: Retaliation got ahead of that by opening Thursday, a move I usually don't like unless it's over a weekend set up like this one. G.I. Joe: Retaliation opened Thursday, and earned $10.5 million, a solid but not dramatic start to its run.

G.I. Joe: Retaliation is both a sequel to the first G.I. Joe, subtitled Rise of Cobra, and a reboot. Paramount and Hasbro have a lot of faith in this franchise, despite the first film only doing okay at home and abroad. The original earned $150 million stateside and $152 million overseas, against a budget of $175 million. With The Croods being in play last weekend, focus has been on the write down taken by DreamWorks Animation on Rise of the Guardians. Rise of Cobra and Rise of the Guardians performed equally ($302 million worldwide) but Guardians cost $30 million less than the first G.I. Joe. In other words, Rise of Cobra most likely operated at a loss (prior to home video). The sequel would either have to perform much better or cost a lot less - if we are to see another G.I. Joe flick.

As discussed above, G.I. Joe: Retaliation did get off to a decent start, earning $10.5 million on Thursday, and then rose 48% to $15.5 million on Friday. It had $26 million in the bank before theaters opened Saturday, which, if it had been any other weekend, would be its busiest day. It is not a normal weekend, though, and while Retaliation's Thursday/Friday looks great on paper, it is Easter, and we know the slide would begin on Saturday. Last year, Easter was the April 6th - 8th weekend, and The Hunger Games was in play. The weekend before Easter, The Hunger Games had a weekend multiplier of 3.1; over Easter weekend the multiplier dipped to 2.6; the weekend following it went back up to 3.3. So, we know that G.I. Joe's time in the sun was that Thursday/Friday.

In the end, the weekend gross for G.I. Joe: Retaliation came in at $41.2 million, delivering a weekend multiplier of 2.65 (a 2.8 or higher would likely have come over a "normal" weekend). The original Joe opened to $54.7 million over an August weekend in 2009, so you can see that this weekend's score for the sequel is no great bazinga. It took four days to do what the original did in three, which will hurt the sequel in the long run. While times have changed, there was a day when the original film in the franchise was supposed to be the low-grosser and have legs, and the sequels would debut bigger and fade out faster. With G.I. Joe: Retaliation, Paramount and Hasbro are going to see neither, at least stateside. However, North American audiences are less of the target this time. That's why the studio delayed the release from August 2012 (nine months), so that they could go back, convert it to 3D, and hopefully make it more palatable for overseas audiences. They also included international stars like The Rock and Bruce Willis to reboot the sequel, and removed names like Dennis Quaid and Joseph Gordon-Levitt, as those names sell fewer tickets in places like Singapore or Vladivostok.


It is doubtful that G.I. Joe: Retaliation will have much for legs. This should be a summer release, giving bored kids a chance to see something silly like this multiple times during lazy, school-free days. G.I. Joe: Retaliation also received even worse reviews than the original, with this one coming in at 29% fresh at Rotten Tomatoes (21% fresh from top critics), whereas the original was 34% fresh (29% from top critics). According to Cinemascore, audiences like this one better than the original at A-, compared to the original's B+ (insert a Cinemascore joke here). The good news for Paramount, Hasbro, and surprisingly MGM, is that this Joe cost less at about $130 million (or so they say), while Rise of Cobra cost $175 million. The other positive is that the sequel should do much better overseas, and it has already started out with $81 million in those international markets, the highest debut so far in 2013. After all is said and done, I would expect a very similar score to what Rise of Cobra did domestically ($150 million), but a $250 million take overseas.

Finishing second is The Croods. After the Friday gross of $10.7 million, this movie looked like a huge hit with serious legs, but the rest of the Easter weekend was still to come. The Croods opened last Friday to $11.6 million, so that tiny, 8% drop compared to last Friday would cause some excitement. Alas, the truth comes out in the wash, as The Croods had a weekend multiplier of 2.47 (next weekend it will be around 4.0), which means it earned $26.5 million this weekend, giving the Fox/DreamWorks Animation flick a drop of 39%. This is a decent hold for The Croods, which opened last weekend to an okay $43.6 million (less than Madagascar, Megamind, and on par with the first Shrek, which opened 12 years ago). So, opening the weekend before Easter and during Spring Break turns The Croods into a ten-day earner of $88.6 million, which is much, much, better than Rise of the Guardians.

Tyler Perry's Temptation, (aka Tyler Perry's Temptation: Confessions of Marriage Counselor, my new nomination for worst title ever) takes third place. Despite the title and a cast whose claim to fame is that it holds one of those Kardashian aliens, this Tyler Perry effort succeeded greatly, opening to $22.3 million. It likely cost very little, and has a decent venue average at $10,894, as it opened at only 2,047 venues. To prove it's all the same again, critics hated it right on cue, with a 12% fresh rating on it at Rotten Tomatoes. However, those geniuses at Cinemascore have it an A-, so who knows. Should the model hold, it will drop 55% next weekend, and finish with about $55 million for Lionsgate.

Fourth is last weekend's surprise big earner, Olympus Has Fallen, which debuted to $30.4 million in the previous frame. Last weekend, the biggest competition the R-rated actioner had was a movie for kids; this time, it had to deal with G.I. Joe. The result is as expected. Olympus Has Fallen dipped 54% to $14 million as audiences hopped to the next new shiny thing. Still, Olympus should match its production budget stateside ($70 million) and find some profit overseas, where it is seeing a slow roll out. For now, Olympus has earned $54.7 million domestically.

Oz the Great and Powerful manages another weekend above $10 million as well as eking out a top five spot. Oz earned another $11.6 million this weekend, its fourth in release, and declines 46% compared to last weekend. It is approaching the $200 million mark both domestically and abroad, as the stateside cume has reached $198.3 million. Remember that this one cost $215 million to make, so despite the almost $400 million worldwide gross, Disney isn't swimming in cash because of it.

Sixth goes to The Host, the non-Twilight, Stephanie Meyer feature, as we dodge a collective bullet thanks to this movie's mediocre debut, meaning there's no chance of it spawning a bunch of terrible sequels. The Host opened Friday to $5.5 million, and drifted afterwards, finishing the weekend with a take of $11 million and a weekend multiplier of 2.0. It received horrible reviews, earning only a 12% fresh rating (oddly, top critics liked it more at 17%, which is a reverse of the norm) and was awarded a B- Cinemascore. The good news for distributor Open Road Films is that it cost only $40 million to make, so all should be financially okay after all is said and done.

The big drop-off at the box office comes in seventh with The Call, as this one manages only $4.8 million. The micro-budgeted Tri-Star release drops 46% from last weekend's take of $8.9 million, and sits with a domestic cume of $39.5 million. Considering The Call cost only $13 million to make, everyone should be happy with the result, especially Halle Berry, who hasn't had a hit since 2006 in X-Men: The Last Stand. Distributor Tri-Star goes wide next weekend with the Evil Dead, so this little studio will soon be on a roll.

Eighth goes to Admission, the Paul Rudd/Tina Fey combo. Admission grossed only $3.3 million this weekend, falling 47%, and giving it a gross so far of $11.8 million. Like The Call, Admission cost only $13 million to produce. Ninth is Spring Breakers, which expanded slightly, but didn't reap a large benefit. Spring Breakers grossed $2.8 million, dropped 43%, and has a cume of $10.1 million against a budget of only $5 million. Tenth is the flop that is The Incredible Burt Wonderstone. It earned only $1.3 million and has a gross so far of $20.6 million.

In other box office news, Derek Cianfrance's The Place Beyond The Pines got off to a great start in limited release, earning $270,184 from only four theatres. That gives it an average of $67,546 per theatre, a performance that should give it a leg up going forward.

Overall this weekend, we have a solid weekend versus last year. Over the same weekend in 2012, the top 12 films at the box office earned $140.4 million; over Easter Weekend last year (April 6th - 8th), the top 12 earned only $116.6 million. This weekend, thanks to a strong top five, the top 12 brought in $140.8 million. Next weekend will be interesting, as both G.I. Joe: Retaliation and the Tyler Perry film are pretty much guaranteed to lose half (or more) of their audiences they had this weekend, while openers include the 2013 version of Evil Dead and the 1993 version of Jurassic Park, this time in 3D.