Friday Box Office Analysis
by Tim Briody
March 30, 2013
BoxOfficeProphets.com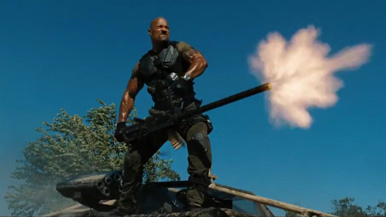 ---
With three new films at the top, it was a pretty Good Friday at the box office this week.

G.I. Joe: Retaliation

After inexplicably opening on Thursday (and taking in $10.5 million), the G.I. Joe sequel added $15.5 million on Friday. The second of many films this year to star current WWE Champion The Rock (oh, and some guy named [bp:70_]Bruce Willis[/bp] too), this year is proving that most of the known franchises are mostly succeeding where the new action entries are not. Back in 1999, The Rise of Cobra started with a $22.1 million Friday and had a $54.7 million weekend. It's Easter weekend so Sunday will be pretty bad but it's should have a decent Saturday. Look for a weekend of $36.7 million, but add in Thursday and you get $47.2 million in four days.

The Croods

Fueled by Good Friday, The Croods earned $10.7 million on Friday, a mere 8% decline from last Friday. Legs like that aren't seen very often anymore, so good for DreamWorks. The bad news is that was likely the best day of the weekend but it's still a pretty outstanding second weekend in store here. A second weekend of $32.1 million is just fine.

Tyler Perry's Temptation

Tyler Perry's Tyler Perry's Temptation (directed by Tyler Perry) opens surprisingly strong for a non-Madea movie with $9.4 million on Friday. This was also likely its best day just like most of the other stuff in multiplexes, still giving him one of his strong weekends where he doesn't dress in drag. A weekend of $23 million is very good.

The Host

The latest Twi-lite attempt (at least this time from a novel by Twilight author Stephenie Meyer) is the weakest of the weekend's new films, with just $5.5 million on Friday. It's not going to expand its audience much over the remainder of the weekend, and the best it could hope for is around $13 million.