Weekend Forecast for March 29-31, 2013
By Reagen Sulewski
March 28, 2013
BoxOfficeProphets.com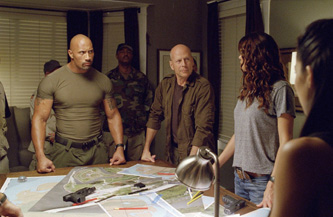 ---
March is suddenly one of the go-to months for box office, as a look back at the last four weeks shows. There's one more week to go, and another mini-blockbuster set to launch that might be the most ridiculous of the bunch. Are we really this hard-up for action films?

Apparently so. Four years ago, Hasbro continued its assault on the multiplex, commissioning G.I. Joe: The Rise of Cobra, based on the popular line of toys, and specifically the 1980s version. Despite, or perhaps because of, its complete and utter ridiculousness, it opened to over $50 million and earned $300 million worldwide. Thus we have the inevitable sequel, G.I. Joe Retaliation, which has enough cast changes and plot swerves that it almost counts as a reboot.

When last we left the Joes... oh, who gives a crap. Channing Tatum and Jonathan Pryce are about the only bits of continuity from the first film, and it was almost not even that much. After adding Dwayne Johnson and Bruce Willis as new heroes, Tatum was deemed superfluous... until seemingly every movie he was in started to break out. A hasty rewrite later and the film was delayed from last fall until this week. At any rate, we're sort of getting the Ghost Protocol version of this film, with the G.I. Joe squad made into outlaws and terrorists by a shapeshifting President of the USA. Throw in a bunch of ninjas, impractically large guns and some weird action set-pieces, and you've got the recipe for a popcorn blockbuster. But man – and I know it's based on toys for 10-year-olds – does it have to read like it was *written* by 10-year-olds, too?

While Johnson's films haven't always hit when he's the sole leading man, he's made a decent career of adding value to other franchises. Look at the difference between Fast & Furious 4 and 5 for an example of that. Willis seems to be a bit puzzled as to what he's doing in this film, although it's not as if his own films have been all that awesome lately at the box office either. And of course, there's Tatum's own particular rise to medium superstardom since 2009. It does look like the slapdash nature of the first film has been discarded this time, though it's still running uphill a bit against its own reputation. The addition of Johnson and Willis probably make this a kind of lateral move, and should help it open to around $51 million.

Open Road Films is hoping to repeat the trick that Summit did with the Twilight series by jumping on the Stephenie Meyer bandwagon. The Host was her first novel, before she twigged onto that whole "broody sparkly vampire" nonsense that became popular for inexplicable reasons, and now comes to the big screen. In it, Earth has been invaded by a race of aliens who take over the bodies of humans, destroying the humans inside, and recognizable by their extremely pale blue eyes. These new parasites are pretty close to perfect beings, it would seem and they've essentially ushered in a new era of harmony and peace to Earth. Why are we struggling against them again?

Anyway, Saorise Ronan plays one of the last remaining natural humans (at least at first), who after being implanted somehow retains some of her original personality. Maybe. Kind of. Released out into the wild, she connects with a surviving band of humans and begins a typically Meyerian chaste romance (I think she has a lifetime subscription to Nonthreatening Boys). Much brooding and whisper-shouting ensues.

There's basically zero reason to expect this to break out like Twilight – there's no actual connection to that series other than Meyer, and the book is a bit of an obscurity, relatively speaking. You can't just up and create a phenomenon, which is what it takes for something like Twilight to become what it did. Movie goers aren't typically looking for more films by the writers of the films they liked. Strangely for this material, it has a relatively well-known director, Andrew Niccol, who also did the adaptation of the script. Perhaps this says more about my perception of Niccol than anything.

The sci-fi setting is likely to make this a much tougher sell for the core audience for this, teen girls, and the lower profile distributor isn't going to have as much juice to push the film. I'd look for a modest $18 million this weekend.

Oh for the love of... it's another Tyler Perry movie (I think that may have been the provisional title). Tyler Perry's Temptation, which is something-something attractive woman sleeps with a billionaire, stars Jurnee Smolett-Bell, who you should remember from Friday Night Lights and if you don't, why don't you, and also has Kim Kardashian in a moderately sized role which is enough for me to condemn it completely. It's a non-Madea film, which means it's less likely to break out into the 20s, and that's as much as I care to talk about this, other than that it's a lot more overtly sexual-looking that Perry's other films, though I'm sure it still carries the heavy-handed moralism throughout his work. Give it $15 million this weekend.

Three of March's big films carry on as significant earners this weekend. Last weekend's champ The Croods benefited from being the first family film in some time, and from a bright character design, earning $43 million. Reviews weren't amazing by any stretch, but as it remains the sole family option, it should be able to carry on with a decent second weekend of about $28 million.

Olympus Has Fallen was a bit of a shocker with a $30 million opening weekend, with its "Die Hard in the White House" doing a fair bit better than an actual Die Hard. Perhaps no one's more excited than Gerard Butler, who had been running a cold streak that made (slightly outdated reference alert) the Washington Generals look like the Miami Heat. In contrast to The Croods, this one was viewed as pretty dumb, and should fall steeply to around $14 million.

That leaves us with Oz the Great and Powerful, which has pulled in close to $200 million in three weeks, and is doing a so-so job of muddling its way to a $250 million final total, and maybe $600-700 million worldwide. One wonders if that's enough to justify franchisation, and also has to marvel that one of what is likely to be the top 10 films of the year is barely justifying its existence. Look for about $11 million this weekend.