Weekend Wrap-Up
The Croods Top Spring Box Office Weekend
By John Hamann
March 24, 2013
BoxOfficeProphets.com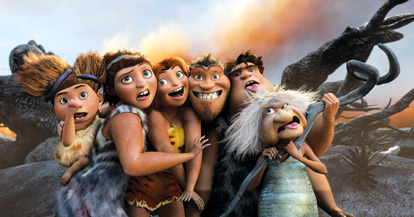 ---
It's spring break and there is something for everyone at the movies this weekend. The question, though, is if anyone showed up.

New films this weekend include DreamWorks Animation's The Croods, distributed by 20th Century Fox. That studio is hoping for a better result than Paramount had with Rise of the Guardians. Also new in release are Olympus Has Fallen, an interesting-looking action flick that unfortunately stars Gerard Butler, Admission, a wish-it-was-better comedy with the lovely Tina Fey and the under-appreciated Paul Rudd, and the nationwide rollout of Spring Breakers, the R-rated bikini pick from Hollywood weirdo Harmony Korine, which is currently the best-reviewed film in this weekend's batch. This weekend's lineup serves all demographics – there are films that could break out to give us a huge Friday-through-Sunday. We've had those thoughts before, though, haven't we?

Our number one film of the weekend is The Croods, a fact that anyone reading this column likely already knows. Ranking wasn't important for the $135 million-budgeted 3D feature, only the opening three-day figure. With DreamWorks Animation being a publicly traded company, and a high ratio of their profits dependent on box office, the opening weekend for a film like The Croods is key, as DWA has only one other title to be released in 2013, Turbo. There are no sequels, no quick wins with built-in audiences. DWA has to be sweating the opening of The Croods, as the extrapolation of hit or miss will be quickly calculated, and shares traded based on that.

After a large, $87 million writedown on the $145 million Rise of the Guardians ($23.8 million opening, $103 million domestic total, $300 million worldwide gross), we get a clearer picture of how an animated feature must perform to earn a profit. Doubling the production budget worldwide is not enough, as costs following production are huge. The Croods cost $135 million to make, but with marketing and other costs, a truer cost for this one is likely more like $250 million, which means the stakes are high. A $30 million open for The Croods was simply not enough, and the $40 million that Fox and DreamWorks were estimating would likely make it a push. At least they were able to take the shine off a so-so opening for a very expensive film.

On Friday, The Croods got off to a decent start, earning $11.6 million, which would cause much relief within the halls of DreamWorks Animation. A quick calculation shows that the film would need only a 3.5 weekend multiplier (weekend gross divided by Friday gross) to eclipse the $40 million mark and start the kid flick on what could be a profitable path. How to Train Your Dragon, which opened on the same weekend in 2010, had a first day take of $12.1 million and went on to earn $43.7 million over its opening frame, as it found a 3.6 opening weekend multiplier. On the other hand, Time Magazine at the time said Dragon opened "with a purr, not a roar." Dragon's opening at the time was met with surprise, as expectations had it opening to $50 million plus.

The Croods played slightly better than How to Train Your Dragon in that debut weekend, earning an 3.85 multiplier, and finding a decent - but not at all spectacular - opening weekend gross of $44.7 million. I'm sure DWA and Fox would rather see an opening like Monsters vs. Aliens (late March 2009 release date, $59.3 million opening weekend, $198.4 million domestic take), but will have to trade that debut and hope for some serious legs. Those legs may be in question, though, as The Croods definitely does not have How to Train Your Dragon reviews. The Croods is currently 65% fresh at RottenTomatoes, while it is no Mars Needs Moms (37% fresh) it is nowhere near that of Dragon (98% fresh), or even last summer's Brave (78% fresh). The Croods did manage an A Cinemascore (as did Dragon), which these days is a must for an expensive animated feature. With this type of performance, I don't see the DWA stock price moving too much on Monday; The Croods met expectations, but a lot will depend on how the film in received globally by audiences.

Following a strong marketing campaign for a throwback of a film, FilmDistrict will be very pleased this morning with the result of Olympus Has Fallen, the new action flick where North Koreans invade the White House. Olympus actually approached the success of The Croods on Friday night, narrowly losing out by $1.6 million, as Olympus earned $10 million while The Croods earned $11.6 million. Of course, over the rest of the weekend, kids dominated theaters, and the weekend multiplier comparison drifts between the two films by a full point (mathematically, an entire day of moviegoing). The Gerard Butler flick (I would rather call it a Morgan Freeman flick) finished the weekend with a strong $30.5 million from 3,098 venues.

Considering the tough times action movies have had in 2013, Olympus Has Fallen provides new life to tough guys. This is no The Last Stand ($6.3 million opening), Bullet to the Head ($4.5 million opening) or Parker ($7 million opening), as while the premise of Olympus made me think of a throwback '80s action movie, the marketing was a thousand times better than any of the previously mentioned films. Olympus cost FilmDistrict $70 million to make; it should earn at least $75 million domestically, and potentially twice that overseas. FilmDistrict finally has a hit on its hands, as until this one came along, the upstart's top grosser was Insidious, at $54 million (although that came versus a $1.5 million budget).

Finishing third this weekend is the now three-weekend old Oz the Great Powerful, Disney's prequel to one of the most famous stories in movie history. Following the $79 million opening and the $41.3 million follow up weekend (off 48%), Oz continued to drift lower, showing little signs of any sort of legs. In its third weekend, the $215 million Disney production earned $22 million and was off significantly again, dropping 47%. The trend down has been similar to that of Alice In Wonderland, but it opened far larger at $116 million before falling 46% and 45.5% in weekend three. Alice had already earned $265 million by the end of its third frame, while Oz The Great and Powerful has found $177.6 million. Maybe Tim Burton would have been the better choice than Sam Raimi (I would have gone to the Coen Brothers version, but that's about it). Regardless, this Oz will make $225 million domestically, and a bucketload more internationally, as it passed the $300 million global mark on Saturday.

The Call manages to stay in the top five this weekend, following its surprise $17.1 million start last weekend. As expected, The Call got hammered in its second frame, as it fell 49% to $8.7 million this weekend. The good news for Sony's TriStar is that this one was already profitable after the opening, as the cost was only $13 million, and the domestic finish should see $45 million before international audiences get a taste. For all involved – and especially Halle Berry – this is a hit no matter how you slice it. Give The Call $30.9 million so far.

The Tina Fey/Paul Rudd comedy Admission is fifth this weekend, and will end up a slight disappointment, given the quality of the two leads. These are two of the best "sly-funny" actors working today, and it's too bad they didn't choose better material to work with. With so-so reviews at best, it shouldn't be much surprise that Admission opened to only $6.4 million from a small venue count of only 2,160 venues. The good news for Focus Features is that Admission cost only $13 million to get to movie screens, and the marketing cost was slight at best. With this result, no one should get too hurt with this one.

That puts the oddball Spring Breakers in sixth. Following a limited release last weekend on four screens that netted $263,000, the Harmony Korine film earned $5 million from 1,104 venues this weekend. Spring Breakers earns a venue average of $4,529, and while it doesn't break out, remember that it cost only $2 million to make, and the company behind it, upstart A24, spent very little on advertising. The company went the social media route to market the film, and was able to generate some buzz. With room to expand and a much talked about performance from James Franco, Spring Breakers may just hold for another weekend. Surprisingly, the R-rated raunch-fest ended up as the best-reviewed opener of the weekend, earning a 69% fresh rating at Rotten Tomatoes.

The rest of the top ten holds only leftovers. The Incredible Burt Wonderstone was seventh with $4.3 million and a hurtful drop from last weekend of 58%. The $30 million Warner Bros. release has now completely flopped, earning $17.4 million thus far. Eighth went to Jack the Giant Slayer, another Warner Bros. flop. This one hurts, as Jack grossed only $3 million and has a running total of only $17.4 million against a ludicrously high $195 million budget. Ninth is the month and a half old comedy Identity Thief, which turned in $2.5 million this weekend for Universal. It has now earned $127.7 million against a budget of only $35 million. In tenth is The Rock's Snitch, which pulled in another $1.9 million this weekend. It has a decent gross so far of $40.3 million against a $15 million budget.

In other box office news, Silver Linings Playbook leaves the top ten for the first time since the January 11-13 weekend, ending a long run of top ten finishes. This weekend, it ended the weekend in 11th, with a gross of $1.6 million. It has earned a stunning $127.2 million since opening on November 16, 2011.

Overall this weekend, the box office was off compared to last year, as it was up against the opening frame of The Hunger Games, which exploded to $152 million a year ago. The entire top 12 could not beat that success this year, as this year's top 12 total came in at $133.9 million. Next weekend should be just as interesting as this one was. Openers include GI Joe: Retaliation, The Host, and Tyler Perry's Temptation: Confessions of a Marriage Counselor (and despite the title, people will attend).