Friday Box Office Analysis
By Tim Briody
March 23, 2013
BoxOfficeProphets.com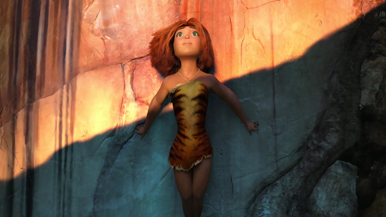 ---
It takes the first animated film of 2013 and some terrorists taking over the White House, but there's finally some good news at the box office this weekend.

The Croods

DreamWorks Animation's The Croods starts off with a solid $11.6 million on Friday. Taking advantage of being the first animated release of 2013 and just in time for spring break, this is pretty close to the best comparison, 2010's How to Train Your Dragon (also by Dreamworks). That started with $12.1 million on its way to a $43.7 million weekend, a 3.6 weekend multiplier. The Croods would be just fine with that and it would mean an excellent weekend of $41.8 million, with smooth sailing ahead before the next animated release at the end of May.

Olympus Has Fallen

Making it a surprisingly close race on Friday is Olympus Has Fallen, starting with $10 million. The Gerard Butler White House action/thriller found an audiences willing to go to the theaters even in the face of the NCAA Tournament. It's a good weekend for upstart distributors, as this will be FilmDistrict's biggest opening ever (besting 2011's Insidious with $13.2 million). The gap between Olympus Has Fallen and The Croods will widen over the remainder of the weekend, but it will still earn an outstanding $27.7 million from Friday-to-Sunday.

Admission

Admission, the Tina Fey/[bp:4264_]Paul Rudd[/bp] romantic comedy, was rejected by audiences as it only earned $2 million on Friday. As much as I like the pairing of the two leads, it's wasted here. A weekend of $5.6 million is in its future.

Spring Breakers

Expanding to 1,100 theaters after an impressive performance on just three screens last weekend, Harmony Korine's Spring Breakers becomes by far the most financially successful film of his directing career with a Friday of $2 million. While word-of-mouth has come back mixed as it's not quite "hot girls in bikinis go on a crime spree," it's getting enough buzz to bring in some of the curious and stands a chance of passing Admission by the time the full weekend's results come in. Also, continuing the new distributor trend, this is already the most successful picture A24 has released. I'm giving it a weekend of $5.5 million.

Notable Holdovers

After two weekends at the top, Oz the Great and Powerful is knocked down to third with $5.7 million, a 49% decline from last Friday. Its decline was perhaps accelerated by The Croods becoming the top family choice, but it's still going to be a lock to earn $200 million. It will have a third weekend of $20.7 million.

Last weekend's surprise The Call is down a predictable 57% to $2.7 million, but it's still in line for a $7.9 million weekend.

Finally, The Incredible Burt Wonderstone cements itself as one of the year's biggest flops, down 65% to $1.3 million. Still in over 3,100 theaters, it's time this movie did a legitimate disappearing act.