Weekend Wrap-Up
Oz dominates wizard battle with Burt Wonderstone
By Kim Hollis and David Mumpower
March 17, 2013
BoxOfficeProphets.com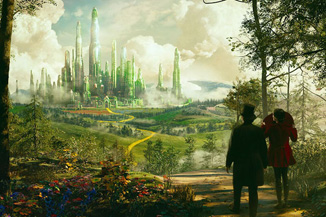 ---
A magician and a 911 operator attempted to usurp the box office throne this weekend. These films featured a pair of comedy icons and an Academy Award winning actress, but what they lacked was beautiful witches and a powerful wizard. Las Vegas illusionists apparently wouldn't last a day in the Emerald City.

Once again, first place for the weekend goes to Oz the Great and Powerful, which had little problem defeating the new releases. The Sam Raimi-directed special effects spectacle earned another $42.2 million, down 47% from the previous frame. Bearing in mind the strong opening as well as the tepid reviews, this decline has to be considered a best-case scenario. With a domestic total of $145 million, the Walt Disney production has now passed Identity Thief to become the highest-grossing film of 2013.

More good news comes for the studio in the second weekend international total. Oz earned $46.6 million from overseas venues, which means that its take in those locations has now risen to $136.8 million. Worldwide, the Wizard's story has tallied $281.8 million, which means that combined revenues should propel it to be a solid financial investment for Disney. The real question will be how well they monetize the property, including toys, home video and sequels.

We can surely expect upsets in later this week as March Madness gets underway, but The Call decided it would get things started early. Not only did it beat The Incredible Burt Wonderstone, the film that was projected to easily be the top new release of the weekend, it did so handily. This victory can probably be considered something like a #12 seed toppling a #5. It's not so much that it's surprising that Burt Wonderstone bombed, but rather that The Call found the level of success that it has so far.

Featuring Halle Berry in the lead role (and Little Miss Sunshine Abigail Breslin as the victim of a kidnapper who plans to murder her), the Sony-distributed release earned $17.1 million this weekend from 2,507 locations. That's good for a $6,821 per venue average, second only to that of Oz the Great and Powerful. In the forecast, we poked a bit of fun at the film for its being a WWE Films production, but it just went and earned its budget back with ease. It's only 40% fresh at Rotten Tomatoes, but it earned a B+ Cinemascore, which is about as good as it gets in 2013.

You've figured out by now that The Incredible Burt Wonderstone crashed and burned – the question is how badly. With Steve Carell and Jim Carrey as above-the-title stars (and a strenuous marketing push), expectations should have been high. Trouble is, Carrey's name doesn't carry the weight it once did, and while Carell is a popular presence in Hollywood, movies as weird looking as Burt Wonderstone just don't bring the audiences in. Clearly, there just weren't enough fat people falling down.

What this means is that The Incredible Burt Wonderstone earned only $10.3 million from a hefty 3,160 locations. Its per venue average was only $3,261. The bad news doesn't end there, though. Both critics and audiences reviled the movie. At Rotten Tomatoes, Burt Wonderstone received only 57 positive reviews out of 149 collected, which puts it solidly in the "rotten" category. "Top Critics" liked it even less, with only 24% of those individuals finding something to like. Its C+ Cinemascore would indicate that audiences are definitely on the side of those critics. Not only is the opening weekend a disappointment, but The Incredible Burt Wonderstone is also going to struggle to recoup its $30 million budget.

It gets pretty dull once we get down to fourth place, as we see a string of films that have been boringly hanging around in theaters for a while. Jack the Giant Slayer occupies that fourth place position as it falls 37% to $6.2 million. Although that decline is a fantastic improvement over its 64% drop last weekend, it's pretty much too little, too late for this fairy tale adaptation. With a $43.6 million domestic take, it's still far short of the studio's expenditure, with no real hope of breaking even. It's not John Carter-level bad, but it's not really that far off, especially since it's not looking like international numbers will provide much relief.

Fifth goes to the resilient Identity Thief, which keeps on hanging around even though no one really seems to like it. Its $4.5 million weekend total represents a decline of just 29% from the previous frame, and it raises its domestic tally to a magnificent $123.7 million, a number that has to have Universal execs rubbing their hands with glee. Hopefully Melissa McCarthy can use the financial goodwill earned from Identity Thief to go out and make something good.

A pair of safe, low-budget projects wind up in sixth and seventh this weekend. One of the many, many 2013 movies starring The Rock, Snitch may prove to be the most profitable of them. The Lionsgate production earned $3.5 million over the weekend, down just 31% and good enough for sixth place. Its domestic total is $37.3 million, well in excess of its $15 million budget. Seventh goes to the latest cheap college drinking comedy, 21 & Over. It earned $2.6 million, a decline of 49%. The Relativity release has now earned $21.9 million, a number that looks bad in comparison to last year's Project X, but stands up just fine when compared to its $13 million budget.

One blockbuster and a pair of solid hits round out the top ten. Eighth place goes to Silver Linings Playbook, the Weinstein Co. release that garnered many Academy Award nominations but won only one. It finished just below 21 & Over with $2.59 million, which means it may actually be higher in the rankings when actuals come in. Its decline of 28% is consistent with its excellent holds throughout its release. So far, Silver Linings Playbook has earned $124.6 million. Safe Haven, the Nicholas Sparks book adaptation, finishes in ninth thanks to its $2.5 million, a 34% drop from the previous frame. Its domestic total is $67 million. Finally, tenth goes to Escape from Planet Earth, another Weinstein release. It dropped 28% to $2.3 million and brings its total to $52.2 million.

Also worthy of mention is the Harmony Korine-directed Spring Breakers, a low-budget thriller featuring James Franco (again) and Disney Channel stars Selena Gomez and Vanessa Hudgens. It managed $270,000 from just three sites, a whopping $90,000 per venue average. Since Korine, the creator of 1995's Kids, isn't exactly synonymous with big box office, this is a spectacular result. The film will be released wider to 600+ locations next weekend.

Overall, this year's top 12 effectively matches last year's releases. 2013's $97.3 million is down just 2% from 2012, which featured the opening weekend of 21 Jump Street and the third weekend of The Lorax. Next weekend will have a tough go of it, as it's competing the opening weekend of The Hunger Games. Along with Spring Breakers in its 600 locations, the new releases will also feature The Croods, Olympus Has Fallen and Admission.